Your Fraser Island Travel Guide and How to Reach
A popular tourist location off the southeast coast of Queensland, Australia, is Fraser Island, also known as K'gari. It is the largest sand island in the world, stretching more than 120 kilometers in length. The amazing scenery, various ecosystems, and unique attractions of Fraser Island are widely known.
The island is known for its vast stretches of fine sand beaches, freshwater lakes with clean waters, lush forests, and towering sand dunes. Numerous animal species, such as dingoes, wallabies, echidnas, and several bird species, make it home.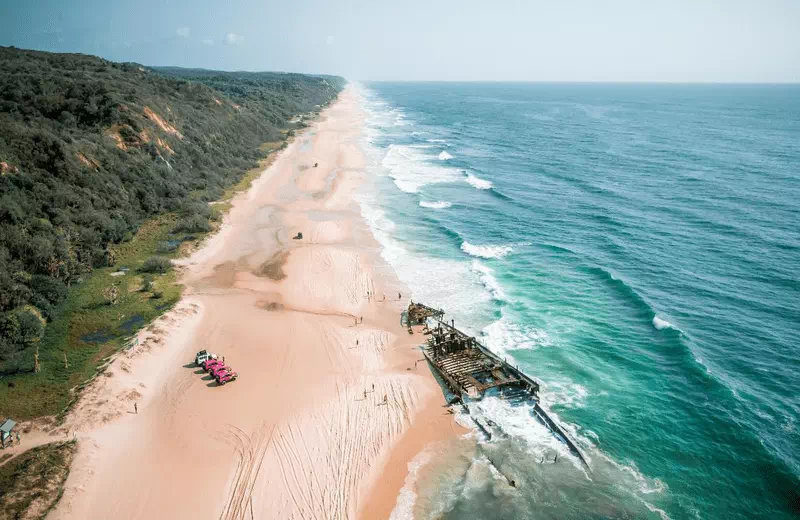 There are a lot of things to do on Fraser Island, including hiking, camping, swimming, and fishing. The marine environment surrounding the island is equally compelling, offering opportunities for whale watching.
Lake McKenzie, a beautiful freshwater lake with crystal-clear blue water and spotless white sand beaches, is one of the island's most popular attractions. Swimmers may relax and take in the peaceful surroundings. Another popular spot is Eli Creek, where a clear creek wanders through the sand dunes and provides a beautiful and scenic experience.
The subtropical environment on Fraser Island offers beautiful weather all of the year time. Winters are pleasant, while summers are hot and humid. When planning a trip to Fraser Island, it is advised to check the weather forecast and prepare carefully because rain is a constant occurrence there. Based on weather, find the best time to visit Fraser Island.
The Maheno Shipwreck, a rusted vessel that ran aground on the island's eastern coastline in 1935, is another interesting aspect of Fraser Island. Photographers and fans of history are interested in it as it is coming to be an iconic location.
Visitors can take guided tours, self-drive adventures, or 4WD (four-wheel drive) trips to explore the island because 4WD vehicles are the only ones that can travel Fraser Island's sand tracks. There are fraser island camping options available on the island, allowing visitors to stay the night and immerse themselves in nature.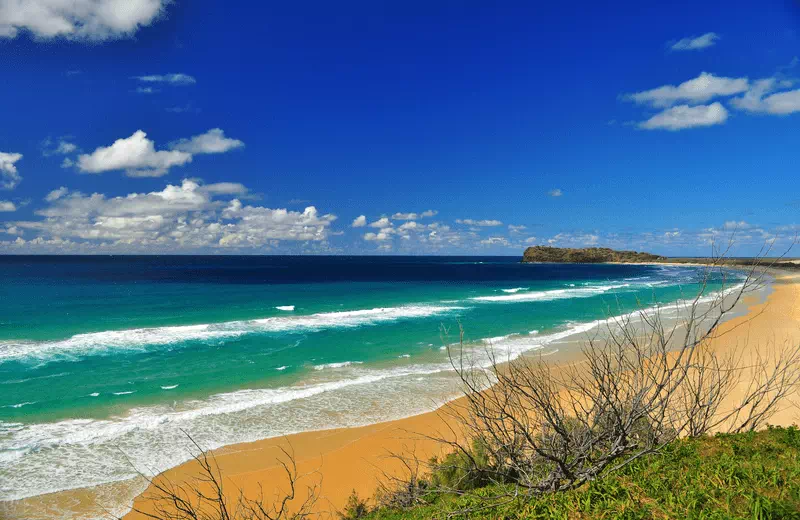 Although becoming a popular destination for vacations, Fraser Island is also a protected UNESCO World Heritage site. To preserve the island's natural beauties for future generations, visitors must respect the island's unique ecosystem and practice responsible tourism.
Knowledge about Fraser Island's many accommodation and resort facilities options is important if you've been thinking about taking an adventure there. This article will guide you through the different types of accommodation, from luxurious resorts to basic campgrounds, so you can choose the perfect spot for your Fraser Island journey.
Additionally, it's important to understand the important part that ferry services play for getting access to this natural paradise on Fraser Island. This article will guide you through the ferry options available, ensuring you have a seamless and exciting journey to Fraser Island.
How To Reach Fraser Island
This comprehensive guide will provide you complete guidance on how to reach in Fraser Island, including modes of transportation, places of departure, and important recommendations to ensure an easy travel to this captivating location.
By Ferry
Taking a ferry is the most common and convenient way to reach Fraser Island. Ferries operate from two main departure points:
Hervey Bay: Hervey Bay, which is around 300 kilometers north of Brisbane, is a popular gateway point to Fraser Island. Hervey Bay has regular ferry service to Kingfisher Bay and Wanggoolba Creek.

River Heads: Situated just south of Hervey Bay, River Heads offers ferry services to the southern part of Fraser Island, including the town of Eurong.
By Air
You can also travel more quickly to get to Fraser Island by plane. Major cities like Brisbane, Sydney, and Melbourne all offer flights to the Fraser Coast Airport in Hervey Bay. You may then quickly transfer to the ferry departure locations from there.
Self-Drive
Self-driving is an interesting alternative for people who enjoy road trips. The Inskip Point barge at Rainbow Beach or the River Heads barge are the two options for 4WD cars to reach Fraser Island. It is important to keep in mind that a valid permission is required to drive on Fraser Island, and prior off-road driving expertise is advised.
Guided Tours
Joining a guided tour is an excellent option for tourists who want a hassle-free trip. A lot of tour operators offer packages that include accommodation, guided activities, transportation to and from Fraser Island, so you are able to relax and enjoy the journey without worrying about the details.
Important Tips
Make ferry and tour reservations in advance, especially during peak seasons, to secure your spot.
Plan your schedule after checking the ferry schedules.
If you plan to drive, make sure your car is prepared for off-road driving conditions and that you have the required permits and licenses.
For your Fraser Island adventure, remember to include essentials like sunscreen, insect repellant, comfortable clothing, and sturdy footwear.

Top Places to Visit Around Fraser Island
Lake McKenzie
Eli Creek
Indian Head
Maheno Shipwreck
Lake Wabby
The Pinnacles Coloured Sands
Waddy Point
Champagne Pools
Central Station Rainforest
Wanggoolba Creek
Finally, Fraser Island is a beautiful location that offers an uncommon combination of beautiful beaches, freshwater lakes, rainforests, and animals. Whether you're looking for adventure, relaxation, or a chance to connect with nature, Fraser Island offers tourists from all over the world an amazing experience.