Perhentian Islands Terengganu Malaysia
The Perhentian Islands, off the coast of Terengganu, Malaysia, are a beautiful tropical paradise that attracts travelers from all over the world. These islands, with their crystal-clear blue seas, pristine white sand beaches, and bustling marine life, provide a wonderful escape for nature lovers, vacationers, and adventurers.
We will go deep into the beauty and attractions of the Perhentian Islands in this article, giving you with an in-depth introduction to scheduling your perfect island vacation.
The Perhentian Islands include some of Malaysia's most beautiful beaches. Each beach, from Long Beach on Perhentian Kecil to Coral Bay on Perhentian Besar, has its own unique charm.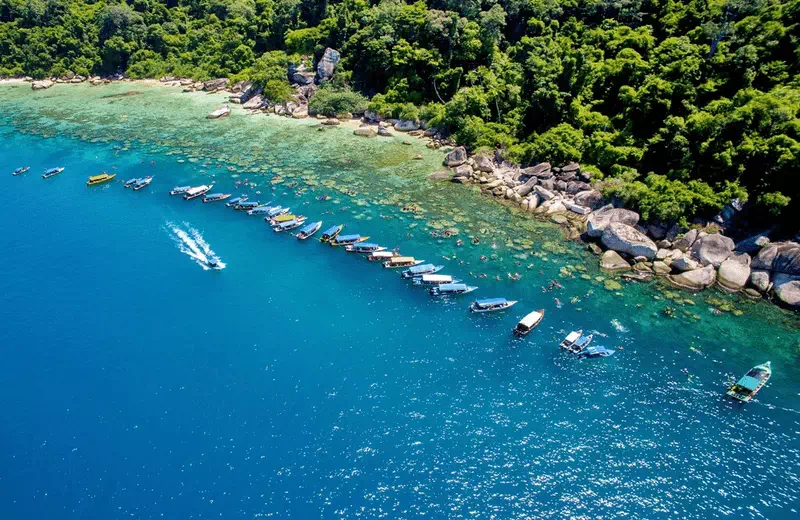 Visitors can enjoy in the sunlight, walk along the beach, or simply relax in the shade of palm trees. These beaches are ideal for relaxing and soaking up the island feelings due to their breathtaking views and peaceful atmosphere.
A solid and varied marine ecosystem exists under the Perhentian Islands' crystal-clear waters. On perhentian islands Snorkeling and diving enthusiasts can explore the colorful coral reefs teeming with tropical fish, sea turtles, and other attractive marine animals on the Perhentian Islands. There are diving centers and snorkeling trips available to suit to your skill level and offer an amazing underwater experience, whether you're a beginner or an experienced diver.
The Perhentian Islands have many kinds of water sports and activities for those looking for an enjoyable adventure. There's something for everyone, from kayaking and paddleboarding to jet skiing and banana boat trips. To make your island experience even more thrilling explore secret coves, travel through mangrove forests, or take up daring water sports.
The Perhentian Islands offer to a wide range of tourists, with a variety of accommodation and hotel options to meet a variety of budgets and interests. There is something for all types of tourist, from budget-friendly guesthouses and beachside chalets to luxury perhentian islands resorts and eco-friendly lodges. To guarantee your preferred stay, it is best to reserve your accommodations in advance, especially during high seasons.
The Perhentian Islands enjoy a tropical environment with warm temperatures throughout the year. The dry season, which comes from March to October, is the best time to visit when the weather is bright and the sea is quiet. If you prefer fewer crowds and discounted rates, travelling during the shoulder seasons (April-May and September-October) is an excellent option.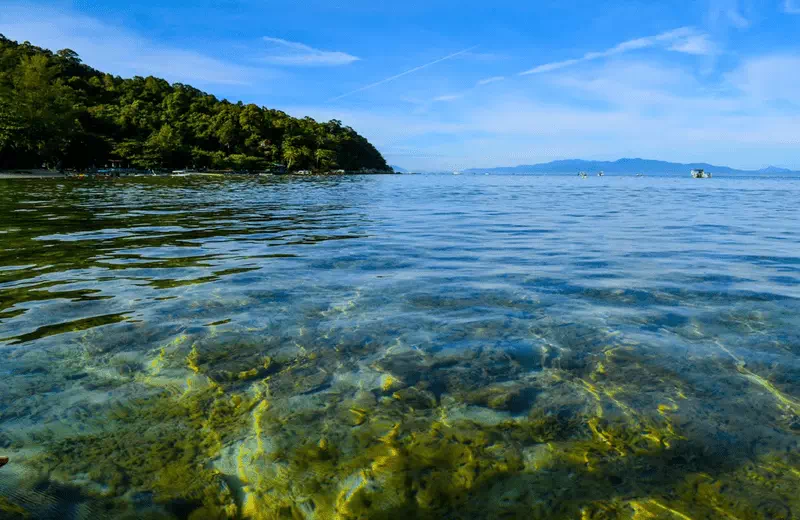 How To Reach Perhentian Islands
By Plane
The Sultan Ismail Petra Airport in Kota Bharu, Malaysia, is the nearest airport to the Perhentian Islands. You can take a taxi or bus from the airport to the Kuala Besut jetty, where you can get on a ferry to the islands.
By Bus
There are also buses from Kuala Lumpur and other important Malaysian cities to Kuala Besut. You can take a ferry to the islands from Kuala Besut.
By Boat
Once you arrive in Kuala Besut Jetty, you will need to take a speedboat to Perhentian Islands. From 9 a.m. to 4 p.m., speedboats depart every hour. The travel takes around 30 minutes.
Essential Packing Tips
Pack lightweight clothing, swimsuits, sunscreen, insect repellent, a hat, and comfortable footwear for your vacation to the Perhentian Islands. Snorkeling gear may be rented on the islands, however bringing your own is encouraged for a more customized experience. Remember to bring a waterproof bag with you to keep your stuff dry during boat transfers and island activities.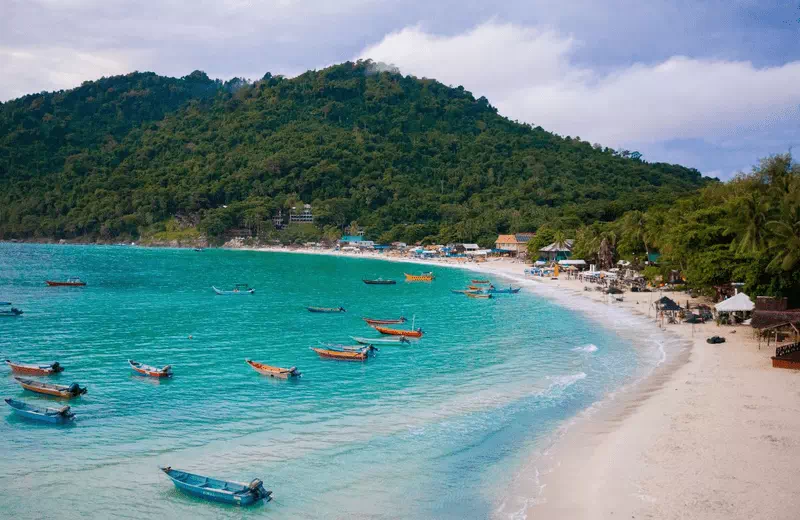 Top Places to Visit Around Perhentian Islands
Redang Island
Redang Island, located just a short boat trip from the Perhentian Islands, is known for its beautiful shores and amazing turquoise seas. It is a popular snorkeling and diving destination due to its diversified marine life and spectacular coral reefs.
Long Beach
This is Perhentian Kecil's longest beach. It's a terrific location to relax and soak up sunshine. Long Beach also has a few restaurants and bars.
Kapas Island
Kapas Island, located south of the Perhentian Islands, is a peaceful, relaxed paradise with white sandy beaches and swaying palm palms. It has a more relaxed atmosphere, which is ideal for individuals seeking relaxation and secrecy. Snorkeling and kayaking are popular things to do here.
Coral Bay
This is yet another popular beach on Perhentian Kecil. It is an excellent location for snorkeling or diving. In the clean waters, you can see a variety of reefs and fish.
Kuala Terengganu
While not directly next to the Perhentian Islands, a visit to Kuala Terengganu can enrich your journey with cultural and historical components. Discover the vibrant marketplaces, the Islamic Heritage Park with its magnificent Crystal Mosque, and the delicious local food.
The Perhentian Islands National Park
A variety of species, including monkeys, birds, and turtles, may be seen in this park. The park also has a few hiking routes.
Pulau Tenggol
This island is around 50 kilometers away from the Perhentian Islands. It is a less developed island than Pulau Redang, yet it is an excellent diving and snorkeling destination. Pulau Tenggol also has a few resorts.
National Park Taman Negara
Taman Negara National Park is highly recommended for people looking for a unique adventure. This rainforest sanctuary on the mainland provides thrilling activities such as jungle hiking, canopy hikes, and river cruises. Experience the amazing beauty of Malaysia's oldest national park.
Pulau Redang
This island is around 20 kilometers away from the Perhentian Islands. It is a popular diving and snorkeling location. On Pulau Redang, there are also a few resorts.
Lang Tengah Island
Lang Tengah Island, located between the Perhentian Islands and Redang Island, is known for its clean beauty and unique marine life. It offers an excellent snorkeling and diving experience with its crystal-clear seas and beautiful coral reefs. The island also has hiking paths that lead to breathtaking views.
Turtle Sanctuary Beach
The Turtle Sanctuary Beach, located on Perhentian Besar, is a must-see for nature lovers. It is a sea turtle conservation park where visitors may learn about turtle conservation efforts and even participate in releasing baby turtles into the sea.
Terengganu Marine Park
Consider visiting the Terengganu Marine Park when exploring the seas near the Perhentian Islands. This protected area consists of up of a number of islands and coral reefs, making it a sanctuary for marine wildlife. Snorkelers and divers may see a variety of fish species as well as bright coral structures.
Conclusion
The Perhentian Islands in Terengganu, Malaysia, offer an enchanting escape into paradise. And gorgeous beaches you can find on perhentian island. From pristine beaches and vibrant marine life to thrilling water sports and wellness experiences, these islands cater to a wide range of interests. Immerse yourself in the beauty of nature, indulge in local flavors, and create unforgettable memories in this tropical haven.