The Cove Beach (Cape May, New Jersey)
The Cove Beach is located near Cape May, a small seaside resort town on New Jersey's southernmost tip. Because of the 600 or so Victorian-style mansions that line our streets, Cape May is a nationally designated National Historic Landmark District.
Cape May is also home to one of the top five commercial fishing fleets on the East Coast of the United States, as well as the nation's sole Coast Guard Basic Training Center.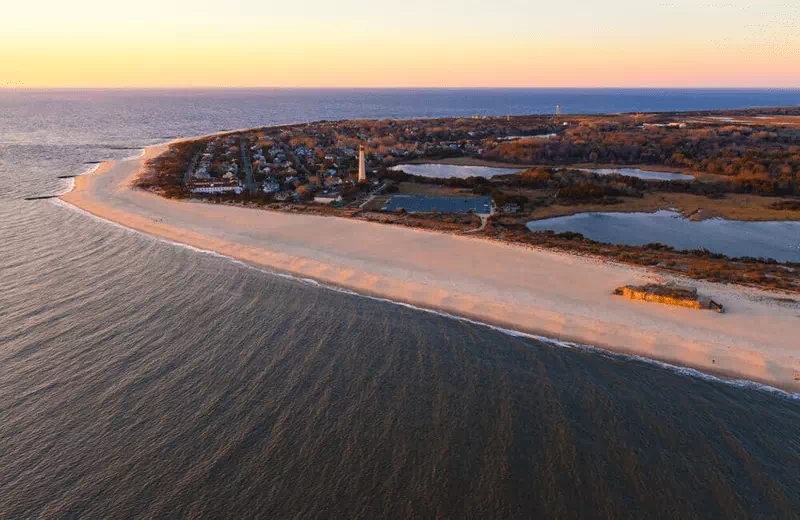 Every day, hundreds of swimmers, sunbathers, surfers, kayakers, and hikers visit Cove Beach. This beach is located at the far south west end of town and has a completely uninterrupted view of the sunset every day. It also has a gorgeous view of the Cape May Lighthouse.
The Lighthouse is still in service as a navigational aid and a museum, and you can climb the inner staircase to the top for a bird's eye view over the Cape.
Cape May has a longer season than most south Jersey communities because there is so much more to do than sunbathe on the huge beaches. During the regular months of July and August, as well as weekends in May and June, crowds throng to Cape May.
Is Cape May's beach clean?
According to the Natural Resources Defense Council, the city has one of the safest and cleanest beaches in the country.
Why is Cape May famous?
Cape May County, sometimes known as "The Jersey Cape," is well-known for its beaches and boardwalks, but the Cape has much more to offer visitors of all ages than surf, sand, and amusements. Historic landmarks and areas of interest are scattered throughout the county and enhance the visitor experience.
Best Time to Visit The Cove Beach, Cape May
Excellent weather in December. It's a peaceful, beautiful location to walk and snap pictures. If you want to walking on the beach without people, the week is ideal.
Top Places to Visit Around The Cape May
Cape May City Beaches
Cape May Lighthouse
Naval Air Station Wildwood Aviation Museum
Washington Street Mall
Historic Cold Spring Village
Poverty Beach
South Cape May Meadows
Jersey Shore Alpacas
Emlen Physick Estate