An Insider's Guide To Everglades National Park
Everglades National Park is a 1.5-million-acre wetlands preserve on Florida's southernmost tip. The Everglades, which is often compared to a grassy, slow-moving river, is made up of coastal mangroves, sawgrass marshes, and pine flatwoods that are home to hundreds of animal species.
Most national parks preserve distinctive geographic features; Everglades National Park was the first to be established to safeguard a fragile ecosystem.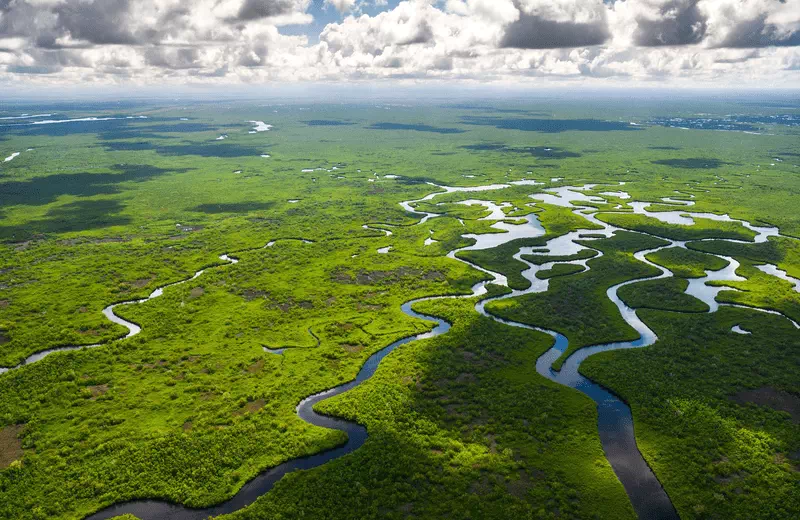 The Everglades are a network of wetlands and forests fed by a river that flows 0.25 miles (0.40 km) per day southwest into Florida Bay from Lake Okeechobee.
The endangered leatherback turtle, Florida panther, and West Indian manatee are among the Everglades' abundant wildlife.
Everglades National Park protects an unparalleled landscape that supports numerous rare and endangered species such as the manatee, American crocodile, and the elusive Florida panther.
Every year, at least one million people from all over the world visit the Everglades.
Natural history exhibits are available at several visitor centers throughout Everglades National Park. Boating and canoeing enthusiasts flock to the park; there are several marked canoe trails, including the 99-mile (159-kilometer) Wilderness Waterway that runs along the park's western edge. In addition, private companies provide guided tram and boat tours throughout the park.
Everglades National Park offers year-round camping. Camping with some services is available near the Ernest F. Coe Visitor Center on Long Pine Key, where 108 sites are accessible by car. There are 234 campsites with some services near Flamingo.
The Great Florida Birding Trail includes Everglades National Park. It has a high biodiversity and many bird species for bird watching and photography.
In recognition of its importance to all people around the world, the Everglades National Park has been designated as an International Biosphere Reserve, a World Heritage Site, and a Wetland of International Importance.
Over 360 bird species can be found in Everglades National Park alone. Many wading birds inhabit the Everglades, including white and glossy ibises, herons, roseate spoonbills, egrets and wood storks.
It also attracts a large number of smaller migratory birds. Some birds are threatened or endangered, including the snail kite, wood stork, and Cape Sable seaside sparrow. Popular activities include boating, hiking, camping, and biking.
The Florida panther is the most endangered mammal in the Everglades. Fewer than 100 people remain alive today. Water-dwelling mammals such as the West Indian manatee, which is also endangered, and the bottlenose dolphin are also well-known Everglades mammals.
What makes the Everglades National Park unique?
A World Heritage Site, a Biosphere Reserve, an Internationally Significant Wetland, and a Florida Water of Outstanding Quality. There are thirteen endangered and ten threatened species on the island. The western hemisphere's largest mangrove ecosystem. The eastern United States' largest designated wilderness area.
Is it possible to swim in the Everglades?
No, you should not swim in the Everglades.
Best Time to Visit Everglades National Park
The dry season, from early December to April, is the best time to visit the Everglades.
How To Reach Everglades National Park
Take U.S. 41 (Tamiami Trail) east for about 35 miles to State Road 29, then turn right. Follow the signs to the park once you arrive in Everglades City.
Top Places to Visit Around Everglades National Park
Nine Mile Pond Canoe Trail
Pa-hay-okee Trail
Flamingo Visitor Center
Mahogany Hammock
Shark Valley
Anhinga Trail
Ernest F. Coe Visitor Center
Royal Palm Visitor Center
HM69 Nike Missile Base
Flamingo
Gumbo Limbo Trail
Long Pine Key
West Lake Trail