Capitol Reef A National Park That Provides An Amazing Hiking Adventure
Located in Utah's south-central desert is Capitol Reef National Park. It is surrounded by layers of golden sandstone, canyons, and striking rock formations that form a long wrinkle in the earth known as the Waterpocket Fold. The Chimney Rock pillar, the Hickman Bridge arch, and Capitol Reef, known for its white sandstone domes, are among the park's highlights. Cathedral Valley's towering monoliths can be found to the north.
Capitol Reef National Park is a hidden gem filled with cliffs, canyons, domes, and bridges in the Waterpocket Fold, a geologic monocline (a wrinkle in the earth) that stretches for nearly 100 miles.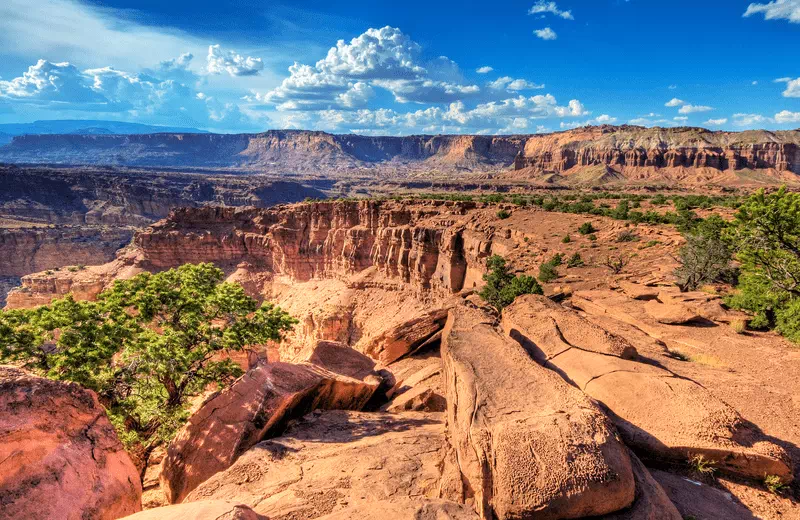 Monoliths, sandstone domes, cliffs, canyons, and bridges are among the other natural features. This wild place has some of the best night sky viewing of any western national park, thanks to its biological soil crusts, black boulders, stromatolite fossils, and triassic era tracks.
Camping, hiking, backpacking, rock climbing, biking, horseback riding, and scenic drives provide visitors with a wide range of outdoor activities.
What makes Capitol Reef National Park so unique?
The presence of the Waterpocket Fold is what distinguishes Capitol Reef's landscape. This "wrinkle" in the landscape formed millions of years ago, resulting in the rocky landscape that inspired the park's name.
Is it worthwhile to visit Capitol Reef National Park?
Capitol Reef National Park is the quieter, smaller, and less well-known stop on Utah's epic Mighty 5 National Parks road trip circuit. But that doesn't make it any less interesting to visit than the other players in the game. This Capitol Reef National Park itinerary for one day will help you plan your trip to perfection.
How much time do you need to spend in Capitol Reef National Park?
If you want to see the highlights of Capitol Reef and spend some time exploring the backcountry, you'll need at least three days. In one day, you can see the sights along Highway 24, drive the Capitol Reef Scenic Drive, and go on one or two hikes.
Is Capitol Reef in Utah open?
Although Capitol Reef is open all year, some roads may be closed due to snow or other inclement weather. It is possible to visit the park and campground at any time of year. Except for major holidays, the visitor centre is open daily.
Is Capitol Reef National Park crowded?
Although Capitol Reef National Park does not see the same crowds as Zion, Bryce Canyon, and Arches national parks, it does get busy during the summer months as well as on spring and fall weekends.
The Scenic Drive around Capitol Reef lasts approximately how long?
The Scenic Drive is a paved road 7.9 miles (12.7 kilometres) long that is suitable for passenger vehicles. Allow an hour and a half for the Scenic Drive and the two dirt spur roads, Grand Wash and Capitol Gorge.
Is it possible to drive through Capitol Reef National Park?
The road is paved and suitable for all types of vehicles. The drive begins near the Visitor Center, where you can pick up a map of the route's sights. Before you can take this drive, you must pay a park entrance fee.
What is the significance of Capitol Reef?
Capitol Reef includes the Waterpocket Fold, a 65 million-year-old warp in the earth's crust. It is North America's largest exposed monocline.
Why is Capitol Reef referred to as a reef?
White Navajo Sandstone formations shaped like capitol domes sit at the summit of the ridge that runs through the centre of this image. The ridge is called a reef because the steep cliffs obstruct land travel in the same way that a coral reef obstructs ships.
How popular is Capitol Reef?
Capitol Reef had 1.2 million visitors in 2018 — nearly a quarter of Zion's — and at 245,000 acres, it's nearly 60 percent larger.
Best Time to Visit capitol reef national park
Capitol Reef is best visited in the spring and fall, when the weather is mild. Summer temperatures are expected to be extremely high. In the winter, temperatures can drop below freezing, and snow is possible.
Top Places to Visit Around capitol reef national park
Grand Staircase-Escalante National Monument
Mars Desert Research Station
Burpee Dinosaur Quarry
Goblin Valley State Park
Henry Mountains
Horseshoe Canyon
Robbers Roost
Bicknell Bottoms