Koh Phi Phi Le Island in Thailand
Ko phi phi le, sometimes known as ko phi phi leh, is an island in the andaman sea's phi phi archipelago. It is located in thailand's krabi province and is part of the hat noppharat thara-mu ko phi phi national park. Koh phi phi le, the smallest of the phi phi islands, is uninhabited and has no accommodation. But that doesn't mean it's quiet. Every day, throngs of day-trippers are drawn here by the enticing beauty of maya bay.
This island is famous for its massive vertical limestone cliffs covered in lush flora that lead to sandy beaches and coral waters. Loh sama and maya bay on this island offer azure blue, reef-ringed waters as well as snorkeling, diving, and boating activities.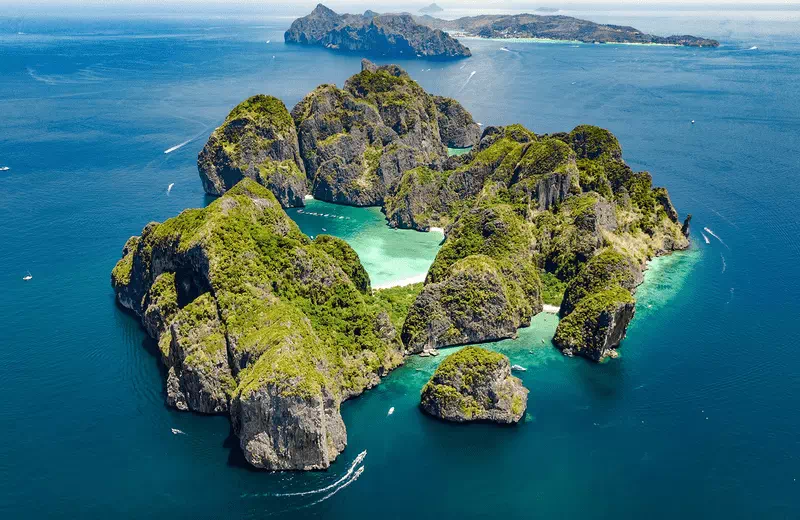 Ko phi phi leh provides more than just natural beauty to those who are fortunate enough to come. For those searching for an adventure, there is enough to do here. To assist readers decide, we've compiled a list of the top eight things to do in the koh phi phi region. Trek to the ao lo dalam viewpoint, travel to mosquito island, see the viking caves, dive at bida islands, snorkel in the crystal blue waters, rock climb the limestone cliffs, and kayak about the island.
The Best Way to Get to Koh Phi Phi Le
There are two ways to get to the phi phi islands: from phuket or krabi by ferry or by speedboat. The ferry ride to the phi phi islands from phuket takes about two hours and 90 minutes from krabi or koh lanta.
When is the Best Time to Visit Koh Phi Phi Le?
The main tourist season runs from november to april, which is also the best time to visit phi phi. The weather is rather temperate and pleasant, with light to heavy showers on occasion. Between january and april, phi phi has its busiest summer season.