Zion National Park (Southwestern Utah, USA)
Zion National Park is an American national park as well as Zion National Park is established on the 19 November, 1919 and that the park is located at southwestern Utah near the town of Springdale. Mountains, rivers, buttes, mesas, canyons, monoliths, slot canyons, and also natural arches is included in Zion National Park. So, here we are aware with something more interesting information of Zion National Park.
Zion National Park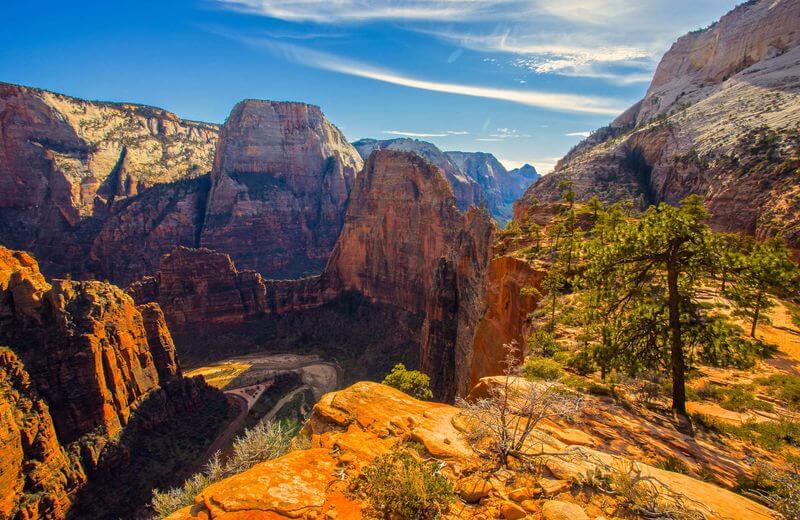 Zion National Park is like a set of the movie and also that park is very grand as well as Zion National Park is not far from the Las Vegas, Salt Lake City. Zion National Park is contains one prominent feature and that is Zion Canyon as well as that Zion Canyon is 24 km (15 miles) long and also that is up to 800 m (2,640 ft) deep. Walls of that canyon are reddish and tan-colored.
History of Zion National Park is divided into the three cultural periods and the first one is the Archaic second one is Protohistoric and also the third one is Historic periods and that all periods are characterized by the distinctive technological and also by the social adaptations. Zion National Park contains the lowest point in the park and that point is 3,666 ft (1,117 m) at the Coalpits Wash and also the highest point of that park is 8,726 ft (2,660 m) at the Horse Ranch Mountain as well as area of Zion National Park is 593.26 km2 (approximately 229.058 square mile, 146,597 acres).
Coordinates of the Zion National Park is 37°18'N 113°00'W. Zion National Park is located at the regions of Colorado Plateau, Great Basin, and Mojave Desert as well as that national park contains unique geography and also contains a variety of life zones that life zone allow for unusual plant and animal diversity. Zion National Park contains number of plant species and also contains 75 mammals, 289 species of the birds and also contains 32 reptiles inhabit park's four life zones like riparian, desert, woodland and coniferous forest.
Zion National Park provides activities like nature walks, and evening programs and also Guided horseback riding trips from late March to early November as well as that Zion National Park also provides activities like Camping and lodging and also for rock climbing the Zion is a center with short walls and that walls like Moonlight Buttress, Spaceshot, Touchstone and also Prodigal Son. Area of Zion National park is covered by the shallow ponds, seas, warm, streams, lakes, vast deserts, and also by the dry near-shore environments.
Rock squirrels, pinyon jays, mule deer, collared lizards and a whiptail is a common daytime animals as well as jackrabbits, Desert cottontails and Merriam's kangaroo rats come out at night. Nearest city of the Zion National Park is Springdale (south) as well as Orderville (east) and also Cedar City near Kolob Canyons entrance as well as that park is also featured in the films also like Nevada (1927), The Deadwood Coach (1924), Arizona Bound (1927), Ramrod (1947) and also Butch Cassidy and the Sundance Kid (1969). A visitor of the Zion National Park is in 2018 is 4,320,033.