Kuala Lumpur's Top Attractions Explore the Best Places to Visit!
Kuala Lumpur, the vibrant capital of Malaysia, is a city that seamlessly blends tradition with modernity. Known for its iconic skyline, diverse culture, and mouthwatering cuisine, Kuala Lumpur offers a plethora of attractions and experiences for visitors to enjoy. From towering skyscrapers to bustling street markets, serene gardens to lively nightlife, this cosmopolitan city has something for everyone.
In this article, we will explore the best places to visit in Kuala Lumpur, showcasing the city's unique blend of old-world charm and contemporary allure. Whether you're a history buff, a food lover, a nature enthusiast, or a shopaholic, Kuala Lumpur is sure to captivate your senses and leave you with unforgettable memories. Let's embark on a journey to discover the top destinations that make Kuala Lumpur a must-visit destination for travelers from around the world.
Petronas Tower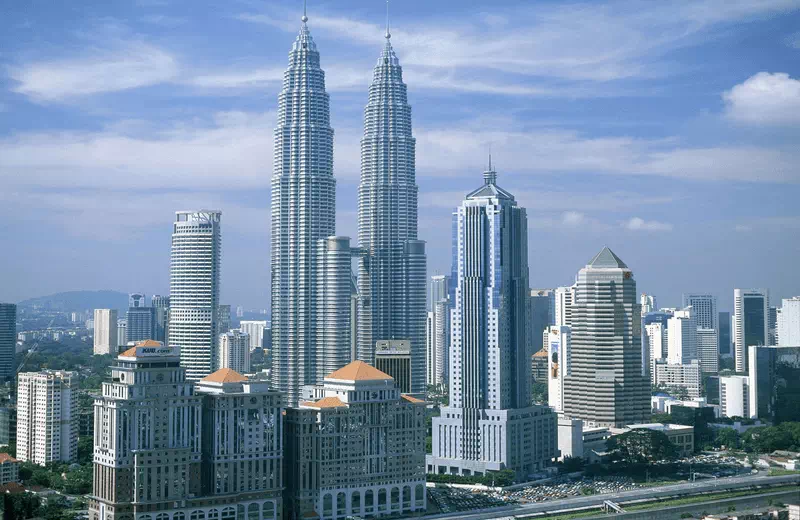 The Petronas Towers are popular buildings in Kuala Lumpur, Malaysia, that have become a symbol of the city. These twin towers were formerly the highest structures in the world, standing at 452 meters. The towers, designed by Cesar Pelli, are linked by a double-decker skybridge on the 41st and 42nd floors, providing guests with stunning views of the city.
The towers house the headquarters of Petronas, Malaysia's national oil and gas business. The Petronas Towers, with their distinctive design and enormous height, have become a significant tourist destination as well as a symbol of Malaysia's modernity and economic success.
The Petronas Towers are a popular tourist attraction. They provide breathtaking views of Kuala Lumpur and its surroundings. Weddings and other gatherings are very popular at the towers.
Aquaria KLCC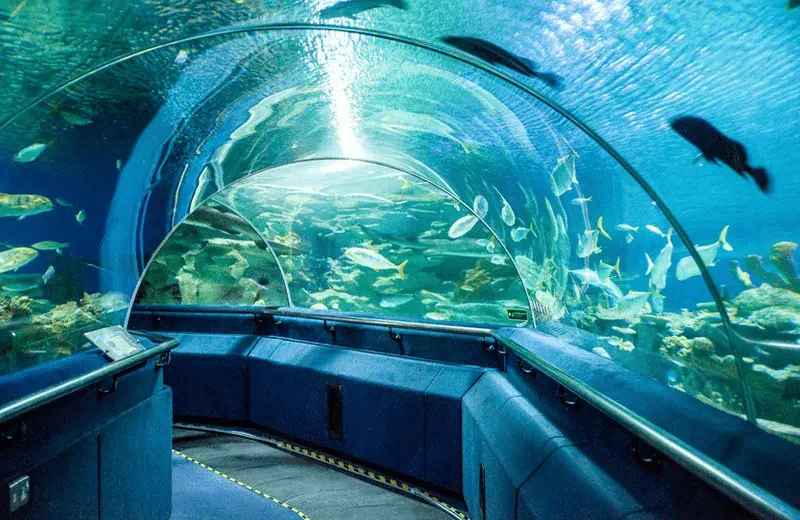 Aquaria KLCC is a Malaysian aquarium located in Kuala Lumpur City Centre (KLCC). It is one of Southeast Asia's largest aquariums, housing over 5,000 marine life from over 120 different species.
The massive walk-through tunnel, where visitors may gaze at the beautiful aquatic life swimming over and around them, is the showpiece of Aquaria KLCC. Aquaria KLCC delivers an enjoyable and instructive experience for visitors of all ages with its educational programs and interactive displays, making it a must-visit destination for nature enthusiasts and families.
The aquarium is divided into 11 different zones, each with its own theme. The Coral Reef Zone, the Open Ocean Zone, and the Riverine Zone are among the most popular zones. Colorful coral and fish, such as clownfish, angelfish, and butterflyfish, may be found in the Coral Reef Zone.
The Open Ocean Zone is a 90-meter (300-foot) underwater tunnel through which visitors may watch sharks, rays, and other huge marine species moving overhead. Freshwater fish such as piranhas, arapaimas, and crocodiles may be found in the Riverine Zone.
Aquaria KLCC is a famous tourist attraction that is open from 9:00 a.m. to 7:00 p.m. everyday. Adults pay RM55, while children pay RM35.
Batu Caves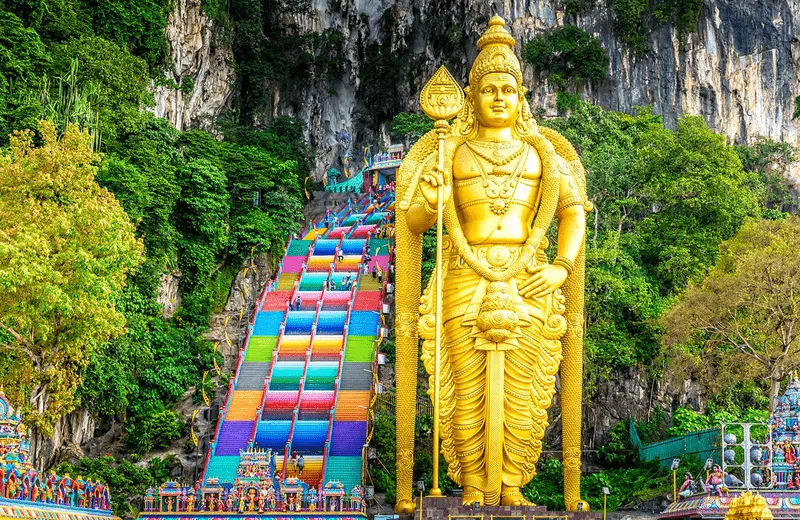 Batu Caves is a cave temple complex near the Malaysian town of Gombak. It is a known tourist attraction as well as a sacred spot for Hindus. The caverns house Hindu shrines and sculptures and are a popular location for festivals and celebrations.
The major attraction of Batu Caves is the massive figure of Lord Murugan, which stands at the entrance and is one of the tallest monuments in the world. To enter the main cave, visitors must ascend a steep staircase of 272 steps, which is ornamented with ornate Hindu temples and bright murals.
The cave complex also hosts the annual Thaipusam celebration, during which worshippers carry kavadis, ornate constructs representing penance and devotion. Batu Caves is a must-see site for people looking for a unique and rewarding experience, thanks to its religious importance, natural beauty, and cultural events.
Berjaya Times Square
Berjaya Times Square is a massive shopping and entertainment complex in the heart of Kuala Lumpur, Malaysia. This sprawling complex is home to a plethora of retail outlets, offering a wide range of products from fashion and electronics to beauty and home goods. It also boasts an indoor theme park, complete with thrilling rides and attractions for both kids and adults.
Visitors can enjoy a variety of dining options, ranging from local delicacies to international cuisines. Berjaya Times Square is a one-stop destination for shopping, entertainment, and dining, making it a popular choice for both locals and tourists looking for a fun-filled day out in Kuala Lumpur.
Connaught Market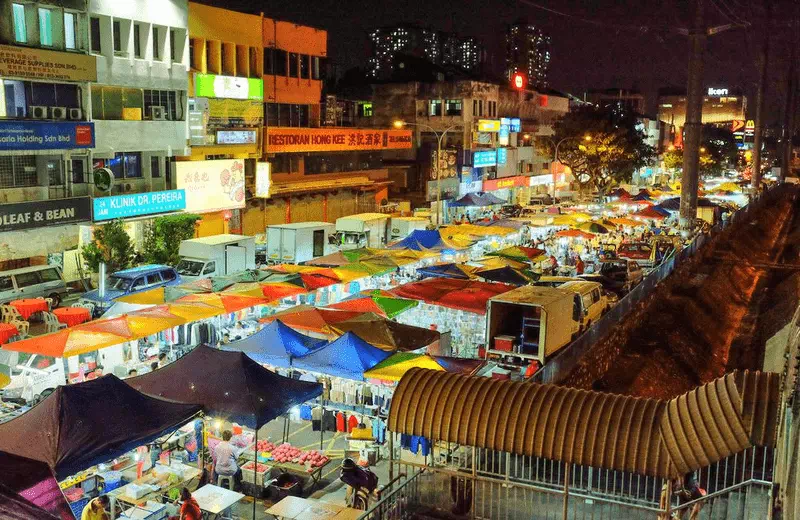 Connaught Market is a wet market in Malaysia's capital of Kuala Lumpur. It is one of the city's oldest and largest markets, and it is a popular destination for both locals and tourists looking for fresh fruit, fish, and meat.
The market is open from 6 a.m. to 6 p.m. daily. It is near the Bukit Bintang sector in Kuala Lumpur's core. Admission is free.
The market is divided into sections, each of which sells specific types of products. The produce department is the largest and has a broad range of fruits, vegetables, and herbs. The seafood department is extremely popular, with fresh fish, crabs, and lobsters available. Meats sold in the meat area include chicken, beef, pork, and lamb.
Connaught Market provides a range of things in addition to fresh fruit, seafood, and meat, such as souvenirs, apparel, and gadgets. It's a terrific location to locate unusual and reasonably priced products.
Forest Eco Park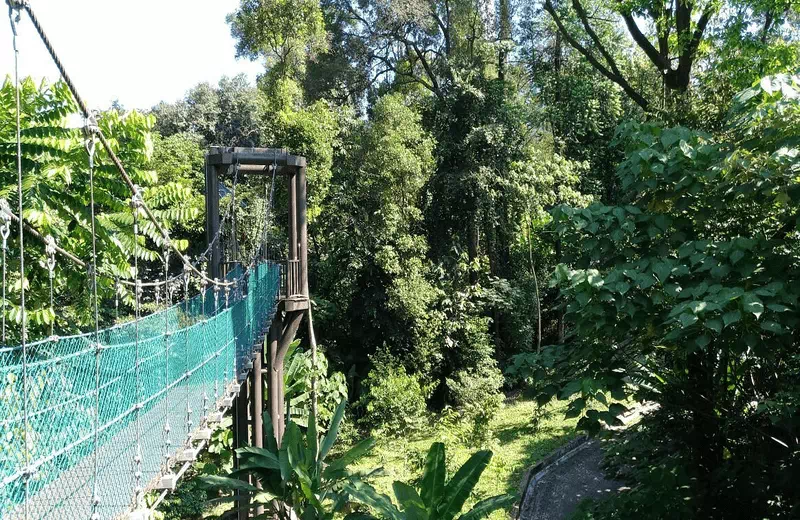 Forest Eco Park is a 12-acre rainforest reserve in Malaysia's Kuala Lumpur. Hiking, cycling, and bird viewing are all popular activities here. The park is home to a diverse range of plant and animal life, including over 200 bird species.
There are several hiking trails in the park, ranging from simple to difficult. The Bukit Nanas Discovery Trail, a 3-kilometer loop that takes you through the heart of the forest, is the most popular. There is also a bicycle trail that runs through the park.
The park is open every day from 7 a.m. to 7 p.m. Adult admission is RM3 and children's admission is RM1.
Istana Budaya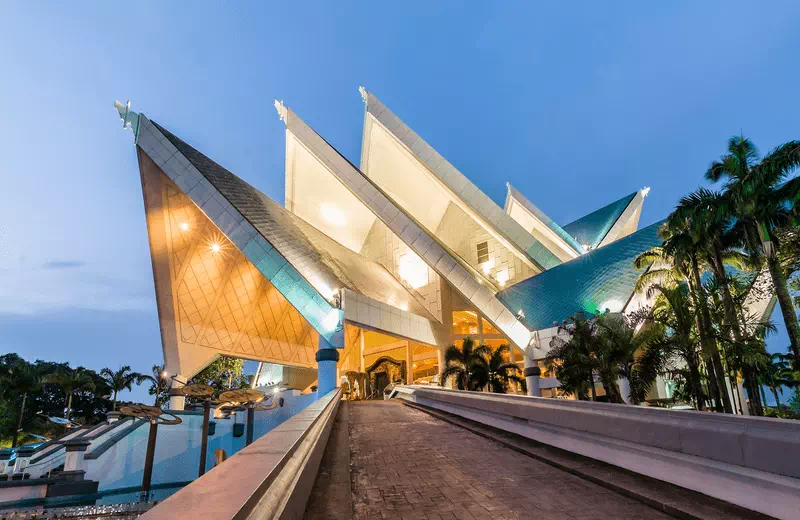 Istana Budaya, popularly known as Malaysia's National Theatre, is a performing arts facility in Kuala Lumpur. It is Malaysia's largest theatre and hosts a range of acts, including traditional Malay dance, music, and theater.
Istana Budaya was built in 1993 and was designed by Hijjas Kasturi. The theatre has a seating capacity of 2,000 people and is equipped with state-of-the-art sound and lighting systems.
The theatre is found near the Perdana Botanical Gardens in the centre of Kuala Lumpur. It is available for public performances and tours.
Jalan Alor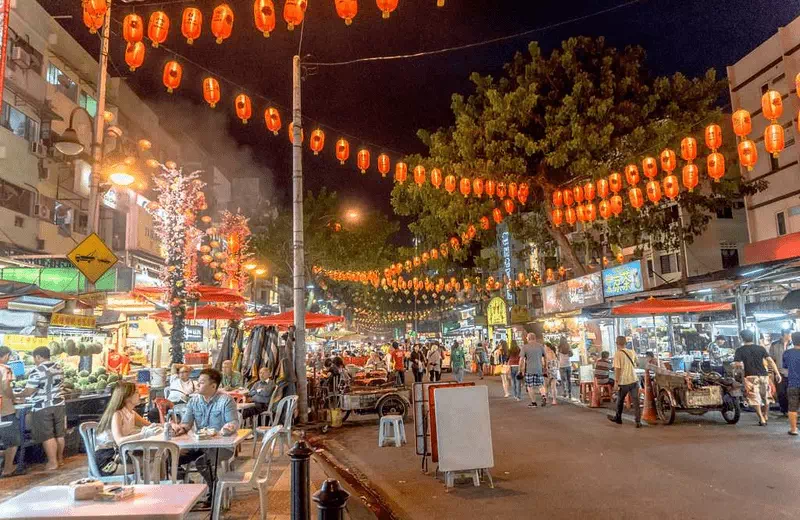 Jalan Alor is a busy thoroughfare in Kuala Lumpur, Malaysia, known for its thriving food scene. This colorful and vibrant street comes alive in the evening, attracting both residents and tourists looking for delicious street food.
The aroma of various cuisines fills the air as numerous food stalls and restaurants offer a wide array of dishes, from local favorites like satay, noodles, and grilled seafood to international delicacies.
With its busy ambiance, sizzling woks, and the ability to try a variety of delicacies, Jalan Alor is a sensory joy. Whether you're a foodie or just searching for a gourmet experience, Jalan Alor is a must-see place that will satisfy your taste buds and arouse your senses.
Kuala Lumpur Bird Park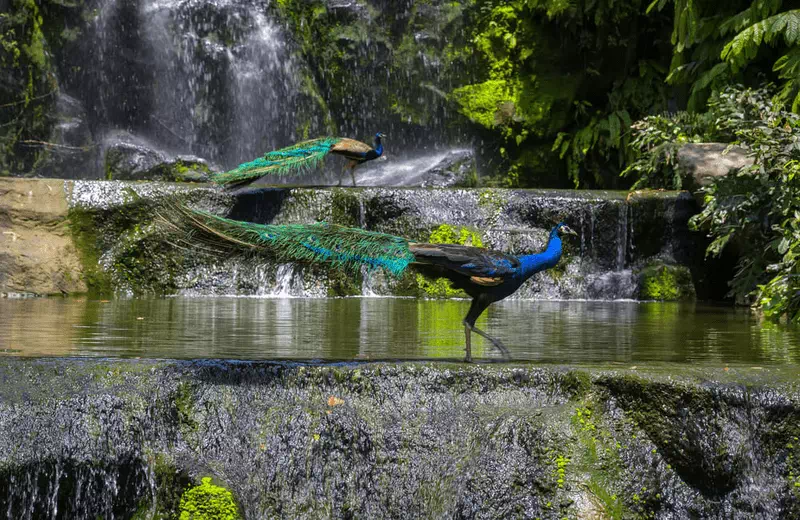 The Kuala Lumpur Bird Park, located in the city's centre, is a tropical paradise for bird lovers. It is one of the world's largest covered bird parks, covering 20 acres. A wide variety of bird species live in the park, including colourful parrots, elegant peacocks, and exotic hornbills. Visitors may walk around expansive aviaries and observe birds in their natural habitats.
Visitors may also learn more about these interesting species through the park's educational and interactive activities. The Kuala Lumpur Bird Park, with its rich vegetation and peaceful atmosphere, offers a one-of-a-kind opportunity to appreciate nature's beauty and peacefulness while surrounded by amazing feathered friends.
The Kuala Lumpur Bird Park, which is open every day from 9:00 a.m. to 5:30 p.m., is a popular tourist location. Admission is RM85 for adults and RM60 for children aged 3 to 11.
Kuala Lumpur City Gallery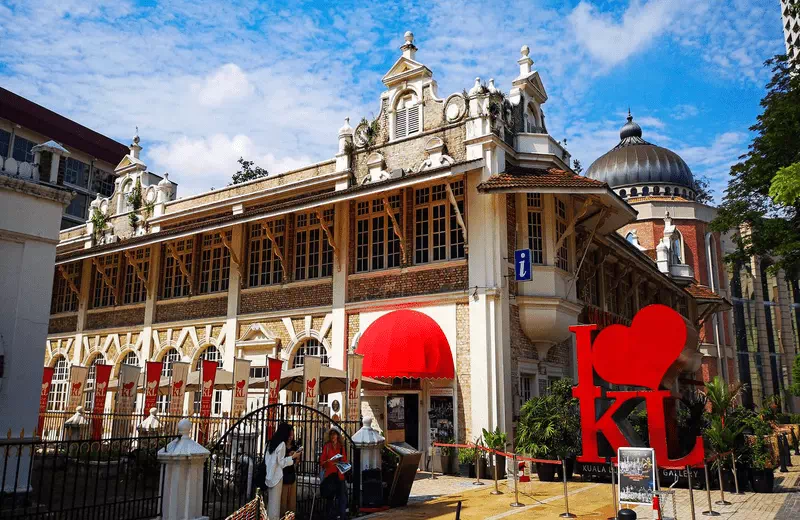 The Kuala Lumpur City Gallery is an interesting attraction that provides insights into Malaysia's capital city's history, culture, and growth. The gallery, housed in a magnificently restored colonial building, has a variety of exhibitions, multimedia presentations, and interactive displays. Visitors may learn about Kuala Lumpur's evolution from a tin mining town to a bustling city. One of the highlights is a stunning miniature model of the city's skyline, providing a bird's-eye view of its iconic landmarks.
The gallery also has a gift shop where visitors may purchase one-of-a-kind souvenirs and local crafts. The Kuala Lumpur City Gallery, with its educational exhibitions and entertaining displays, is a must-see for visitors wishing to learn and appreciate the rich legacy and growth of this dynamic city.
Lake Symphony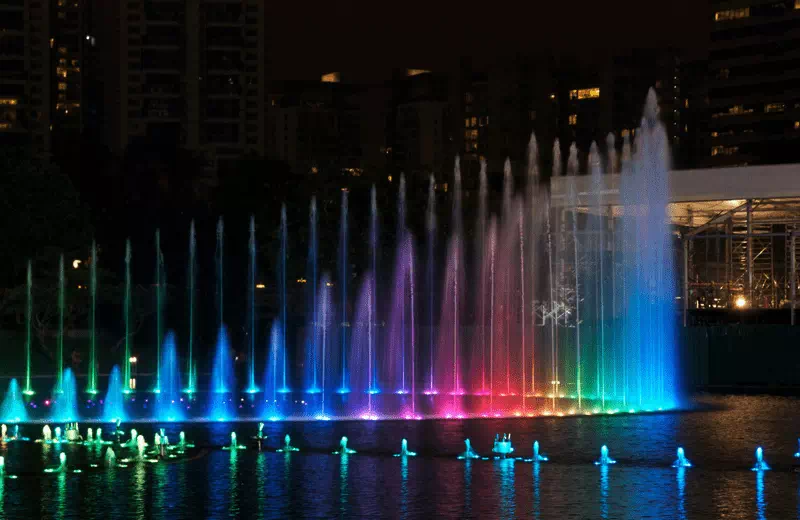 The focal point of the KL Convention Center is the enchanting Lake Symphony. Showcasing a colossal man-made lake adorned with a majestic 43-meter (140ft) bridge, the Lake Symphony offers a mesmerizing water spectacle that sends fountains soaring a remarkable 180 meters (590ft) into the heavens.
This unforgettable extravaganza takes place thrice daily, precisely at 8pm, 9pm, and 10pm, respectively. The soaring water jets are accompanied by a kaleidoscope of colors, painting the night sky with an array of vibrant hues. Harmonious melodies fill the air, creating an immersive ambiance that heightens the anticipation of the onlookers.
Adding to the grandeur of the occasion is the imposing presence of the iconic Petronas Twin Towers, which illuminate the night sky, casting a luminous glow upon the surroundings.
Little India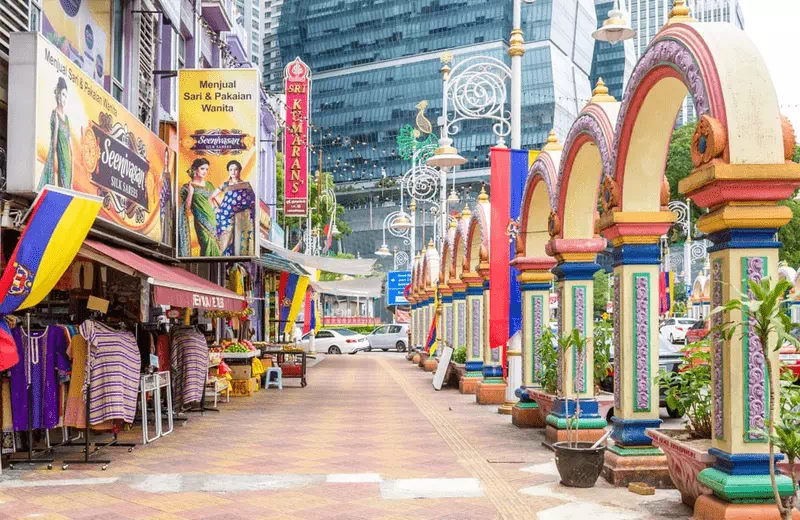 Little India is a neighborhood in Kuala Lumpur, Malaysia, that is home to a large Indian community. It is located in the Brickfields district and is known for its colorful temples, vibrant street life, and delicious Indian food.
It is a haven for Indian culture, cuisine, and shopping. As soon as you enter this bustling area, you are greeted with a burst of colors, fragrant spices, and traditional Indian music. Little India is lined with shops selling sarees, bangles, spices, and other Indian goods.
It is also home to numerous Indian restaurants serving authentic dishes like biryani, dosa, and curries. Visitors can immerse themselves in the lively atmosphere, explore the intricate Hindu temples, and participate in festivals such as Deepavali. Little India offers a taste of Indian culture and a memorable experience for locals and tourists alike.
Menara KL Tower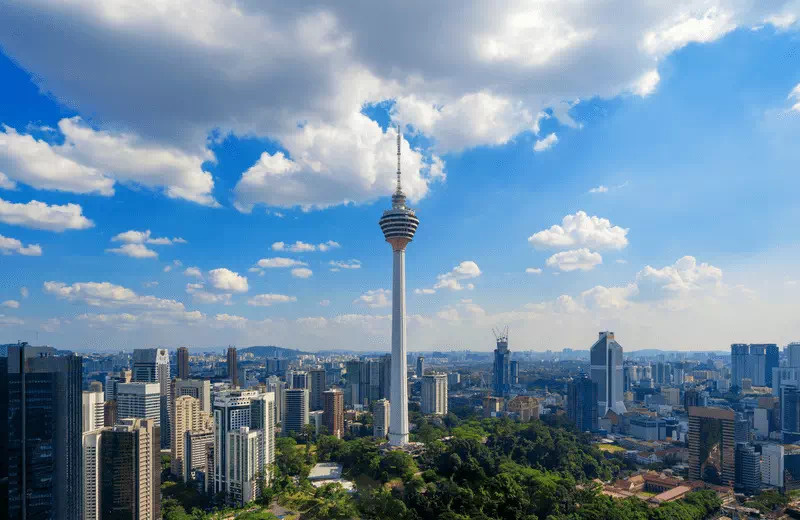 Menara Kuala Lumpur Tower, also KL Tower, is a 421-meter (1,381-foot) communications tower in Kuala Lumpur, Malaysia. It is Malaysia's tallest free-standing tower and the world's seventh-tallest free-standing structure. The skyscraper was completed in 1994 and was Malaysia's tallest construction until 1998 when it was eclipsed by the Petronas Twin Towers.
The tower provides a panoramic perspective of Kuala Lumpur and its surroundings. Visitors can use the elevator to reach the observation deck, which is 276 meters (906 feet) above ground. The tower also has a revolving restaurant, a skybox, and a mini zoo.
Menara KL Tower is a famous tourist attraction that is available to the public everyday from 9 a.m. to 10 p.m. Tickets can be purchased online or at the ticket counter in the tower.
Visitors may enjoy breathtaking views of the city's skyline, making it a must-see for both visitors and locals.
National Mosque of Malaysia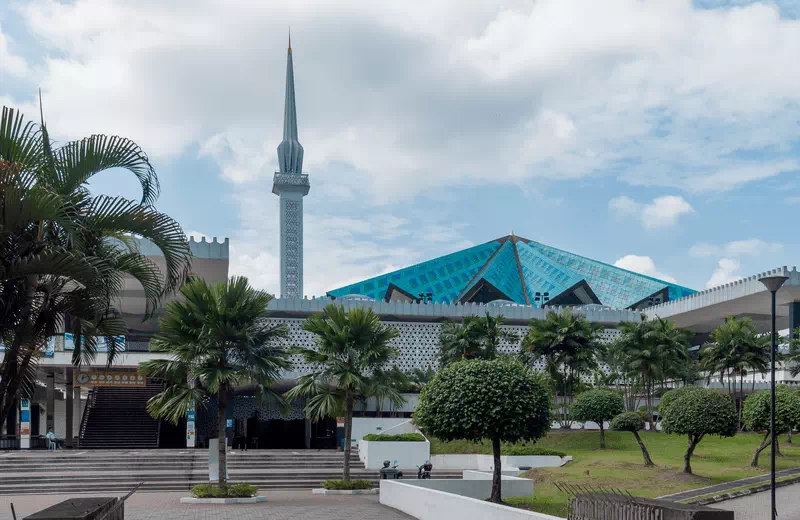 The Malaysian National Mosque (Masjid Negara) is a mosque in Kuala Lumpur, Malaysia. It is Malaysia's national mosque and one of the largest in Southeast Asia.
The mosque, which was completed in 1965, can seat up to 15,000 worshipers and is notable for its modernist style. Its main prayer hall has a magnificent blue and green dome that represents Malaysia's 13 states.
The mosque's elaborate embellishments also include Islamic art and calligraphy. Visitors of all religions are encouraged to explore the beautiful surroundings and observe the mosque's tranquil ambience.
The National Mosque of Malaysia is a famous location for both religious observance and cultural appreciation, and it serves as a symbol of the country's dedication to Islam.

National Science Centre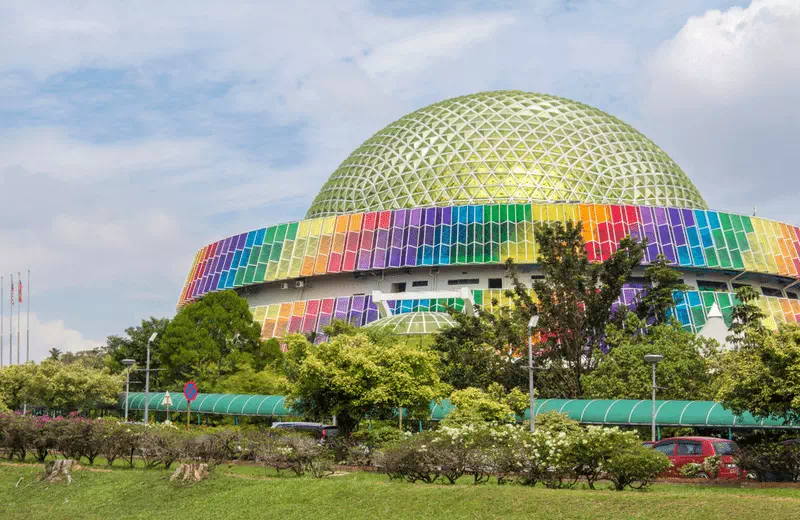 The National Science Centre, located in Kuala Lumpur, Malaysia, is an educational center dedicated to the advancement of scientific knowledge and discovery. It has a wide range of interactive displays and hands-on activities for guests of all ages. The facility provides a varied selection of scientific subjects to educate and excite curious minds, the centre offers a diverse range of scientific themes to engage and inspire curious minds.
Workshops, demonstrations, and educational activities are also held at the National Science Centre, making it a great destination for school field excursions and family vacations. The facility, with its commitment to encouraging scientific literacy and curiosity, serves as a portal to the exciting world of science for all who attend.
Sultan Abdul Samad Building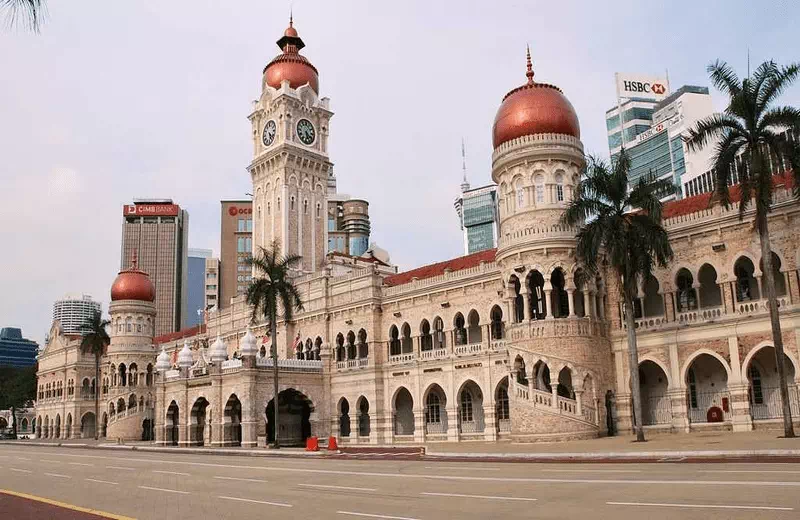 The Sultan Abdul Samad Building is a historical structure located in Kuala Lumpur, Malaysia. It was erected in the late 19th century and is regarded a city landmark. The structure is named after Sultan Abdul Samad, Selangor's third Sultan.
The Sultan Abdul Samad Building is an example of Indo-Saracenic architecture, a style that combines Indian, Islamic, and European elements. The structure is composed of red brick and white marble and has several domes, minarets, and arches.
The Sultan Abdul Samad Building served as the headquarters of the British colonial government in Malaya for many years. It now houses a variety of government offices and is a major tourist attraction.
The Sultan Abdul Samad Building, a symbol of Malaysia's rich history, is a popular destination for both visitors and residents, providing a look into the country's colonial past.
It is especially stunning when lighted at night. The Sultan Abdul Samad Building, a symbol of Malaysia's rich history, is a popular destination for both visitors and residents, providing a look into the country's colonial past.
Sunway Lagoon Theme Park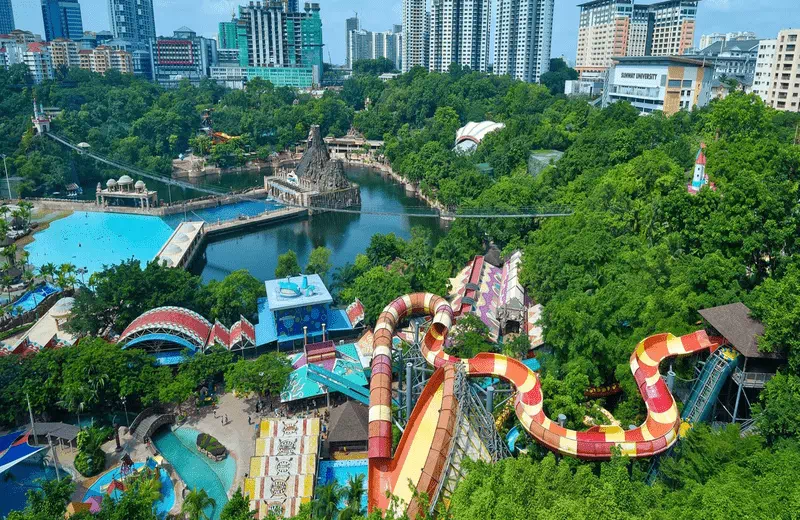 Sunway Lagoon Theme Park is a famous location in Petaling Jaya, Malaysia, near Kuala Lumpur. It spans 88 acres and provides a thrilling and fun-filled experience for visitors of all ages.
Water slides, wave pools, a lazy river, and even a surf beach are among the activities of the park. There are high-speed water slides and daring attractions like the Vuvuzela and the Monsoon 360 for thrill addicts.
There are additional dry park activities available, such as amusement rides, a wildlife park, and a scream park. Sunway Lagoon Theme Park, with its broad choices of entertainment alternatives, provides a wonderful day out for families, friends, and adventure seekers looking for excitement and relaxation all in one area.
Suria KLCC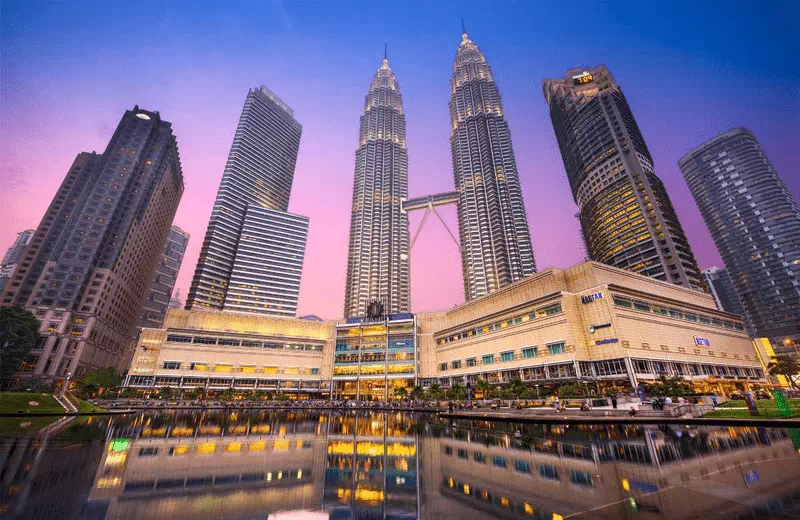 Suria KLCC is a shopping mall in Malaysia's Kuala Lumpur City Centre (KLCC). It is one of Malaysia's largest and most popular shopping malls, with over 300 stores and restaurants.
Suria KLCC has a diverse range of stores, including high-end fashion brands, department stores, and speciality shops. Suria KLCC also has a number of restaurants and cafés that serve a range of cuisines from across the world.
Suria KLCC's attractions include a cinema, a bowling alley, and a karaoke bar, in addition to shopping and dining. A rooftop garden with stunning views of KLCC is also available.
Suria KLCC is a known tourist location where you may spend the day shopping, dining, and visiting Kuala Lumpur.
Suria KLCC provides a comprehensive and elegant place to indulge in all of your wants, whether you're seeking for a shopping spree, a gourmet adventure, or cultural events.
Titiwangsa Lake Garden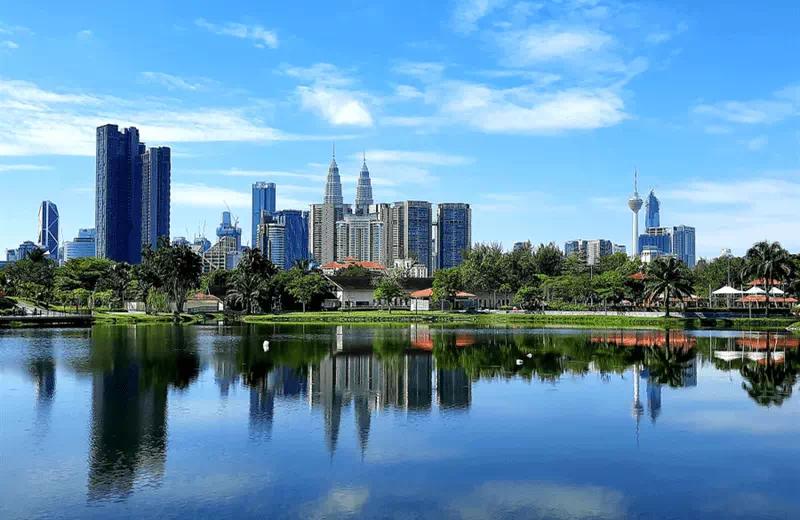 Titiwangsa Lake Garden, located in Kuala Lumpur, Malaysia, is a picturesque urban park that offers a tranquil escape from the city's hustle and bustle.
The park spans 95 hectares and has an as big lake, wonderfully nurtured gardens, and lush greenery. Visitors may take a stroll along the walkways, have a picnic on the green meadows, or rent a paddleboat to explore the tranquil lake.
The park also has recreational amenities including playgrounds, running tracks, and fitness stations. Titiwangsa Lake Garden, with its tranquil environment and spectacular vistas, is a popular area for locals and tourists to rest, exercise, and enjoy the beauty of nature in the heart of the city.
Tugu Negara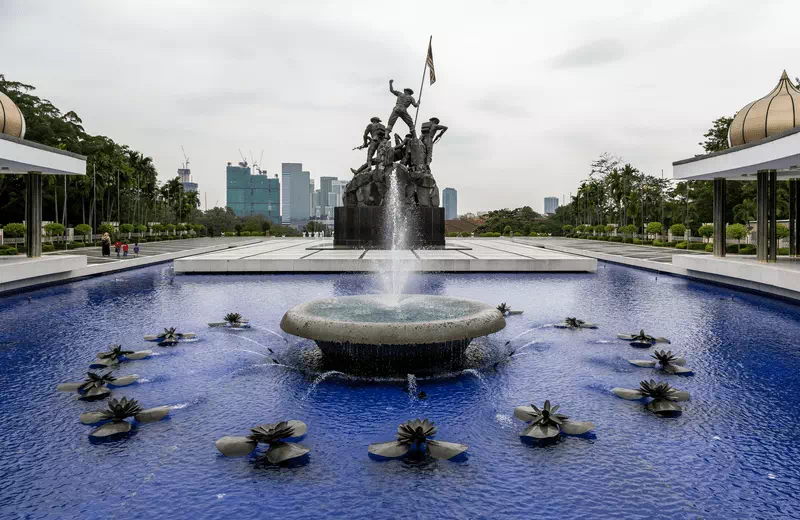 Tugu Negara is a Malaysian national monument located near Kuala Lumpur. It honors Malaysian soldiers who served in the Malayan Emergency and the Indonesia-Malaysia confrontation.
A 15-meter (49-foot) bronze sculpture of a Malayan soldier standing on a stepped platform serves as the monument. The soldier holds a gun in one hand and a floral wreath in the other. The platform is enclosed by four smaller soldier statues symbolizing Malaysia's four ethnic groups: Malays, Chinese, Indians, and indigenous peoples.
Tugu Negara is near the Perdana Botanical Gardens in the centre of Kuala Lumpur. It is a popular tourist attraction that is free to the public.