Narayan Sarovar in Kutch (Lake, Sanctuary)
Let's talk about narayan sarovar today. Narayan sarovar is one of the sacred lakes of hinduism. Which is sacred to lord narayana, the incarnation of lord vishnu. It is located in lakhpat taluka of kutch district in gujarat, india. Narayan sarovar or narayansar is a village on kori khadi and a pilgrimage site for hindus. A huge lake on the westernmost coast of india, narayan sarovar has a lot of spiritual significance. So let us know a little more about narayan sarovar.
Narayan Sarovar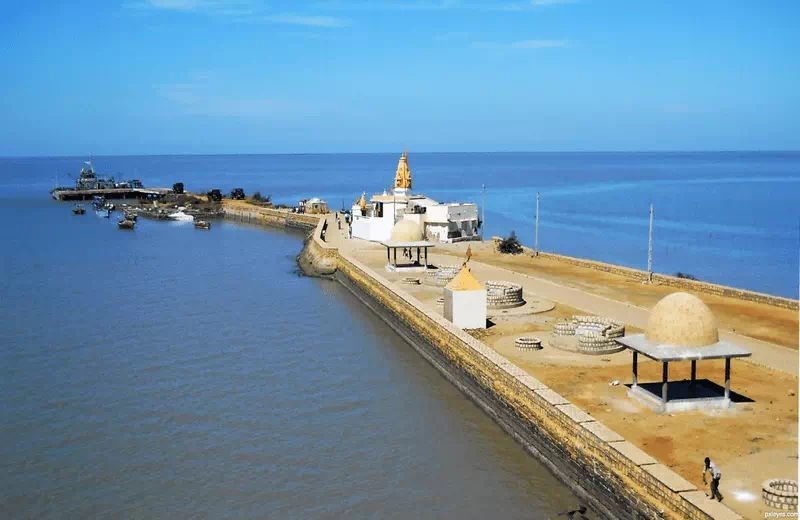 Located 100 km from bhuj, the lake is a group of five lakes collectively (narayan sarovar, pampa sarovar, pushkar sarovar, panch-sarovar, mansarovar and bindu sarovar). And is considered a holy pilgrimage for orthodox hindus. According to hindu mythology, the lake was formed when there was a drought in the region, and lord vishnu appeared in response to the fervent prayers of the sages. That is why it is known as narayan sarovar. Which frees the locals from their misery.
Around this lake are a large number of temples built by the queen of maharaj deshalji. These include temples like govardhanathji, dwarkanath, shri trikamarayaji, laxminarayan, adinarayana, ranchodrayji and lakshmiji. Narayan sarovar is one of the 5 sacred lakes of hinduism which includes (narayan sarovar, pampa sarovar, pushkar sarovar, panch-sarovar, mansarovar and bindu sarovar). Koteshwar mahadev temple is a magnificent sandstone structure located 4 km away from here. Temples dedicated to shiva and ganesha are the specialties here.
Narayan sarovar means the lake of lord vishnu. Mahaprabhu vallabhacharya visited and spent time here during his lifetime, so this place is also considered sacred for the followers of pushti marg. The nearby narayan sarovar sanctuary is home to chinkara and other wildlife species. The special thing here is that the fair is held here from the eleventh month of kartak to poonam.
Read More on Narayan Sarovar
1. How to Reach Narayan Sarovar
Here we are going to talk about how to reach narayan sarovar. So let's gather information about how a tourist can visit narayan sarovar.
By Air
The nearest airport to narayan sarovar sanctuary is bhuj (bhj) airport and other nearby airports include kandla.
By Train
There is no railway station less than 10 km from narayan sarovar.
By Road
The nearest bus stand in narayan sarovar is narayan sarovar bus stand. Connected to major cities you can reach here by bus. It is located 154 km west of bhuj and 144 km from mandvi city and these cities are well connected by road. And private buses and gujarat state road transport buses from all major parts of gujarat serve the city.
2. Top Places to Visit Around Narayan Sarovar
Matanamadh Temple
Narayan Sarovar Sanctuary
Jesal Toral Temple
Roha Fort
Lakhpat Fort
Shree Bhadreshwar Tirth
Tera Fort