Everything You Need To Know About Congaree National Park
This South Carolina national park is home to champion trees, primeval forest landscapes, and a variety of plant and animal life. Congaree is still a fantastic place to go fishing, as well as hiking, camping, and boating.
We cover the best things to do in Congaree National Park in this guide.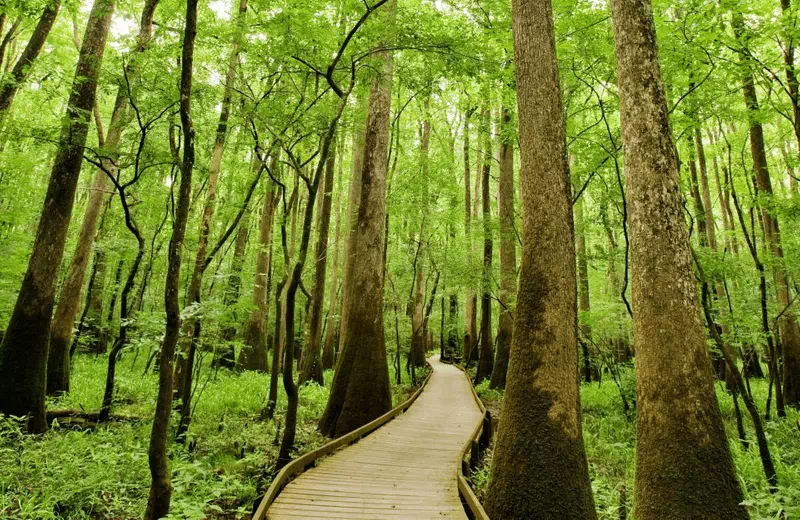 The park was officially designated in 2003, marking the end of a grassroots campaign that began in 1969. With 145,929 visitors in 2018, it is the tenth-least visited national park in the United States, trailing Nevada's Great Basin National Park.
Located 18 miles south of Columbia, the state capital, Congaree National Park is a popular tourist destination for visitors from all over the country. An old-growth hardwood forest in the southeastern United States is protected by Congaree National Park. This small park is simple to get to and is quick to explore. You can go kayaking or canoeing on Cedar Creek, go birdwatching and fishing, and, if you'd like, explore the park's woodland trails further into the woods, which include the boardwalk trail.
Walking along Congaree's nearly 4 kilometers of boardwalks or 40 kilometers of hiking trails is one of the most popular activities. Keep an eye out for the animals that live here, such as wild boars and box turtles, as you walk the trails. If you want to learn more about the park's diverse biodiversity, join a ranger-led walk. Another way to enjoy this marshy park is to kayak or canoe through its swamps or to fish in its rivers.
Congaree National Park contains alligators, but they are not common. Unless the river is flooding, the area isn't ideal for them because it's not marshy or swampy. When alligators are spotted, they are usually found along the river at the park's southern end.
Its famous for what?
Congaree's floodplain forest, known for its massive hardwoods and towering pines, has one of the world's highest canopies. The park serves as a refuge for plants and animals, a research site for scientists, and a peaceful wilderness setting for walking and relaxing.
What makes Congaree National Park unique?
This national park protects the southeastern United States' oldest old-growth bottomland hardwood forest. The trees that grow here are some of the tallest in the eastern United States, and this is one of the world's highest temperate deciduous forest canopies.
Is it possible to bring your dog to Congaree National Park?
All visitors, including their pets, are welcome at Congaree National Park! Pets are permitted on all trails and in the campgrounds, including the boardwalk.
Best Time to Visit Congaree National Park
Congaree National Park is best visited in the spring and fall. Temperatures are mild (daytime highs in the 70s) and mosquitoes are scarce in the spring and fall. Congaree receives about 3 inches of rain per month in both the spring and fall. The peak of the fall colors occurs in early November.