5 Folly Beach Restaurants with the Best Views
Folly Beach, nestled along the beautiful South Carolina coastline, is a haven for sun-soaked adventures and seaside serenity. But it's not just the pristine beaches and rolling waves that draw travelers to this idyllic destination. Folly Beach is also home to a vibrant culinary scene that caters to every palate. In this article, we'll take you on a gastronomic journey to explore the unique charm and flavors of Folly Beach's best restaurants, each offering a delightful twist on coastal cuisine.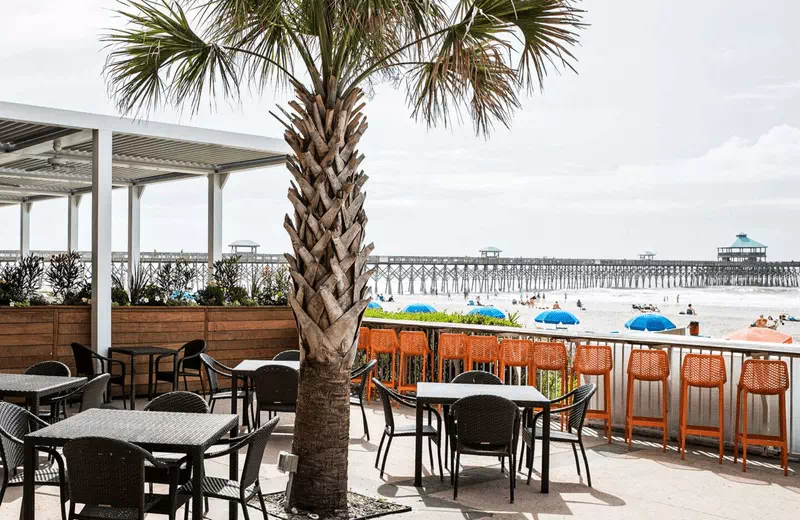 Lost Dog Café
The Lost Dog Café is a beloved Folly Beach institution known for its eclectic menu and laid-back atmosphere.
Dive into their "Lost Waffles" topped with fresh berries and whipped cream, a breakfast treat that's as unique as the island itself.
Discover the artistry behind their craft cocktails and hand-picked beer selection, perfect for unwinding after a day in the sun.
Jack of Cups
Jack of Cups is a hidden gem offering globally inspired dishes made with local ingredients.
Explore their ever-changing menu that features dishes from places as diverse as Thailand, Morocco, and Mexico.
Don't miss their inventive vegan options, which prove that plant-based dining can be an exciting culinary adventure.
This Asian-inspired pub and grill offers a variety of unique dishes, including curry, Nam Sod, and vegan and vegetarian options.
With a full bar and a lively atmosphere, Jack of Cups Saloon is a great place to go for a casual meal with friends.
Rita's Seaside Grille
Located right on Folly Beach Pier, Rita's Seaside Grille offers stunning ocean views paired with exquisite seafood.
Indulge in their famous Shrimp and Grits, a Lowcountry classic that captures the essence of Southern coastal cuisine.
The restaurant's lively atmosphere and live music add a dash of festivity to your dining experience.
This family-friendly restaurant is known for its delicious seafood and smoked meats.
Rita's also has a fantastic outdoor dining area with stunning views of the Folly Beach Pier.
The Crab Shack
The Crab Shack is a seafood lover's dream, offering a no-frills dining experience with buckets of seafood, picnic tables, and ocean breezes.
Feast on their seafood boil, where you can customize your meal with crab, shrimp, crawfish, or all of the above, and savor the flavors of the sea.
The restaurant's quirky, nautical decor adds to the fun atmosphere.
Taco Boy
Taco Boy, with its vibrant colors and beachy decor, brings a taste of Baja to Folly Beach.
Try their creative taco combinations, like the "Hanoi Hanoi" with Vietnamese-style pulled pork or the "Sweet Potato" with roasted poblano crema for a vegetarian delight.
Pair your tacos with their extensive tequila selection or a refreshing margarita for the ultimate beachfront dining experience.
Chico Feo
This Vietnamese-inspired taco shop is a Folly Beach favorite. Chico Feo offers a variety of tacos, including fish, pork, and tofu. The restaurant also has a full bar with a wide selection of beers, cocktails, and wine.
Snapper Jack's
This three-story seafood restaurant is a great place to go for a casual meal or a special occasion. Snapper Jack's offers a variety of seafood dishes, including oysters, crab boils, and sushi. The restaurant also has a rooftop bar with stunning views of the Atlantic Ocean.
The Drop In Bar & Deli
This casual restaurant is known for its delicious sandwiches, salads, and soups. The Drop In also has a full bar with a wide selection of beers, wines, and cocktails.
Here are a few tips for making the most of your dining experience on Folly Beach
Make reservations: Many of the best restaurants on Folly Beach book up quickly, especially during the summer months. It's a good idea to make reservations in advance, especially if you're dining with a large group.
Dress comfortably
Folly Beach is a casual place, so you don't need to dress up to go out to eat. Most restaurants allow shorts and T-shirts.
Try the local seafood
Folly Beach is known for its fresh seafood. Be sure to try some of the local favorites, such as shrimp and grits, fried clams, and crab cakes.
Enjoy the views
Many of the restaurants on Folly Beach have stunning views of the Atlantic Ocean or the Folly Beach Pier. Be sure to take some time to enjoy the scenery while you're dining.
Conclusion
Folly Beach isn't just about sun and surf; it's also a place where your taste buds can embark on a culinary journey filled with unique flavors and unforgettable dining experiences. Whether you're a seafood enthusiast, a lover of global cuisine, or a vegan foodie, Folly Beach's restaurants have something special in store for you. So, the next time you're planning a trip to this charming coastal paradise, make sure to explore these fantastic dining destinations to satisfy your cravings and indulge in the island's culinary delights.