Lake Winnipesaukee, New Hampshire
New Hampshire's largest lake, Lake Winnipesaukee, is located at the foothills of the White Mountains in the Lakes Region.
It has a maximum depth of 180 feet and a length of approximately 21 miles, with a width ranging from 1 to 9 miles. It covers 69 square miles, or 71 square miles when Paugus Bay is included.
This spring-fed lake, surrounded by three mountain ranges, is a popular summer resort and a place to relax and enjoy water sports of all kinds in beautiful surroundings.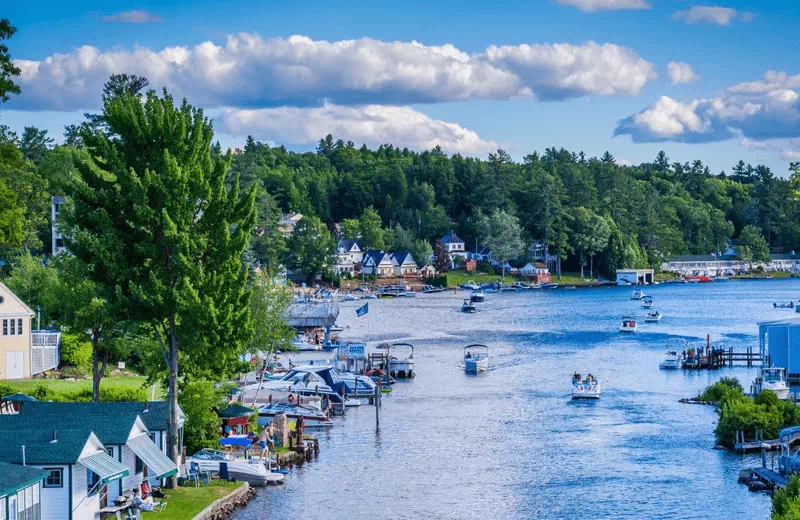 This is a year-round vacation paradise with something to do for everyone, young and old. Whether you live in the Lakes Region or are just visiting, every day brings new adventures!
There are numerous attractions, and new ones are constantly being added. Recent additions include exciting escape room experiences, zip line and high ropes operations in Laconia and Gilford, and even off-road segway tours in Gunstock.
Cruises on Lake Winnipesaukee around Mt. Washington are perennial favorites, as are tours of the Castle in the Clouds estate and having fun at Funspot!, the world's largest arcade.
Lake Winnipesuakee provides visitors with four seasons of vacation enjoyment! Launch your boat from one of the Lake's many launch sites. Winipesuakee has 72 square miles to explore, so bring your favorite craft.
If you don't own a boat, you can rent one, charter one, or take a cruise on one of the many excursion boats available on the "Big Lakes". Even when the temperatures drop in the winter, families can still enjoy the lakes. Ice fishing, skiing, snowmobiling, ice skating, cross-country skiing, and ice boating are all excellent family activities.
What is Lake Winnipesaukee famous for?
Lake Winnipesaukee is famous for its annual Ice-Out Contest, in which participants attempt to predict the earliest date on which the Mount Washington can safely leave her port in Center Harbor and motor to four other ports (Alton Bay, Wolfeboro, Weirs Beach and Meredith).
Is it possible to swim in Lake Winnipesaukee?
The parks can be used for a variety of purposes, including camping, swimming, and simply admiring the scenery. Endicott Park at Weirs Beach- Weirs Beach Small public beach on the Weirs Beach Channel, which connects Paugus Bay to the main body of Lake Winnipesaukee.
Is Lake Winnipesaukee clean?
The New Hampshire Department of Environmental Services currently classifies Lake Winnipesaukee as oligotrophic (low productivity) and lists it as having high quality water (NH DES).
What kinds of creatures can be found in Lake Winnipesaukee?
Many animal species live in Lake Winnipesaukee, including otters, beavers, muskrats, minks, fisher, moose, deer, black bear, coyote, and bobcats. There is only one dam that releases water from Lake Winnipesaukee. It is located in Lakeport on the southern edge of Paugus Bay.
Is Lake Winnipesaukee beautiful?
Year after year, Lake Winnipesaukee draws visitors to its glistening shores. This magnificent New Hampshire lake has been a popular vacation spot for over a century and continues to be so today. The 44,586-acre lake invites visitors to enjoy all of the fun activities on and around it, with over 170 miles of shoreline.
Best Time to Visit Lake Winnipesaukee
In the spring and summer, it's ideal for boating and outdoor recreation, while in the fall, it's ideal for leaf peeping and ice fishing, and in the winter, it's ideal for snowmobiling and ice fishing. Furthermore, the surrounding communities have a plethora of fun things to do, great places to eat, and cozy places to stay.
Top Places to Visit Around Lake Winnipesaukee
Wright Museum of WWII
The M/S Mount Washington
Gunstock Mountain Resort
Castle in the Clouds
Mount Major
New Hampshire Boat Museum
Art Escape
Monkey Trunks
Ellacoya State Park