The Ultimate Guide to Hiking Doi Inthanon
Doi Inthanon, widely known to as "The Roof of Thailand," is a beautiful natural wonder that can be found in the province of Chiang Mai. Doi Inthanon, at 2,565 meters (8,415 ft) above sea level, is the nation's highest summit. This article helps you through the geography, history, attractions for tourists, and conservation efforts related to this magnificent mountain.
Doi Inthanon, which bears the name of King Inthawichayanon, one of the final monarchs of the Chiang Mai Kingdom, is particularly dear to Thais. For travelers looking for something different in Thailand, it is a must-visit destination because of its rich heritage of culture and natural beauty.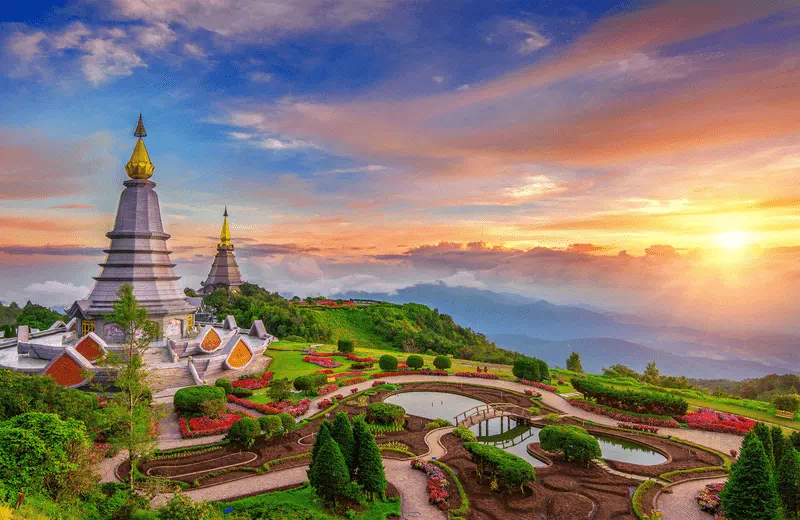 Cultural Importance
The mountain is not only a symbol of natural beauty but also holds religious and cultural significance. Many revered pagodas and temples can be found there, attracting tourists looking for peace of mind and spiritual solace.
Climate and Geography of Doi Inthanon
Mountain Peak
Doi Inthanon's summit offers panoramic views of misty valleys, beautiful forests, and attractive nature. For lovers of the in nature, photographers, and those looking for excitement, it is a paradise.
Biodiversity
Doi Inthanon is known for having an incredible diversity of plant and animal species. The mountain is a sanctuary for lovers of botany, with its magnificent trees and rare orchids.
Weather Patterns
Doi Inthanon offers an appealing getaway from Thailand's tropical heat because of its height and milder year-round temperatures. The peak is frequently enveloped in mist, giving tourists an experience of the ethereal.
Cultural Attractions Near Doi Inthanon
Pagodas and Temples
Buddhists often travel to Wat Phra That Doi Inthanon, a famous temple located atop the mountain. Its golden chedi gleams in the sunlight, offering a striking contrast against the verdant surroundings.
Hill Tribe Villages
Near Doi Inthanon, you can find traditional hill tribe villages inhabited by Karen, Hmong, and other ethnic groups. Tourists can experience the unique cultures, handicrafts, and warm nature of these towns.
Traditional Festivals
Doi Inthanon celebrates colorful festivals all year, allowing travelers to watch and participate in traditional ceremonies, dances, and music. These festivals offer insights into the local way of life.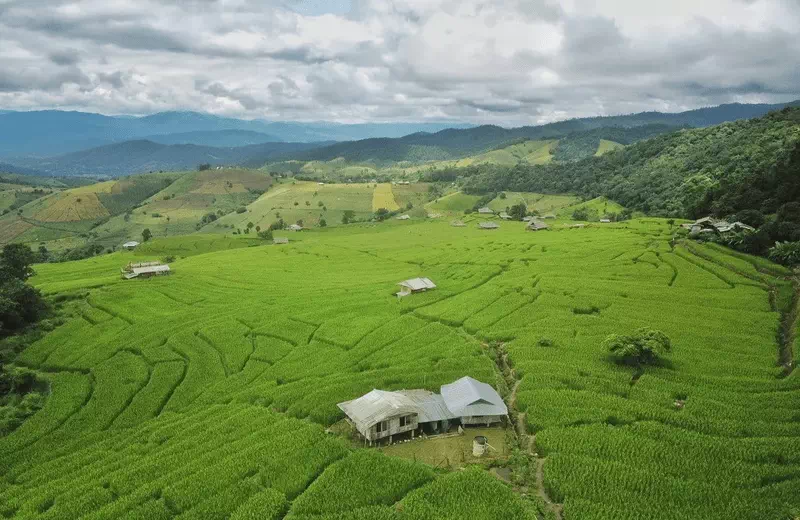 Practices of Responsible Tourism
When visiting Doi Inthanon, visitors are advised to conduct responsible tourism. This involves following park regulations, minimizing waste, and supporting local businesses promoting environmentally friendly activities.
Tips for Visiting Doi Inthanon
Wear appropriate suitable for the weather clothes and comfortable shoes.
Bring your camera to capture the amazing scenery.
Keep the park clean by not wasting.
For longer hikes, it's also recommended to bring a reusable water bottle and some food.
Bring a hat and sunscreen to protect yourself from the sun.
Respect the wildlife by not feeding or disturbing the animals.
Things to Do In Doi Inthanon
Hiking
The park has a variety of trails for hiking ranging from easy to challenging. The most popular trail is the Sirindhorn Waterfall Trail, which leads to Thailand's highest waterfall.
Birdwatching
Doi Inthanon National Park is home to an extensive variety of birds, including some rare and endangered species. Early in the morning or late in the day are the best times to go birdwatching.
Trekking and Hiking Trails
Doi Inthanon National Park has a wide range of paths that are suited to hikers with different levels of expertise. There is something for everyone, from easy hikes to challenging treks.
Natural Wonders and Waterfalls
Beautiful waterfalls like Mae Klang, Wachirathan, and Sirithan can be found in the park. These cascades offer relaxing spots to relax and take in the beauty of nature.
Flora and Fauna
There are many unique plant and animal species on Doi Inthanon. Colorful birds, butterflies, and even elusive mammals like the clouded leopard and Asiatic black bear can be seen by tourists.
Visiting the Chedis
There are two chedis in the park, one representing the monarch and the other the queen of Thailand. The chedis provide amazing views of the mountains in the area.
Visiting the Karen villages
There are a number of Karen villages located in the park. A small ethnic group in Thailand's mountains is known as the Karen. A wonderful approach to understand the culture and way of life of the Karen community is to visit a Karen village.
The Best Hotels near Doi Inthanon
Doi Inthanon View Resort
At Doi Inthanon View Resort, you may enjoy breath-taking views of the mountains and green valleys in the area. Doi Inthanon View Resort provides a number of comfortable accommodations that naturally connect with the surrounding landscape. This resort, which lies just outside the park, provides breathtaking views of the mountains in the area. The resort offers a variety of amenities, such as a restaurant, a spa, and a swimming pool.
Chiang Mai Elephant Friends
This hotel is located a short distance from the park's entrance in the village of Ban Pa Pong. Activities available at the hotel include hiking, cooking classes, and elephant trekking.
Chai Lai Orchid
This hotel is located in the Ban Huay Pu Keng village, which is nearby to the park's entrance. The hotel offers a more rustic experience, with bungalows that are built into the side of a hill.
These accommodations provide a peaceful haven where visitors may relax and take in the beauty of the forest. His eco-friendly resort offers a variety of activities, from cozy lodging to in-depth cultural interactions, making it an excellent choice for both adventurers and environment lovers.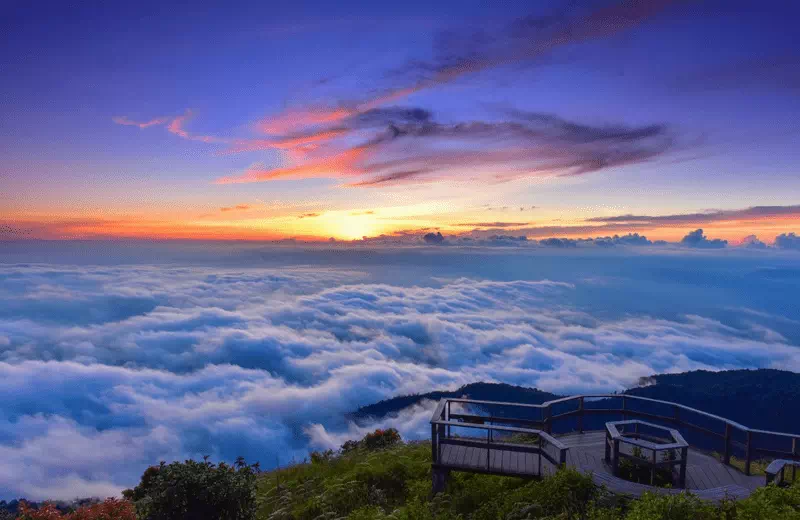 Best Time to Visit Doi Inthanon
The cool and dry season, which generally remains for between November and February, is the best time of year to visit Doi Inthanon. The visibility is excellent for taking in the beautiful sights, and the weather is pleasant.
How To Reach Doi Inthanon
Doi Inthanon National Park can be reached from Chiang Mai in a few different ways.
From Chiang Mai
By Car
Driving is the most efficient way for getting from Chiang Mai to Doi Inthanon. The travel to the mountain takes about 1.5 to 2 hours. For the journey, you can either rent a car or use a taxi service.
By Tour
A lot of travel operators in Chiang Mai provide guided trips to Doi Inthanon. These journeys typically include of transportation, a knowledgeable guide, and visits at several national park attractions.
By Public Transportation
By Bus
Doi Inthanon is reachable via bus from Chiang Mai's Arcade Bus Station. A local bus or a minivan that travels this route are both options. Depending on traffic and stops, the trip takes between two and three hours.
By Songthaew
In Chiang Mai, tourists frequently use songthaews, which are red shared taxis or pickup trucks with benches. From Chiang Mai to Doi Inthanon, you can take a songthaew, but it might require many transfers.
From Mae Hong Son
By Car or Motorbike
You can go to Doi Inthanon from Mae Hong Son by car or motorbike. The trip takes between 2.5 and 3.5 hours, depending on the route and the flow of traffic.
Top Places to Visit Around Doi Inthanon
Phra Mahathat Naphamethanidon
Naphaphonphumisiri Pagodas
Wat Phra That Doi Suthep
Sirindhorn Waterfall
Kew Mae Pan Nature Trail
Wat Chedi Luang
Night Safari Chiang Mai
Mae Sa Elephant Camp
Ang Ka Luang Nature Trail
Brichinda Cave
Karen villages
Chiang Mai