Hiking to the Top of Mount Kosciuszko, Australia
Australia's highest mountain peak, Mount Kosciuszko, is located in New South Wales in the southern Australian Alps. It is a popular location for hikers, mountaineers, and environment lovers because it is 2,228 meters above sea level. This article guides you through the mountain's history, geography, climate, and other aspects.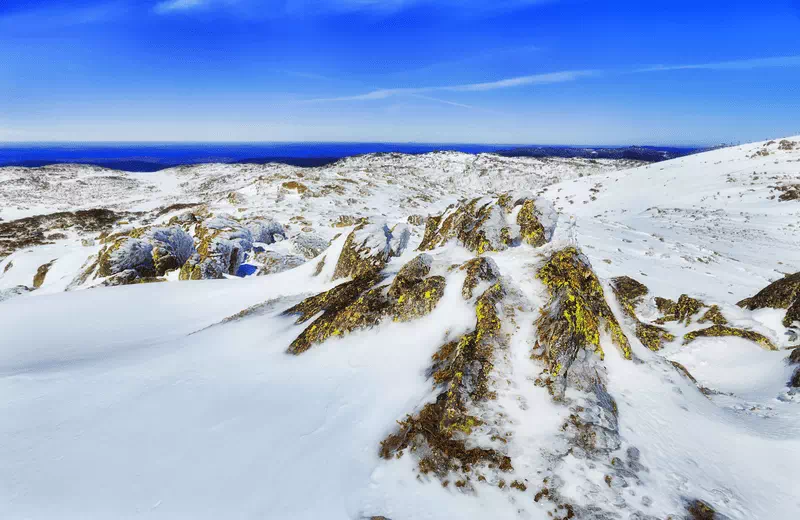 History of Mount Kosciuszko
In 1840, the explorer Paul Edmund Strzelecki named Mount Kosciuszko his name in honor of Tadeusz Kociuszko, a Polish military leader and hero. It has been an important part of the local Indigenous Australian culture for thousands of years, and was regarded as a sacred site by the local Aboriginal people.
Geographical Location and Features
In the Kosciuszko National Park, Mount Kosciuszko is located in the southern Australian Alps. It is located close to the border between New South Wales and Victoria and is an area of the Great Dividing Range. Snow gum trees, palm forests, and alpine grasslands all round the peak. Additionally, it has Lake Cootapatamba, a tiny glacier lake, close to its peak.
Climate and Weather
Both Mount Kosciuszko's altitude and geographic location have an effect on its climate. The mountain enjoys cool to cold weather all year round, with an average range of 3 to 12 degrees Celsius. In the winter, snowfall is common and the temperature can go as low as -10°C. The best time to visit the mountain is from November to April when the weather is milder.
Trekking & Hiking
The popular climbing and trekking destination is Mount Kosciuszko. There are a number of easy to somewhat strenuous trails that go to the summit. The Main Range Walk, a 22-kilometer circuit, is the most popular hike.
The Summit Walk, the Thredbo to Kosciuszko Walk, and the Charlotte Pass to Kosciuszko Walk are some other popular treks. The weather can be unexpected and change quickly, therefore hikers are advised to arrive prepared and with the right gear.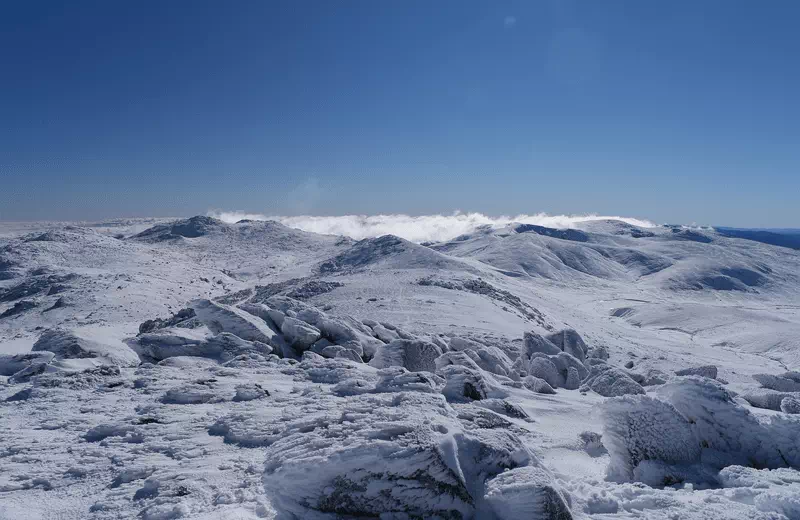 Flora and Fauna
Many different types of wildlife and plants can be found on Mount Kosciuszko. While eucalyptus trees predominate in the forests, grasses, shrubs, and wildflowers make up the alpine vegetation. Wildlife from a variety of species, such as kangaroos, wallabies, wombats, and possums, call the mountain home. Many bird species, such as the Australian Raven and the Snowy Mountain Parrot, are visible to birdwatchers.
Skiing and Snowboarding
A popular spot for skiing and snowboarding is Mount Kosciuszko. During the winter, a ski resort in the nearby town of Thredbo provides skiing and snowboarding opportunities. There are many ski runs available at the resort, including beginner, intermediate, and expert runs. The resort provides additional activities including snowshoeing and tobogganing in addition to its regular ski season, which lasts from June to October.
Conservation Efforts
The Kosciuszko National Park, which was created in 1944, provides protection for Mount Kosciuszko and the lands around it. The National Parks and Wildlife Service oversees the park, and efforts are made to protect the mountain's delicate habitat and wildlife. To keep the mountain clean for future generations, visitors are advised to practice environmental responsibility and respect by park regulations.
Accommodations on Mount Kosciuszko
There are many different options for accommodation near Mount Kosciuszko, from luxurious hotels and chalets to low-cost motels and travelers. Here are some of the most popular choices:
Thredbo
Perisher Valley
Charlotte Pass
Jindabyne
Tumbarumba
When choosing an accommodation option, it is important to consider the following factors:
Budget
Location
Amenities
Pet Policy
Cancellation Policy
Climb Up Mount Kosciuszko
From Thredbo or Charlotte Pass, the climb to the top is easy and takes around 4-5 hours to complete.
The summit of Mount Kosciuszko can be accessed by two main routes:
The Thredbo Walk
This is the most popular route, which begins at Thredbo Village at the summit of the Kosciuszko Express Chairlift. It takes roughly 4-5 hours to complete the 13 kilometer (8 mile) round trip distance.
The Charlotte Pass Walk
The route is 18.6 kilometers (11.6 miles) round-trip from Charlotte Pass and takes 6 to 8 hours.
Both routes are clearly defined and simple to follow. There are some slight elevations, but the ground is largely level. A few flow crossings are there, but they are simple to traverse.
Summer, from December to March, is the best season to climb Mount Kosciuszko. The snow has melted and the weather is warm and sunny. The weather can change quickly in the mountains, so it's important to check the forecast before you go.
It's important to be prepared before climbing Mount Kosciuszko. Wear comfortable shoes or boots, bring a lot of water, and bring some snacks. You may also want to bring a hat and sunscreen, as the sun can be very strong at high altitudes.
A fantastic way to appreciate the beauty of the Australian Alps is to climb Mount Kosciuszko. The climb is difficult but rewarding, and the views from the summit are breathtaking.
Additional Advice for Climbing Mount Kosciuszko is Provided Here:
Starting early in the day. The crowds are usually fewer and the weather is cooler.
Tell someone where you are going and when you expect returning.
Bring a compass and a map.
Keep up with the weather and dress appropriately.
Take frequent breaks, and drink a lot of water.
Be prepared for the unexpected.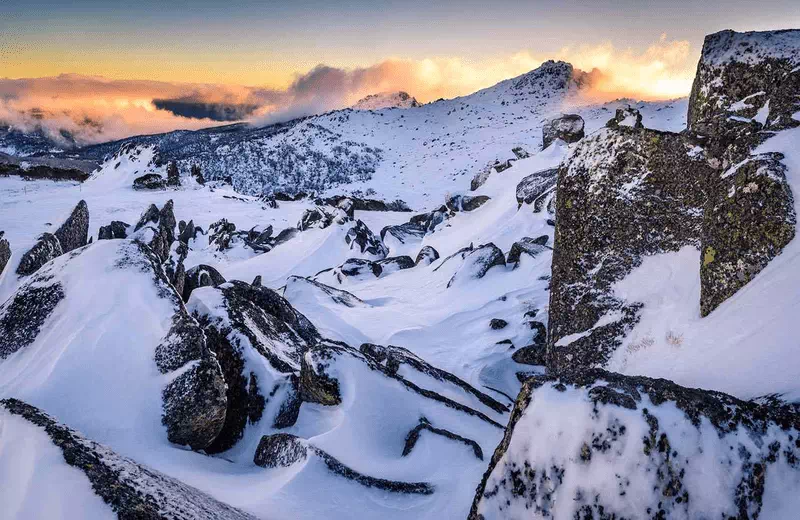 Best Time to Visit Mount Kosciuszko
Summertime, from December to March, is the best time for visiting Mount Kosciuszko. The weather is warm and sunny, and the snow has melted.The weather can change quickly in the mountains, so it's important to check the forecast before you go.
The pros and cons of visiting Mount Kosciuszko in each season are listed below:
Summer (December to March)
Pros:
Warm and sunny weather
Snow has melted, making it easier to hike
More daylight hours
Cons:
Crowds
Higher prices
Increased risk of bushfires
Winter (June to August)
Pros:
Fewer crowds
Snow-capped mountains
Winter sports
Cons:
Cold weather
Short days
Limited access to some trails
Spring (September to November)
Pros:
Mild weather
Snow melting, revealing new scenery
Flowers blooming
Cons:
Variable weather
Longer days can make hiking more challenging
How To Reach Mount Kosciuszko
Here are a few ways of reaching Mount Kosciuszko:
By Car:
You can travel the Alpine Way, a beautiful road across the Snowy Mountains, to get to Mount Kosciuszko by car. Jindabyne, which is about a 2.5-hour journey from Canberra and a 6-hour drive from Sydney, is the town nearest to the peak.
By Bus:
Greyhound and Murrays are only two of the bus companies that offer service to the Snowy Mountains area. You can take a taxi or a local shuttle bus to get to the Mount Kosciuszko trailhead from the closest town, Jindabyne.
By Train:
The town of Cooma, which is about an hour's drive from Mount Kosciuszko, is located to the area's closest train station. To get to the trailhead from Cooma, you can take a bus or rent a car.
By Plane:
The nearest airport to Mount Kosciuszko is in Canberra, which is about a 2.5-hour drive from the mountain. You can rent a car or take a bus to Jindabyne from the airport, and then take a local shuttle or a taxi to the trailhead from there.
Top Places to Visit Around Mount Kosciuszko
Thredbo
Perisher Valley
Charlotte Pass
Jindabyne
Tumbarumba
Yarrangobilly Caves
Paddys River Falls
Lake Jindabyne
The Kosciuszko Alpine Way
The Australian Alps Walking Track
The Mount Kosciuszko Summit Walk
Conclusion
Mount Kosciuszko is an iconic mountain peak that offers a range of activities for nature lovers, hikers, and mountaineers.