Lake Powell The Most Beautiful Man-Made Reservoir
Lake Powell is an artificial reservoir on the Colorado River in Utah and Arizona. Glen Canyon National Recreation Area contains a section of the Colorado River. The only city near the lake is Page, Arizona. Every year, around two million people visit this popular vacation spot known for houseboat, speedboat, and kayaking excursions.
From Lees Ferry in Arizona to the Orange Cliffs in southern Utah, the recreation area stretches for hundreds of miles, encompassing scenic vistas, geologic wonders, and a vast panorama of human history.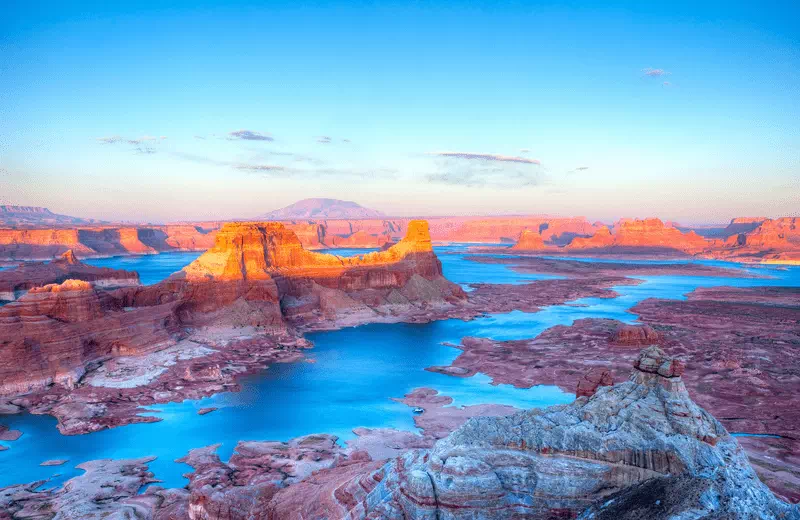 Padre Bay Padre Bay is the largest bay on Lake Powell, measuring seven miles across and nine miles long. It's also one of the most scenic, with breathtaking views of monuments like Domingues Butte, Tower Butte, Cookie Jar Butte, and the aptly named Boundary Butte, which sits on the border of Utah and Arizona. This is the most beautiful part of Lake Powell.
It is the second-largest man-made reservoir in the United States by maximum water capacity, after Lake Mead, storing 24,322,000 acre-feet of water when full. Lake Powell is a spectacular location. The breathtaking canyons and natural landscapes are unlike anything else on the planet.
Glen Canyon was the name given to the tranquil section of the Colorado River that once meandered through red rock canyons and became the stunning blue waters of Lake Powell following the completion of the Glen Canyon Dam in 1966. The lake was named after explorer John Wesley Powell, who was the first person to float the Colorado River.
Things to Do In Lake Powell
Visitors can rent houseboats, personal watercraft, powerboats, kayaks, and other water toys or bring their own watercraft.
Outdoor enthusiasts enjoy using a houseboat as a basecamp while exploring the slot canyons, which can only be accessed by small boats, kayaks, or paddleboards.
Jet skiing, powerboating, and waterslides are all available at Lake Powell. Lake Powell can provide you with whatever type of lake experience you desire.
Wahweap Bay, which includes a large stretch of the southern part of the lake and is also the most visited by tourists, is one of the main things to see at Lake Powell. The Wahweap Marina is the area's most interesting and well-known tourist and sporting attraction, offering scenic cruises as well as the most daring and exciting water sports like waterskiing and wakeboarding.
The most active center for boat excursions on Lake Powell is Wahweap, which includes the popular Rainbow Bridge National Monument trip, but there are several other marinas and launch points. Kayaks and sailboats, in addition to power boats and houseboats, enjoy Lake Powell's waters.
Best Time to Visit Lake Powell
Here we have to collect information about best time to visit Lake Powell. This is to collect information on where the visitor can visit the Lake Powell. So let us know a little more about this Lake Powell.
The best time to visit is between warmer months (May and August), when the days are longer and the sunsets are spectacular. Holiday weekends, spring break, and the summer season are among the busiest times to visit Lake Powell.
The Best Time for a Tourist to Visit Lake Powell Is From Late April to August.
Winter Season
Although it does get cold on Lake Powell in the winter, average monthly highs remain above freezing all year. The coldest months on Lake Powell are December, January, and February.
Summer Season
Temperatures in June, July, and August typically range from 90°F (32.2°C) to 120°F (48.9°C).
Monsoon Season
The monsoon season in Arizona begins in mid-June and lasts until the end of September.
How To Reach Lake Powell
Here we are going to talk about how to reach Lake Powell. So let's gather information about how a tourist can visit Lake Powell.
By Air
Scheduled flights arrive at Page Airport (via Phoenix, AZ and Las Vegas, NV), where you can rent a car or take advantage of the shuttle services provided by Lake Powell Resort, which is just a few miles away.
Top Places to Visit Around Lake Powell
Rainbow Bridge National Monument
Ticaboo Canyon
Canyon Boat Rentals
Rainbow Bridge Trail
Dangling Rope Marina