The Pink Perfection: Exploring Lake Hillier in Australia
Are you looking for a stunning natural experience that will leave you speechless? Lake Hillier is the only place to look! Lake Hillier, a bright pink lake that defies explanation, is found in Western Australia. For good reason, this particular natural wonder has captured the interest of both tourists and scientists. Everything you need to know about Lake Hillier, from its history to its striking pink color, will be covered in this article.
On the border of Middle Island, the biggest of the Recherche Archipelago islands in Western Australia, there is a tiny saltwater lake called Lake Hillier. The lake is bordered by thick vegetation and sand dunes and has an area of around 600 meters. Despite the island's beautiful foliage surrounding it, Lake Hillier stands out due to its bright pink color. Despite being only 600 meters long and 250 meters wide, this wonderful body of water is full of magic.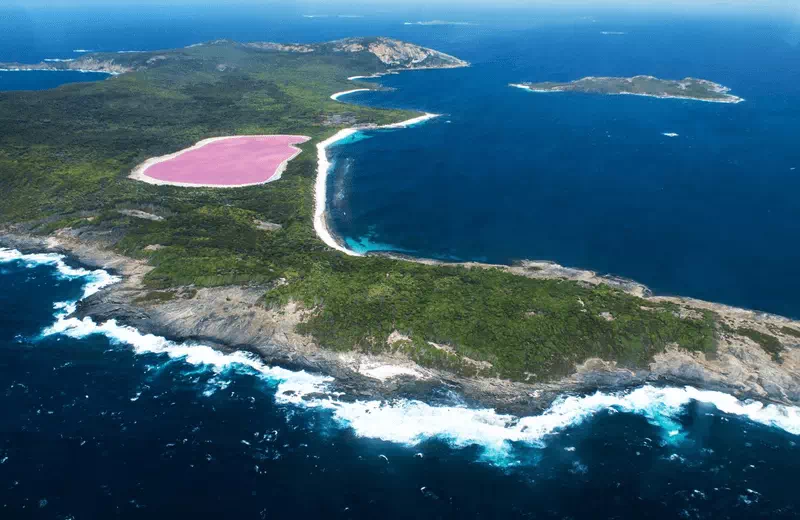 The Origin of Lake Hillier
There are a few ideas, but experts continue to discuss the exact cause behind Lake Hillier's unique pink coloring. According to one idea, the lake's high level of salt promotes the growth of Dunaliella salina, a kind of algae that produces a bright pink color.
Another idea suggests that the presence of halobacteria, which can thrive in environments with high salt concentrations, is what gives the water its pink color. Whatever the reason, the result is a breathtaking and attractive view.
What Makes Lake Hillier Unique?
In addition to being a stunning location to see, Lake Hillier is a rare occurrence in the natural world. One of the most unique bodies of water on the earth, the lake's pink coloring is extremely unique and it has a high salt concentration. The lake's position on a little island makes it even more unique because it can only be reached by air or sea.
Exploring Middle Island
There is a lot more to discover on Middle Island, even if Lake Hillier may be the main draw. Visitors may choose relax on the island's beautiful shores or join a guided tour to learn more about its unique plants and animals. There are also chances for fishing and snorkeling in the nearby seas for those seeking a little more adventure.

Planning Your Lake Hillier Adventure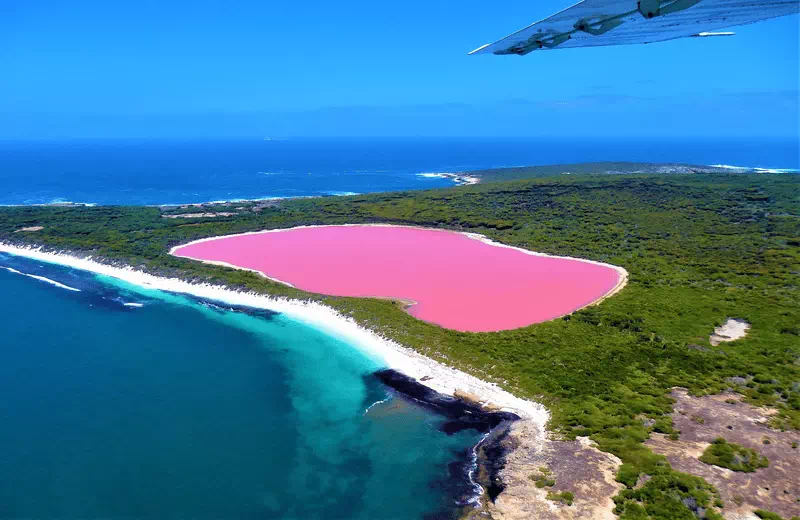 Things to Do in Lake Hillier
Here are some ideas for things to do if you're thinking about traveling to this amazing location:
Take a Scenic Flight:
Take a beautiful flight to see Lake Hillier and the surroundings from above. The bright pink lake will be clearly visible, along with the wild shoreline and neighboring islands.
Take a Boat Tour:
Take an excursion on the boat to get a close-up look at the lake. You'll be able to view the lake's bright pink water and the white beaches that surround it.
Take a Dip:
Due to the lake's high salt content, swimming is not advised, but you may still dip your toes in and take in the unusual experience of being surrounded by pink water.
Go Hiking:
On Middle Island, there are many hiking trails, including a coastal walk and a bushwalk. Enjoy the breathtaking views of the lake and the surrounding area while hiking.
Enjoy a Picnic:
Bring a picnic, and eat while admiring the scenery. You may locate the ideal place to relax and discover Lake Hillier because there are several picnic sites nearby.
Experiencing Nearby Islands:
The Recherche Archipelago, a collection of islands, includes Middle Island. Visit the neighboring islands on a boat cruise to see the diverse fauna, which includes seals, dolphins, and seagulls.
Learn About the History:
The area around Lake Hillier has a long history, and there are many ways to find out more about it. Explore the museums and cultural centers in the neighboring town of Esperance to learn more about the heritage and history of the area.
Take Photographs:
One of the world's most picturesque locations is Lake Hillier. Bring your camera so you may record the breathtaking colors and scenery of this exceptional natural beauty.
Navigating Lake Hillier with Ease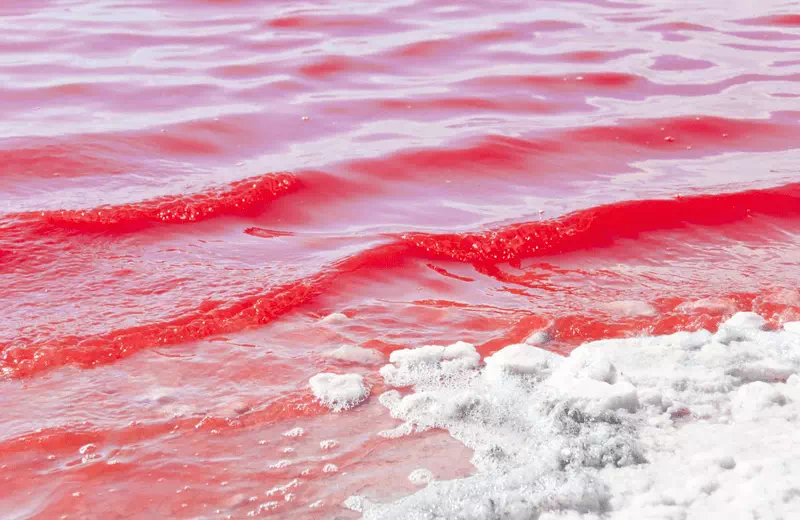 The Best Time to Visit Lake Hillier
There are a few considerations to make if you're planning your trip to see Lake Hillier. It is advised to take a scenic flight over Middle Island to obtain the most excellent view of the lake as this can only be done from above. Additionally, from December to March, when it is summer, the lake's pink color is at its most colorful. Since swimming is prohibited in the lake, make sure to take in the scenery from a distance.
Top Places to Visit Around Lake Hillier
Here are some of the top places to see:
Middle Island
Esperance
Cape Le Grand National Park
Fitzgerald River National Park
Blue Haven Beach
Salmon Beach
Ten Mile Lagoon
Twilight Bay
Pink Lake Golf
FAQs About Lake Hillier
Why is Lake Hillier Pink?
The exact cause of Lake Hillier's pink color is still unknown, but it's thought to be caused by the presence of Dunaliella salina or halobacteria in the lake's high salt content.
Can You Swim in Lake Hillier?
Swimming in Lake Hillier is not allowed due to its high salt content.
How Do I Get to Lake Hillier?
Lake Hillier is located on Middle Island, only accessible by air or sea. Scenic flights over the island are recommended for the best view of the lake. Visitors can reach the island via boat or helicopter.
What is There to Do on Middle Island beside Lake Hillier?
Visitors to Middle Island can take guided tours to explore the island's flora and fauna, relax on the beaches, or participate in fishing and snorkeling.
How Long Does It Take to Tour Lake Hillier?
The tour of Lake Hillier can take up to an hour.
Is There Anything Else to See on Middle Island?
Middle Island is home to other natural wonders, such as the Middle Island Sinkhole and the sand dunes.