Lake Champlain Freshwater Lake In The New York and Vermont
Lake Champlain is a natural freshwater lake in North America, located primarily within the borders of the United States but also extending across the Canada–United States border into the Canadian province of Quebec. The eastern portions of Clinton and Essex counties are included in the New York portion of the Champlain Valley.
Check out Lake Champlain on the border of New York and Vermont if you want to give the kids a history lesson as well as a lake vacation. The lake and the surrounding land were important players in three American wars: the French and Indian War, the American Revolution, and the War of 1812. On the Vermont side, the Lake Champlain Maritime Museum can teach you about the lake's history.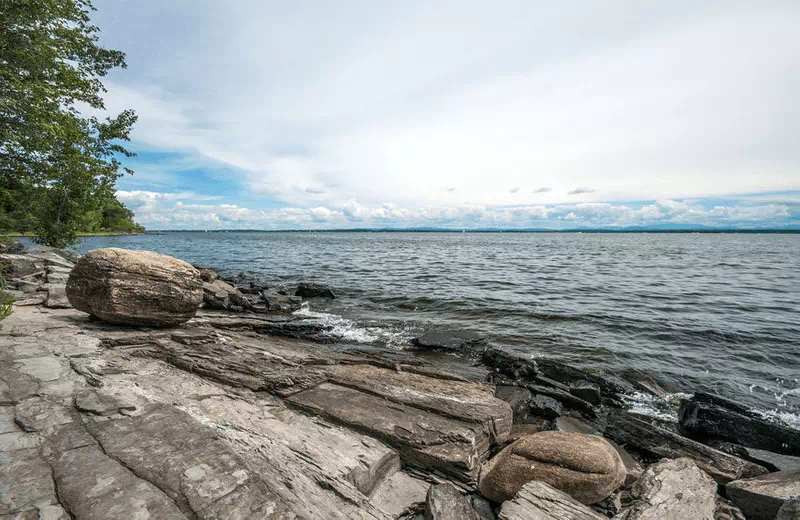 If you'd rather just enjoy the lake itself, there are numerous activities and state parks with long, sandy beaches. In the winter, you can go ice skating on Lake Champlain, and in the summer, you can go fishing.
Lake Champlain is home to a number of charming villages and towns that offer excellent fishing, relaxing lodging, and main street charm. Lake Champlain's long and graceful shores are brimming with opportunities worth exploring.
The lake is home to approximately 81 fish species, and more than 300 bird species rely on it for habitat and as a resource during migration.
Is Lake Champlain in Vermont or New York?
Lake Champlain is shared by two states, one province, and two countries: Vermont, New York, and Quebec, as well as the United States and Canada. The United States accounts for the vast majority of the basin's population, with a ratio of 18:1. Vermonters account for 72 percent of the US population living in the basin.
Are sharks present in Lake Champlain?
Lake Champlain is a freshwater lake, which means that even if sharks had access to it, they would not want to swim in it. Lake Champlain has no sharks, and no sharks have ever been recorded there. However, there are over 80 different fish species.
Is Lake Champlain clean?
"The overall water quality of Lake Champlain satisfies the Clean Water Act objectives."
When Is the Best Time to Visit Lake Champlain?
Although Vermont is always in season, the months of May/June or September/October are the ideal for visiting (and finding the best weather). Maple syrup, moderate crowds, and the Vermont City Marathon are all available in late spring and early summer.
Top Places to Visit Around Lake Champlain
Burlington Bike Path
Shelburne Museum
Ausable Chasm
Shelburne Farms
Waterfront Park
Lake Champlain Ferries
Church Street Marketplace
Point Au Roches State Park
Burlington Farmers Market
Foam Brewers