Koh Phi Phi Don Island in Thailand Travel Guide
Koh phi phi don's gorgeous sandy beaches, emerald waters, and dramatic rock formations ascending from a mountainous interior have never failed to captivate visitors.
The island of koh phi phi don is a popular tourist attraction. The main island of thailand's ko phi phi archipelago is ko phi phi don. Ko phi phi don is the largest island in thailand's ko phi phi archipelago. A portion of the islands is administered by ao nang in krabi province.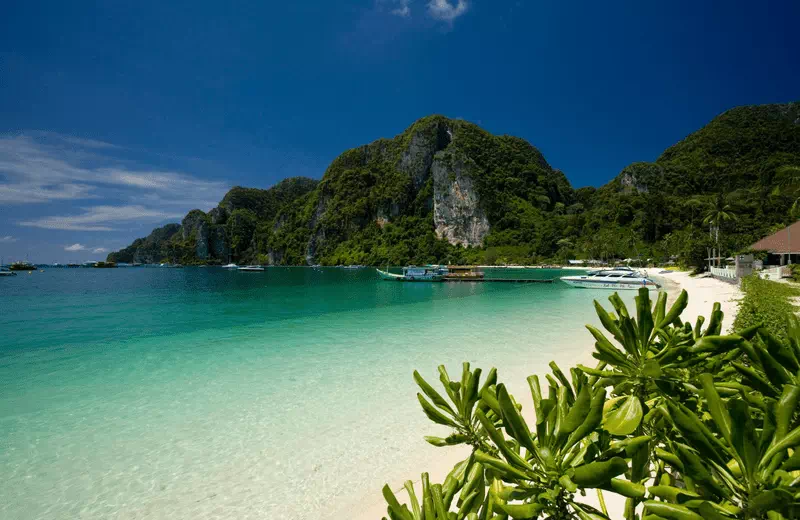 Long beach and loh dalum bay are two of its white-sand beaches. The phi phi viewpoint, which is reached through a steep path, offers panoramic views. Maya bay, surrounded by limestone cliffs, is located off the coast of small ko phi phi leh. Popular dive spots include anemone reef, which is packed with clownfish, and the king cruiser wreck.
Tonsai beach, which has dozens of beach bars and restaurants, and tonsai village, which has a maze of shops, cafes, and restaurants, both have a thriving nightlife. Smaller beaches on the island are great for honeymooners, families, individuals on a budget, and as well as those seeking the ultimate luxury resort vacation.
The phi phi islands' surrounding seas are home to an array of unusual marine species, including calm leopard sharks. Koh phi phi's popular activities on koh phi phi include snorkeling and diving.
Ko phi phi don has some of thailand's top diving locations and is a popular destination for adventure seekers. You can explore the diverse marine life by diving in the andaman sea under the supervision of a skilled trainer.
A day journey in a long tail boat can take you to places like the viking caves or monkey island. Begin planning your schedule and get ready to go on your dream holiday to asia's tropical paradise.
When is the Best Time to Visit Koh Phi Phi Don?
The main tourist season runs from november to april, which is also the best time to visit phi phi. The weather is rather temperate and pleasant, with light to heavy showers on occasion. Between january and april, phi phi has its busiest summer season.
How to Get to Koh Phi Phi Don
There are two ways to get to the phi phi islands: from phuket or krabi by ferry or by speedboat. The ferry ride to the phi phi islands from phuket takes about two hours and 90 minutes from krabi or koh lanta.
Top Places to Visit Around Koh Phi Phi Don
Koh Phi Phi Viewpoint
Ko Phi Phi Le
Monkey Beach
Laem Tong Bay
Mosquito Island
Ao Ton Sai
Long Beach
Loh Moo Dee Beach
Loh Da Lum Bay
Ko Bida Nok
Loh Lana Bay
Wan Long Bay
Rantee Beach
Nui Beach
Viking Cave