Kankaria Lake Ahmedabad (Timings, Entry Fees, Rides)
Kankaria lake ahmedabad is the largest lake in gujarat and the second largest lake in india. Kankaria lake is located in the maninagar area in the south-eastern part of the city and was built in the 15th century during the reign of sultan qutbuddin ahmed shah ii. This work was completed in 1451 ce and was known as "Qutub hauz" or "Hauz-e-qutub". So let us know a little more about kankaria lake today.
Kankaria Lake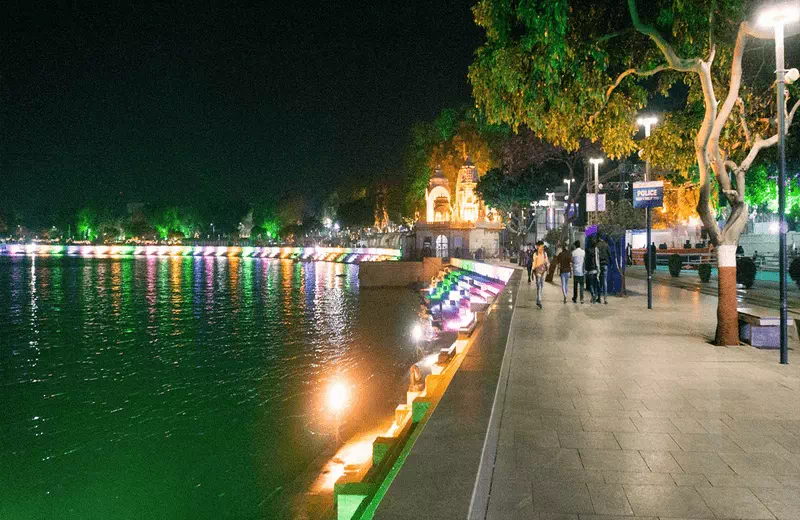 Why is lake kankaria famous?
This is because kankaria lake is a man-made reservoir and this lake was used by the king for bathing at that time. Lake kankaria is currently being redeveloped, with a large number of tourist attractions including a zoo, toy-train, kids city, hot-air balloon ride, water ride, water park, food stall and many other recreational attractions on the lakefront. Is.
Lakefront in kankaria lake was renovated in 2007-2008 by ahmedabad municipal corporation (AMC). There is a week-long festival called kankaria carnival which is held in the last week of december every year. Many cultural, art and social activities are organized during the carnival.
Rare species like python, crocodile, bear, tiger, lion and wild donkey have also been bred in kankaria zoo. Nagina wadi in kankaria lake is well known. Nagina wadi is a garden themed recreation ground in the middle of the circular kankaria lake. Bright multicolored laser lights were featured. Naginawadi also has speed boat, jet ski and many other water sports attractions. To enter nagina wadi you have to go to gate no. 3 in front of kankaria lake. And the time is from 5 am to 10:30 pm.
Arrival time for kankaria lake tour is open every day except monday from 9 am to 10 pm and special note 4:00 am to 8:00 am and 9:00 am to 10:00 pm; admission fees are up to Rs 25 for adults; Rs 10 for children; free for senior citizens, children under 3, and morning walkers.
Lake kankaria is well known for its morning walk from 4:00 am to 8:00 am - and free admission for morning walkers.
Read More on Kankaria Lake
1. Things To Do at Kankaria Lake
There are many things around kankaria lake where you can spend your time. In which is balvatika children's park. There is a boat house, planetarium, butterfly, weapon display and playroom.
If you want to enjoy the lake then close to kankaria lake is thole lake wildlife bird sanctuary which is about 33 km from kankaria lake. Thol Lake is a freshwater lake and is home to 150 different bird species.
Nagina wadi is also a beautiful island in the middle of the lake. There you can also enjoy the colorful fountains. And enjoy a musical fountain and a multi-color laser show.
The main attraction of kankaria lake is the kamala nehru zoo. Where you will be amazed to see wild animals like tiger, hippopotamus, lion, leopard, this is an amazing experience. There are a variety of birds to be found as well.
Here in joyrides you can do many interesting rides like. Vertical swing, aqua kart, black flashride, water sports, paint ball shooting and sky fly.
There is also an aquarium here and you will also find many rare fish.
Walking around the lake is a wonderful experience. The toy train is also unique. It's near to gate number 3.
You can enjoy a boating ride and a water bubble ride in kankaria lake.
There is also a butterfly park with a skid man glider ride.
You can enjoy the bull ride.
There's also the magic mirror: a fun thing to do.
There are also many snacks and restaurants where you can have fun with your family.
2. Best Time to Visit Kankaria Lake
Here we have to collect information about Best Time to Visit Kankaria Lake. So let us know a little more about this Kankaria Lake.
The Best Time for a Tourist to Visit Kankaria Lake Is From Late

October to March.
Winter Season
The best time to visit kankaria lake is during the winter months, from october to march. When the weather is really nice. Visit from 07:00 to 10:00 in the morning and sunset from 05:00 to 07:00 in the evening will be the best.
Summer Season
You should not visit kankaria lake and ahmedabad in summer. This is because during the summer here, the daytime temperature is about 49 °C (120 ° f) and the night is no lower than 30 °C (86 ° f).
Monsoon Season
The period from july to september is the monsoon season. The best time to visit is between october and march and december is a carnival that lasts for about a week.
3. How to Reach Kankaria Lake
Here we are going to talk about how to reach kankaria lake. So let's gather information about how a tourist can visit kankaria lake.
By Air
Gujarat's largest sardar vallabhbhai patel international airport is located in ahmedabad. Which serves the twin cities of ahmedabad and gandhinagar. And connects all major cities of india and major cities abroad with the state.
By Train
Ahmedabad's main railway station is located in the kalupur area. Named as ahmedabad junction railway station. And also one of the major railway stations in india. Located on the western railway network, this railway station is connected to all the major cities of india. The total distance to kankaria lake is 3.7 km. You can also take a brts bus or auto rickshaw from here.
By Road
All facilities of taxi, BRTS bus, auto rickshaw are available in ahmedabad. From which the traveler can cross from one place to another. Nearby is kalupur and maninagar where BRTS buses, auto rickshaws are connected. And gujarat has a well developed road network.
4. Top Attractions In Kankaria Lake
Kankaria Zoo
Toy Trains
Balloon Safari
Balvatika
Amusement park
Kids City
Nagina Wadi
Dutch and Armenian tombs
Joyrides
Stone Mural Park
5. Top Places to Visit Around Kankaria Lake
Kids City
Shree Swaminarayan Mandir Kalupur
Kamla Nehru Zoo
Swapna Srushti Water Park
Balvatika
Jaldhara Water World
10 Acres Mall
Sidi Saiyyed Mosque
Sabarmati Riverfront
Manek Chowk
Bai Harir ni Vav ( Stepwell )
Law Garden Night Market