Ocean City Beach The Best Beaches In Maryland
Natural beauty abounds in Ocean City, Maryland. Ocean City is known for its beach fun, with ten miles of family-friendly beaches. Visitors and Maryland residents alike flock to the warm sands for a day of swimming, sunbathing, and surfing; two beaches are set aside daily for surfing and rotate based on the weather and waves. Fishing, kayaking, and canoeing are all options for those looking for a thrilling water adventure.
Between 6 a.m. and 10 p.m., the beaches are free and open to the public; lifeguards patrol the beaches between 10 a.m. and 5:30 p.m. Along the Boardwalk, there are easily accessible public restrooms. There is metered parking available.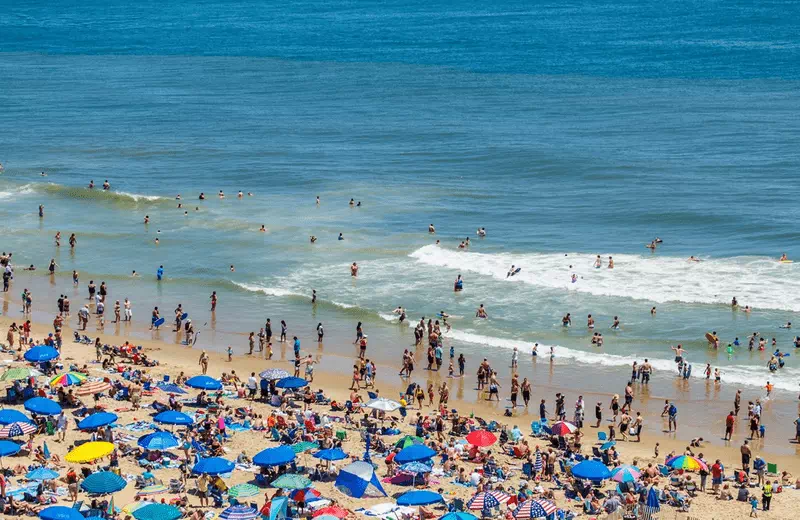 Several locations on the beach have public restrooms and outdoor showers. During the summer, the beach hosts family-friendly events six evenings a week, and a large boardwalk is just steps away.
What is the best part of Ocean City Beach?
The beach, which runs the length of the island's 10-mile east coast, is ideal for spreading your towel. Recent visitors recommend sticking to the southern end of Ocean City, where the neighbouring boardwalk provides excellent people-watching and seafront dining opportunities.
What is the beach like in Ocean City MD?
Ocean City's beaches are kept immaculately clean, with white soft sand, gentle surf, and miles of sun fun.
Is Ocean City beach water clear?
sparkling white sand and clear, blue bay and ocean waters have made Ocean City, Maryland famous.
Is it worthwhile to visit Ocean City?
Ocean City, Maryland, is a popular East Coast beach town that is fun to visit all year. The three-mile boardwalk is lined with souvenir shops and beachside eateries where you can get French fries or funnel cake.
Are the beaches in Ocean City, Maryland, crowded?
It's extremely crowded. In Ocean City, Maryland, summer means going to the beach. You should be able to get a condo or room if you book now. We prefer to rent a condo because it provides more space.
When Should You Visit Ocean City Beach?
Late May to early September is the best time to visit Ocean City; however, expect average highs in the mid-80s and some humidity. There will also be a lot of people and hotel rates will be double what they are in the spring, so plan ahead and book several months in advance.
Top Places to Visit Around Ocean City
Ocean City Boardwalk
Northside Park
Frontier Town
Trimper's Rides and Amusement Park
Jolly Roger Amusement Park
Oceanic Fishing Pier
Ocean City Life-Saving Station Museum
Art League of Ocean City