London Eye A Guide to the World's Most Popular Paid Tourist Attraction
In the heart of London, amidst the historic landscape of the Thames River, stands a captivating marvel that has become synonymous with the city's skyline – the London Eye. As we delve into this iconic attraction, we'll uncover its rich history, architectural brilliance, and the unforgettable experiences it offers to visitors.
The London Eye, also known as the Millennium Wheel, is a cantilevered observation wheel on the South Bank of the River Thames in London, England. It is Europe's tallest cantilevered observation wheel, and the most popular paid tourist attraction in the United Kingdom with over three million visitors annually. The structure is 135 metres (443 ft) tall and the wheel has a diameter of 120 metres (394 ft). When it opened to the public in 2000 it was the world's tallest Ferris wheel, but has since been surpassed by several others.
The London Eye is a popular tourist attraction for people of all ages. It is a great way to get a bird's-eye view of London and to see some of the city's most famous landmarks. The London Eye is also a popular venue for special events, such as weddings and corporate parties.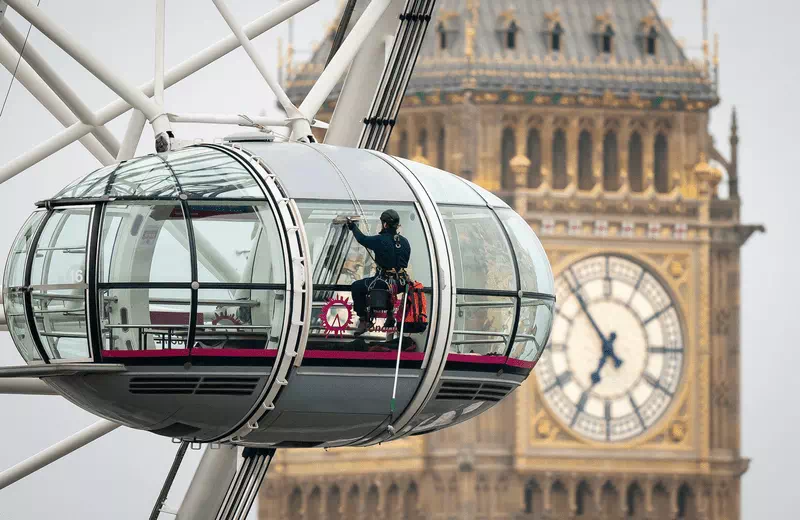 A Glimpse into History
Inception and Design
The London Eye, originally known as the "Millennium Wheel," was conceived to mark the turn of the millennium in the year 2000. Designed by architects David Marks and Julia Barfield, this monumental structure was envisioned as a temporary addition to London's skyline, but its immense popularity ensured its permanent status.
A Symbol of Progress
Symbolizing the optimism and progress of a new century, the London Eye has grown into a symbol of London's resilience and innovation. It showcases the city's commitment to blending tradition with modernity.
Architectural Wonders
Structure and Engineering
The London Eye's impressive structure comprises 32 air-conditioned passenger capsules, each weighing 10 tonnes, each of which can carry up to 25 people. These capsules are mounted on a colossal rotating wheel, boasting a height of 135 meters (443 feet). The wheel is supported by an intricate network of steel cables, creating a seamless and safe experience for passengers.
This capsules are attached to the outer rim of the wheel and rotate slowly, completing one revolution every 30 minutes. This gives passengers a chance to enjoy 360-degree views of London, including landmarks such as the Houses of Parliament, Buckingham Palace, and the Tower of London.
Panoramic Views
One of the most captivating features of the London Eye is the breathtaking panoramic view it offers. From its zenith, on a clear day, visitors can behold sights as far-reaching as 40 kilometers (25 miles), encompassing renowned landmarks like the Shard, St. Paul's Cathedral, and Buckingham Palace. This unparalleled vantage point is a photographer's dream and a testament to British engineering prowess.
A Captivating Experience
A 30-Minute Journey
Visitors embark on a 30-minute slow rotation, allowing ample time to savor the beauty of London from every angle. The leisurely pace ensures everyone can capture memorable photos and soak in the city's charm.
London Eye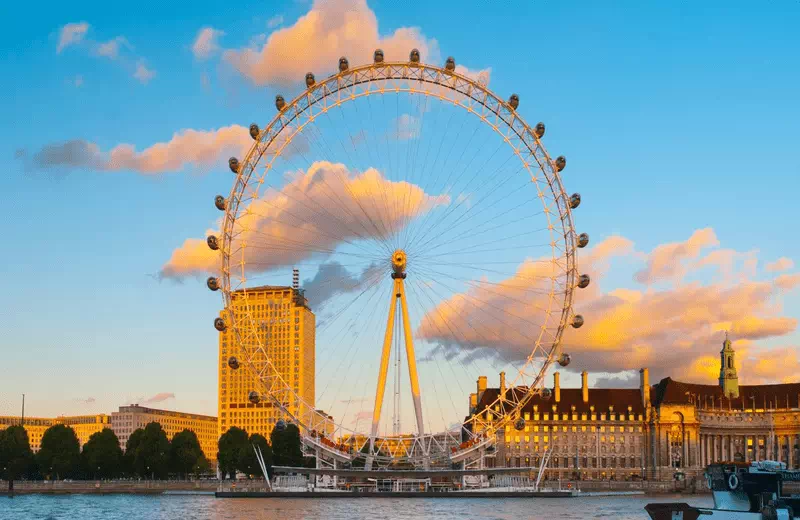 Special Occasions
The London Eye also caters to those seeking a romantic evening or a unique celebration. Private capsule rentals are available for special occasions, making it an ideal venue for proposals, anniversaries, or simply enjoying a glass of champagne with a loved one.
Practical Information
Ticketing and Timings
To make the most of your visit, it's advisable to book tickets in advance. The London Eye operates year-round, with opening hours varying by season. You can check the official website for the most up-to-date information on ticket prices and operating hours.
Accessibility
The attraction is wheelchair accessible, ensuring that all visitors can enjoy the mesmerizing views. Additionally, there are experienced staff members on hand to assist with any special requirements.
Here are some tips for visiting the London Eye
Book your tickets in advance, especially if you are visiting during peak season.
Arrive at least 30 minutes before your scheduled time slot.
Dress for the weather, as the London Eye can be windy and cold, even in the summer.
Bring your camera to capture the stunning views.
Be patient and enjoy the experience!
Conclusion
In conclusion, the London Eye stands as an architectural marvel and an emblem of London's enduring spirit. From its humble beginnings as a temporary structure to its current status as a global icon, it continues to capture the hearts of millions of visitors worldwide. As you plan your visit to this extraordinary attraction, prepare to be awed by the city's splendor from a unique perspective. Experience the London Eye – where history, engineering, and breathtaking views converge to create an unforgettable journey.