Laguna Beach, California Your All-in-One Guide to the Perfect Coastal Vacation
Laguna beach is a small coastal town located in orange county, california. It is also recognized for its beautiful beaches, coves, and art galleries. In addition, laguna beach has approximately 20,000 acres of wilderness that is protected, making it a popular destination for hikers and wildlife lovers.
Beautiful beaches like main beach, crescent bay beach, and thousand steps beach can be found at laguna beach. These beaches each have something unique to offer, such as swimming, surfing, or tide pools.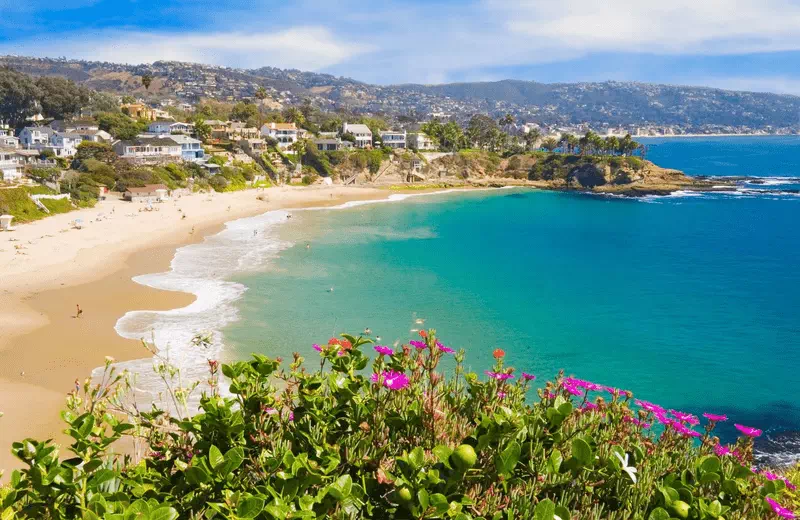 Main beach has tide pools, and a boardwalk connects it to the nearby heisler park's footpaths and gardens. Laguna beach is the place to go for a beach vacation because it has the most oceanfront lodging options in all of california.
laguna beach in california is an undiscovered gem just waiting to be found. It is famous for its breathtaking coastline, artistic culture, and a variety of outdoor activities. This post will examine more closely at what makes laguna beach unique and give you advice for seeing this lovely town.
The surf location at aliso beach park is popular. An underwater park has been established in the seas around crystal cove state park. Canyons along the shore are traversed by trails in laguna shore wilderness park.
With its seven miles of coves and beaches, the city has a landscape that is distinct from other coastal cities in california. Vwithin the city limits, visitors have the opportunity to discover a variety of coastal features including sea caves, tide pools, ocean side bluffs, natural tide pools, and, of course, sandy beaches.
The village, a great area to relax while exploring the many local shops, cafés, and galleries, is located in the heart of laguna. Visit the laguna art museum to see thousands of excellent american pieces of art, enjoy a local brew at the laguna brewing company, or stroll down forest avenue.
Artists' Getaway
As a haven for artists, laguna beach has a long history. Numerous art museums and galleries can be found in the town, including the laguna art museum, which features modern works by californian artists. Another popular summertime event is the sawdust art festival, where over 200 artists and crafters exhibit their creations. Visitors can browse the stalls, take in live demonstrations, and buy one-of-a-kind works of art.
Various Outdoor Activities
Laguna beach provides guests with a range of outdoor activities in addition to its beautiful beaches. Various hiking trails can be found in the town, including the laguna coast wilderness park, which has approximately 40 miles of trails that meander across ridges and coastal valleys. Along the coast, visitors can go kayaking, paddleboarding, and surfing. Additionally, the pacific marine mammal center offers guided excursions where guests can get up up and personal with rescued seals and sea lions for those seeking a singular experience.
A Foodie's Paradise
There are many different restaurants, cafes, and pubs to choose from in laguna beach's vibrant culinary scene. Visitors can enjoy quality italian food at lumberyard restaurant, fresh seafood at driftwood kitchen, and mexican-inspired food at carmelita's kitchen. Artists' getaway
Tranquility and Relaxation
Finally, laguna beach is the ideal location for relaxation. A visit to one of the town's lots luxury spas, such spa montage or the ranch at laguna beach, can be scheduled by tourists.
The Best Hotels and Restaurants in Laguna Beach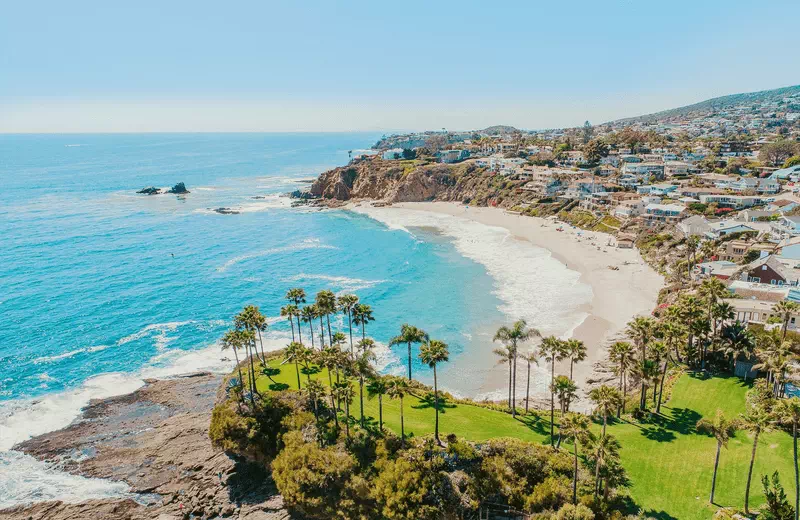 The Laguna Beach Hotel
Laguna Beach is home to a variety of hotels, ranging from luxury resorts to budget-friendly accommodations. Here are some of the top hotels to consider when planning your stay in Laguna Beach:
Montage Laguna Beach
The Ranch at Laguna Beach
The Ranch at Laguna Beach
Casa Laguna Hotel and Spa
Laguna Beach House
Laguna Beach Best Restaurants
Laguna Beach is known for its vibrant culinary scene, offering a wide range of restaurants and cafes to suit any taste and budget. Here are some of the top restaurants to check out when visiting Laguna Beach:
Splashes Restaurant
Driftwood Kitchen
The Deck on Laguna Beach
Lumberyard Restaurant
Nick's Laguna Beach
Carmelita's Kitchen de Mexico
Things to Do in Laguna Beach
Here are some of the top things to do when visiting Laguna Beach:
Explore the Beaches
Laguna beach is home to several beautiful beaches, including main beach, thousand steps beach, and crescent bay beach. Spend the day lounging on the sand, swimming in the ocean, or trying your hand at surfing or paddleboarding.
Visit the Art Galleries
Laguna beach is known for its thriving arts scene, and the town is home to more than 100 art galleries and studios. Take a stroll through town to discover a wide range of art styles and mediums, including painting, sculpture, photography, and more.
Hike in the Wilderness Parks
Laguna beach is surrounded by scenic wilderness parks, including crystal cove state park and laguna coast wilderness park. Lace up your hiking boots and explore the miles of trails, which offer stunning ocean views and the chance to spot local wildlife.
Take a Scenic Drive
Laguna beach is located on a stretch of pacific coast highway that offers some of the most scenic views in southern california. Take a drive along the coast to enjoy views of the ocean and the rugged coastline.
Visit the Pacific Marine Mammal Center
The pacific marine mammal center is a rescue and rehabilitation center for marine mammals, including seals and sea lions. Visitors can take a tour of the facility and learn about the important work being done to protect these animals.
Shop and Dine in Downtown Laguna Beach
Downtown laguna beach is home to a variety of shops, restaurants, and cafes. Take a stroll through the town to explore the boutiques and art galleries, and stop for a bite to eat at one of the many restaurants offering cuisine from around the world.
These are just a few of the top things to do in laguna beach. Whether you're looking to relax on the beach, explore the outdoors, or immerse yourself in the local arts scene, there's something for everyone in this vibrant coastal town.
Exploring More of Laguna Beach's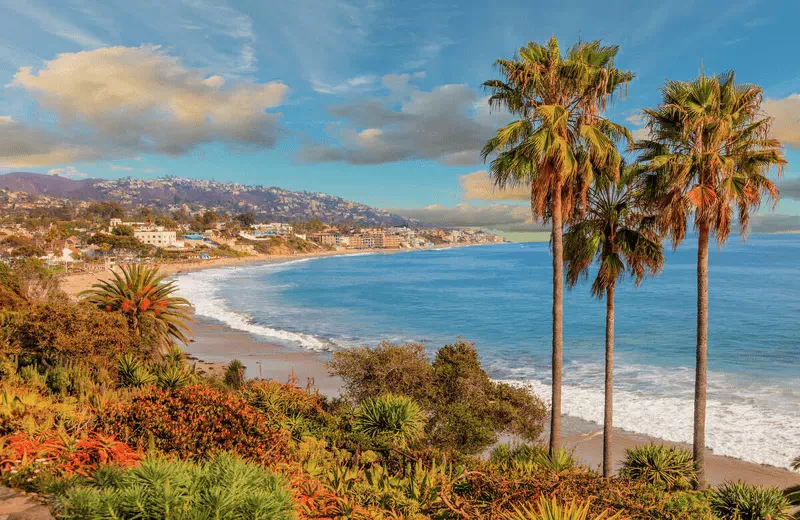 Best Time to Visit laguna beach
Overall, the best time to visit Laguna Beach depends on your preferences and priorities. If you're looking for warm weather and a lively atmosphere, summer may be the best time to visit. If you prefer milder temperatures and fewer crowds, consider visiting in the spring or fall.
Weather
The Summer Months (June-August) Are the Warmest : Temperatures Averaging in the Mid-70s to Low-80s Fahrenheit.
The Winter Months (December-February) Are the Coolest : Temperatures Averaging in the Mid-60s Fahrenheit.
Spring (March-May) and Fall (September-November) Offer Milder Temperatures, Making Them Ideal for Outdoor Activities.
How to Reach Laguna Beach
Here are the different ways to reach laguna beach:
By Air : The nearest major airport to Laguna Beach is John Wayne Airport (SNA) in Santa Ana, which is located about 20 minutes from Laguna Beach. Other nearby airports include Long Beach Airport (LGB) and Los Angeles International Airport (LAX), which are both about an hour's drive from Laguna Beach.
By Car : Laguna Beach is located along the Pacific Coast Highway (Highway 1), making it easily accessible by car. If you're driving from Los Angeles, take Interstate 5 south to Highway 133 and follow it to Laguna Beach. From San Diego, take Interstate 5 north to Highway 73 and follow it to Laguna Beach.
By Public Transportation : Laguna Beach can be reached by public transportation through the Orange County Transportation Authority (OCTA). Several bus routes serve Laguna Beach, including routes 1, 8, and 79. Metrolink also offers train service to nearby Irvine, with connections to Laguna Beach via bus or rideshare services.
By Shuttle Service : Several shuttle services provide transportation to Laguna Beach from the airports or other nearby locations, including SuperShuttle and PrimeTime Shuttle.
Overall, reaching Laguna Beach is relatively easy and straightforward, and visitors can choose from a variety of transportation options depending on their preferences and budget.
Top Places to Visit Around Laguna Beach
Here are some of the top places to visit around Laguna Beach:
Newport Beach
Dana Point
Crystal Cove State Park
Mission San Juan Capistrano
Disneyland
Catalina Island
These are just a few of the top places to visit around Laguna Beach. Whether you're interested in outdoor adventures, historic landmarks, or family-friendly fun, there's something for everyone within a short drive of Laguna Beach.
In conclusion, southern california's laguna beach is a hidden gem that has something to offer everyone. There is no shortage of things to see and do in this charming town, from its breathtaking coastline to its vibrant art scene and outdoor sports. Laguna beach is the ideal spot for your next holiday, whether you're seeking for adventure or relaxation.