Mesa Verde National Park, Colorado
Mesa Verde National Park is located in western Colorado. It is famous for its well-preserved Ancestral Puebloan cliff homes, particularly the enormous Cliff Palace. Exhibits of ancient Native American culture can be found at the Chapin Mesa Archeological Museum.
Mesa Verde is most renowned for constructions such as Cliff Palace, which is claimed to be North America's largest cliff house. Mesa Verde was the first national park established to "preserve man's works."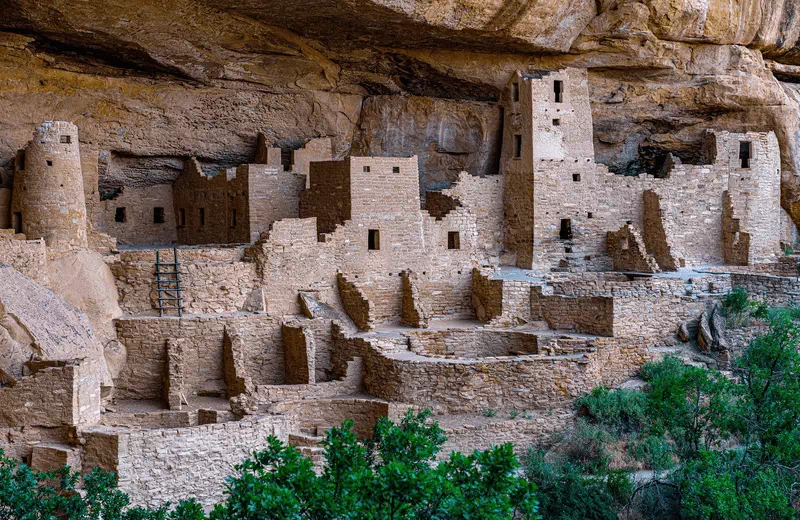 Mesa Top Loop Road goes through archaeological sites and overlooks, including Sun Point Overlook, which offers panoramic views of the canyon. There are various rock carvings on the Petroglyph Point Trail. Some of the best-preserved Ancestral Puebloan archaeological sites in the United States are protected by the park.
Mesa Verde National Park was designated a UNESCO World Heritage Site in 1978 for its remarkable archaeological significance. Mesa Verde National Park, which protects thousands of archaeological sites, including hundreds of cliff dwellings, is located high in Southwest Colorado, where the air is thin, the history is rich, and the views are stunning.
The park is better known for its historical aspects than its natural ones, but mother nature is adequately represented. Mesa Verde Canyons were formed by rivers and streams that eroded the sandstone slopes. The elevation ranges between 6,000 and 8.572 feet (1,829 to 2,613 m).
The area marks the beginning of the Rocky Mountains and is the key transition point from the arid areas further south. The tight canyons and gorges provide stunning vistas, and the ancient remains located in the area are historically significant.
Mesa Verde National Park's entrance is roughly 35 miles west of Durango. The first sighting of a cliff home occurs 21 miles after entering the park, over a steep, narrow, and winding route. Mesa Verde's main park road is open 24 hours a day, however activities and services within the park are mostly available during the day. From mid-April until mid-October, lodging and camping are offered.
There are 5,000 known archeological sites in the United States, some of which are significant and well maintained. It is most famous for its 600 cliff homes, which can have up to 150 rooms. In the 12th and 13th centuries, Ancestral Puebloans used the area's unique geology, such as seep springs and alcoves, to develop a sustainable, advanced lifestyle.
Tours provide information on these people's life, and paths allow for hiking and snowshoeing. Park Point's 360-degree panoramic vista is one of the most stunning in the country.
Is it worth to visit Mesa Verde National Park?
Mesa Verde National Park, listed as a cultural World Heritage Site by the United Nations in 1978, is a destination that every tourist should visit at least once in their lifetime.
How long should you spend in Mesa Verde National Park?
Most guests wish to spend at least one night and one full day sightseeing and hiking. To view both Wetherill and Chapin Mesa sites and experience one of Mesa Verde's magnificent hiking paths, two days with an overnight stay in the park are recommended.
What is the closest city to Mesa Verde National Park?
Mancos and Cortez are the closest settlements to Mesa Verde National Park, located 20 and 25 minutes from the park's entrance, respectively.
What animals can be found in Mesa Verde?
A coyote, black bear, gray fox, mountain lion, elk, marmot, or even a porcupine may be seen. You have a fair chance of seeing a coyote, cottontail rabbit, or jackrabbit between Far View and the Headquarters area.
What is the famous of Mesa Verde?
Mesa Verde is most renowned for its several well-preserved cliff dwellings, which are residences built in alcoves or rock overhangs along the canyon walls. The constructions within these alcoves were generally made of strong sandstone blocks that were bound together and covered with adobe cement.
Best Time to Visit Mesa Verde National Park
While cliff dwelling excursions are no longer available for the season, fall is a lovely time to explore Mesa Verde. Fall is a good season to see the culture and ecology preserved by Mesa Verde National Park because it is quieter than summer and warmer than winter.
How To Reach Mesa Verde National Park
The Cortez, CO (CEZ) airport is the nearest to Mesa Verde. Mesa Verde National Park is located in southwest Colorado and is reachable by road and near numerous major airports.
Top Places to Visit Around Mesa Verde National Park
Cliff Palace
Balcony House
Step House
Far View Sites
Long House
Spruce Tree House
Chapin Mesa Archeological Museum
Soda Canyon Overlook Trail
Point Lookout Trail
Knife Edge Trail
Farming Terraces
Ruins Road
Park Point
Square Tower House