The Most Beautiful Ton Sai Beach, krabi (Thailand)
Today we are going to talk about beach named Ton Sai Beach. This beach is located near Krabi in Thailand. Ton Sai Beach offers a combination of affordable accommodation and great rock climbing routes, which make it equally both with backpackers and climbers. Ton Sai Beach for swimming it gets inappropriate and gets recruited. But this only happens for about ten days of moon period. This beach is suitable for swimming in the remaining time. So let us get more information about TonSai Beach.
Ton Sai Beach (Suitable for Swimming)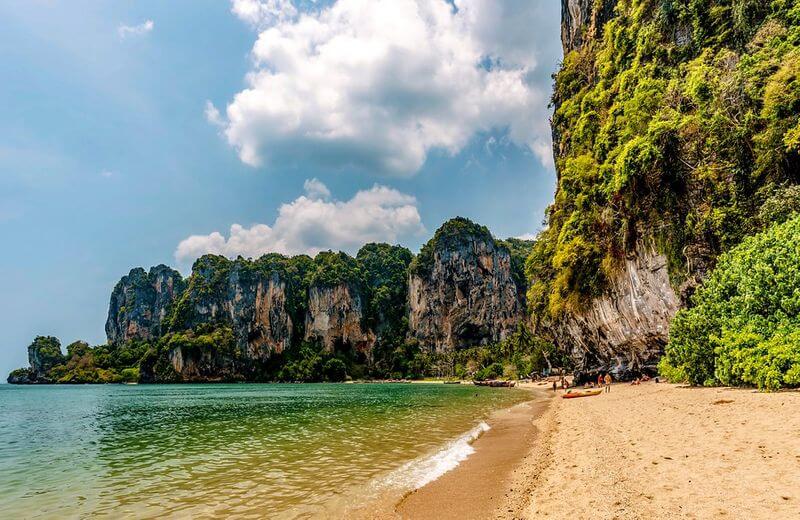 Ton Sai Beach is one of the most beautiful beaches in the province of Krabi. So tourists like to visit this beach. Ton Sai Beach is far from the warmth and enthusiasm of the neighboring beach. This beach is really quiet and pleasant. This beach is considered to be a real paradise because of the high palm trees, gigantic Rock compositions and Tonsai in incredibly beautiful sandy TonSai Beach Krabi makes it so special and many visitors can stay longer than it was supposed to be.
This beach atmosphere is very easy to relax and therefore Ton Sai Beach is a great tip for travelers who personally want to explore the province of Krabi. For cold beer, backpackers and passengers are found in the Freedom Bar, which is at the top of this beach. The magnificent view of Ton Sai Beach and the spectacular rocks are unbeatable.
That part of Ton Sai Beach is hosting the climbing scene. Near this beach, there are small supermarkets, warm Reggae bars and a few delicious restaurants that serve delicious Thai food. A few years ago, the construction of a long gray wall was built on the TonSai Beach. With detailed attention and much love, the gray wall was decorated with beautiful graffiti and has since become a kind of landmark for this beach.
If the tourist likes to climb on the famous limestone stones in Krabi province of Thailand, it should visit Ton Sai Beach. At the south of the beach there are huge mountain walls, which provide ideal place for rock climbing. Ton Sai Beach also has plenty of opportunities for bouldering tourists and Deep-Water Solo. One of the most popular activities on TonSai Beach is doing kayaking tours.
Snorkelling at this beach is also possible. But if the tourists want to see a variety of colorful underwater worlds, the Snorkelling Trip is definitely a better choice. The view of Ton Sai Beach is really quiet and therefore there are some yoga and massage options for the tourists. Tourists in the world of Cubby's unique island start touring Ton Sai Beach is one of the best places to visit.
Best Time To Go : November – March
Nearest Airport : Krabi Airport(KBV), Distance (Drive) : 46.4 km