15 Best Places To Visit In Kolkata, Best Time To Visit & How to Reach
Kolkata is the capital of West Bengal in India. And in the city population is 4.5 million. Kolkata is the third most populous metropolitan area in India as well as Kolkata location on the east bank near the Hooghly river and 80 km kilometres west of the border as Bangladesh. This city's nickname is the "culture capital" and "city of joy".
In Kolkata predated were ruled by the Nawab of Bengal under Mughal Suzerainty in 17th century. As well as in 1960 the Nawab established the east India company a trading licence. In Kolkata has local tradition in film, theatre, art, drama and literature. One must visit the academy of fine arts, the Victoria memorial, a Asiatic society and national library of India to know about the tradition of Kolkata.
1. Victoria Memorial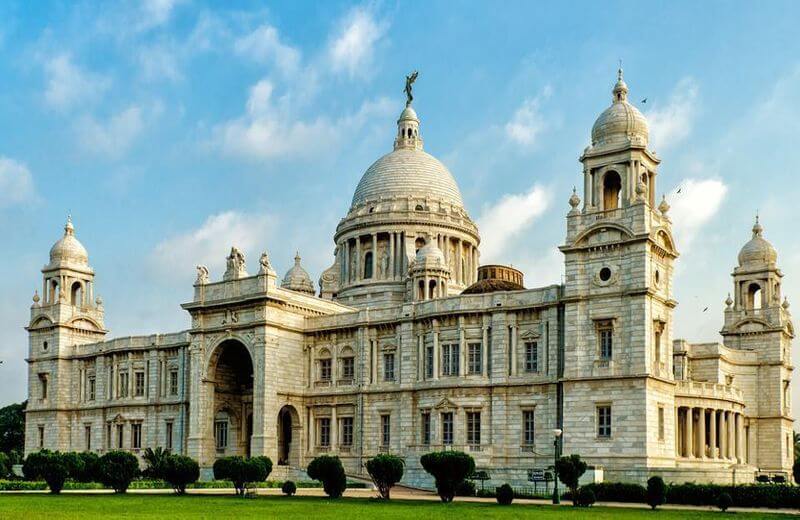 Victoria memorial is the largest marble in Kolkata, West Bengal in India. As well as it was established between 1906 and 1921.
The Queen Victoria's death in January 1901. As well as Victoria memorial building 338m and rises to height of 184 feet by constructed of white Makrana marble.
Victoria memorial in museum in 25 galleries as well as included royal gallery, central hall, the sculpture gallery, the national leaders gallery and the newer Calcutta gallery in garden at are covered of Victoria memorial 64 acres. In garden many statutes include Lord William Bentinck, Rajendra nath mookerjee of Bengal.
Timing : 10:00 AM to 5:00 PM
2. Alipore Zoological Gardens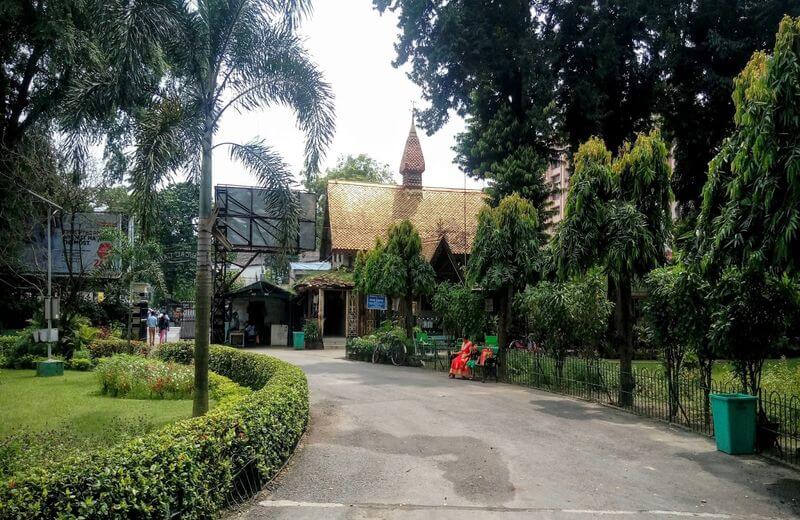 The Alipore zoological garden is India's oldest zoological as well as a big tourist attraction in Kolkata,West Bengal. The zoo is open since 1876 as well as covers area is 46.5 acres.
The Lieutenant - governor sir Richard Temple formally proposed the formation of a zoo in Kolkata 6 may. 1876 the zoo was thrown open to the public in New Year's and Christmas holiday 81,000 visit is zoo individual and 108 species in zoo many animals and birds including royal Bengal tiger, African lion, Asiatic lion, giraffe, elephant, jaguar, hornbill, emu, cassowary and ostrich.
Timing : 9:00 AM to 5:00 PM
3. Belur math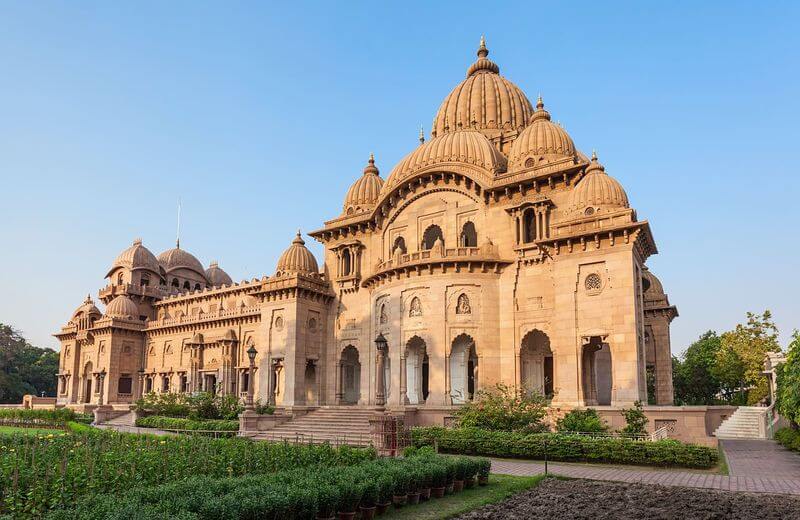 Belur math is the headquarters of the Ramkrishna math as well as the chief of the math is Ramkrishna Paramhansa. Belur math location is the west bank of the Hooghly river in Belur,west Bengal in India. Belur math campus is 40 acres on the bank hooghly as well as including temple is Ramkrishna,Swami Vivekananda and Sarada devi.
Our Indian ex-president APJ Abdul kalam belur math "place of heritage and national importance regarded. The makar sankranti day in 14 January in 1938 Sri Ramkrishna temple was consecrated.
Belur math around is in the shape of Christian cross. The temple height is 112.5feet and total area of 32,000sq ft. In temple annual celebration is Durga Puja and it is the main attraction.
Timing : Morning - 8:30 AM to 11:30 AM Evening - 4:00 PM to 6:00 PM
4. Birla Mandir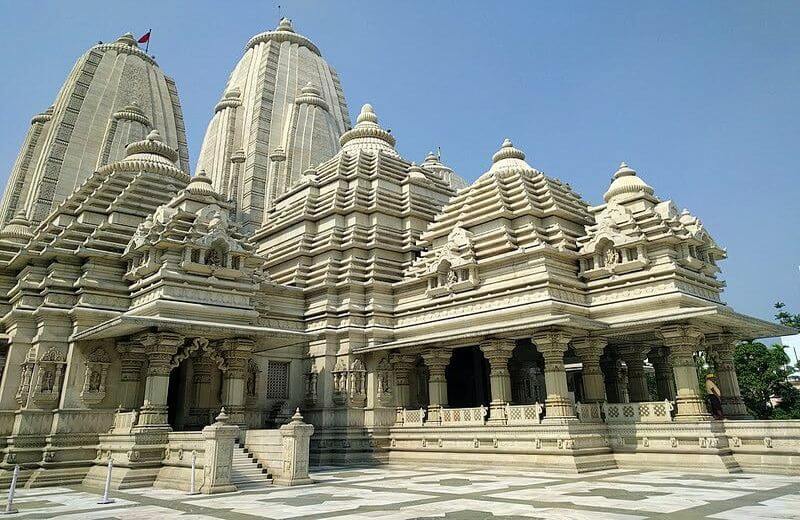 Birla Mandir is a Hindu temple on Asutosh Chowdhary avenue built by the industrialist Birla family in Kolkata,India.
As well as in 1970 the construction of the temple begging and after 26 years to complete the structure 21th February 1996 on Wednesday the pran pratishtha was done by swami chirananraji maharaj in the morning.
In temple Radha and Krishna statues. As well as the temple left side temple is goddess Durga and right side temple is Shiva in meditation mode.
Timing : Morning- 7:00 AM to 12:00 PM Evening- 3:00 PM to 9:00 PM
5. Dakshineswar Kali temple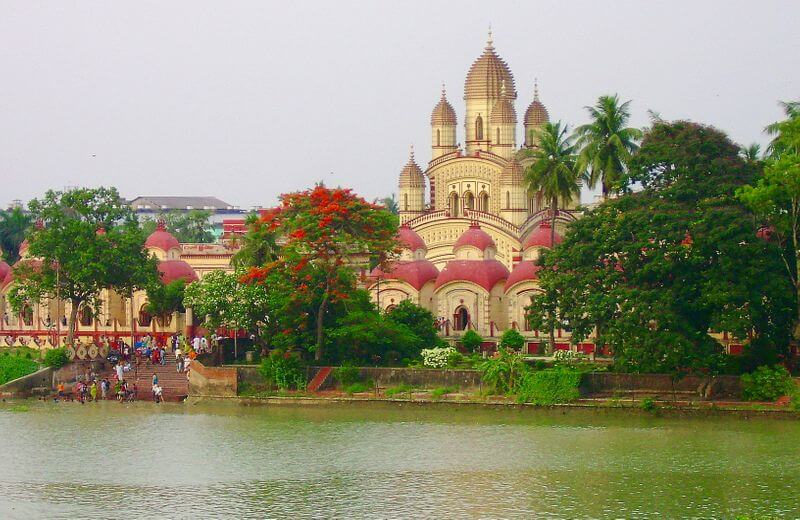 Dakshineswar Kali temple is a Hindu temple dakshineswar near To Kolkata. The temple is the eastern bank of the Hooghly river. In 1855 the temple was built by Rani Rashmoni.
Kali temple measures 46 feet square and rises over 100 feet height. She lived for five years and nine months after the inauguration of the temple as well as she had purchased in Dinajpur. Rani Rashmoni death after her sons-in-law celebrating Durga Puja in the respective premises.
Kali temple is typical Bengal architecture as well as they built on the ghat on the Hooghly river and north east the temple complex is the Vishnu temple or Radha Krishna temple. The temple is a silver throne with a 550mm of Lord Krishna and 410mm of Radha.
Timing : Morning - 6:00 AM to 12:30 PM Evening - 3:30 PM to 9:00 PM
6. Eden gardens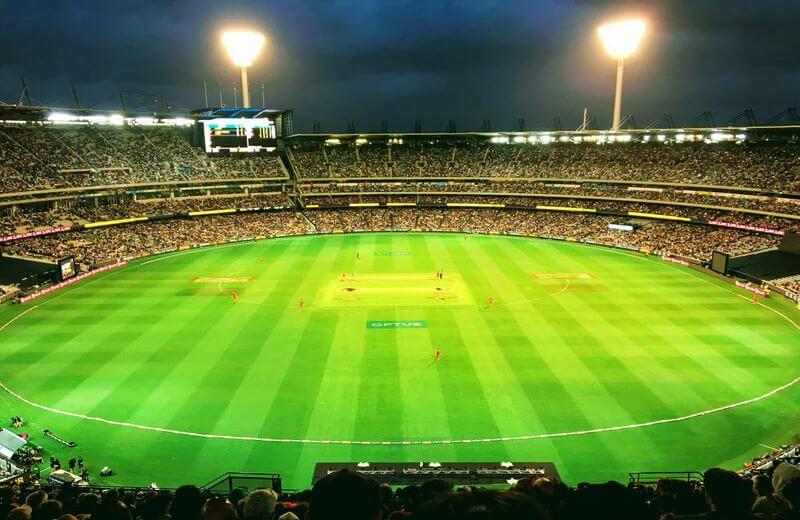 Eden gardens is a cricket ground as well as in Kolkata,India. In 1864 it was established. Eden gardens is the oldest cricket stadium in India. Eden gardens owner of the land is Indian army.
And operator is cricket association of Bengal as well as tenants is Indian national cricket team,Bengal cricket team and Kolkata knight riders. Eden gardens in information playing the match in including first test 5-8 January 1934 : India v England,last test 16-20 November 2017 : India v Sri Lanka and T20 4 November 2018 : India vs West indies.
In Eden stadium records in the most runs in test matches scored by V.V.S.Laxman,Rahul,Dravid and Sachin Tendulkar as well as most wickets taken by Harbhajan Singh, Anil kumble and Bishen Singh Bedi.
Timing : 5:00 AM to 11:30 PM
7. Fort William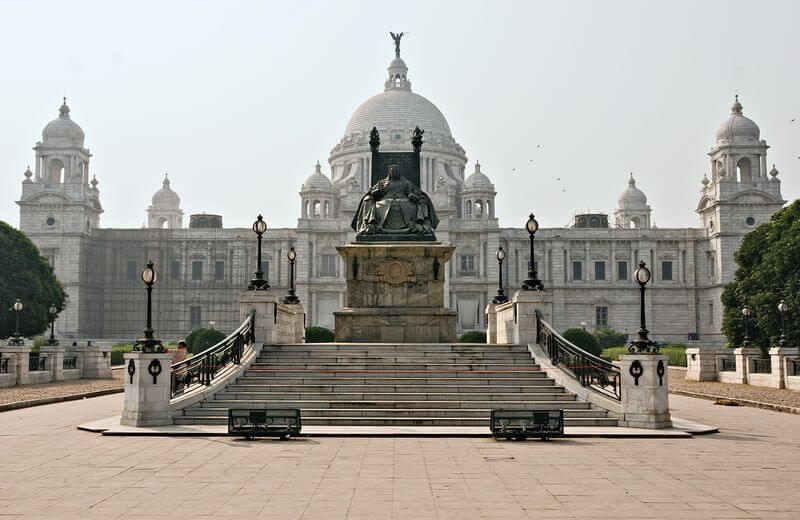 Fort william is built the Bengal president of British India. It is an area of 70.9 hectares. Fort construction started in 1701 and 1702 the government house and construction ended in 1706.
In 1758 Robert Clive started rebuilding the fort as well as the battle of plassey construction was completed in 1781 and it costs around two million pounds. Currently fort William is the property of Indian army.
Fort william are six gates including chowringhee,plassey,Calcutta,water gate,st georges and the treasury gate.
Timing : 10:00 am to 5:30 pm
8. Howrah Bridge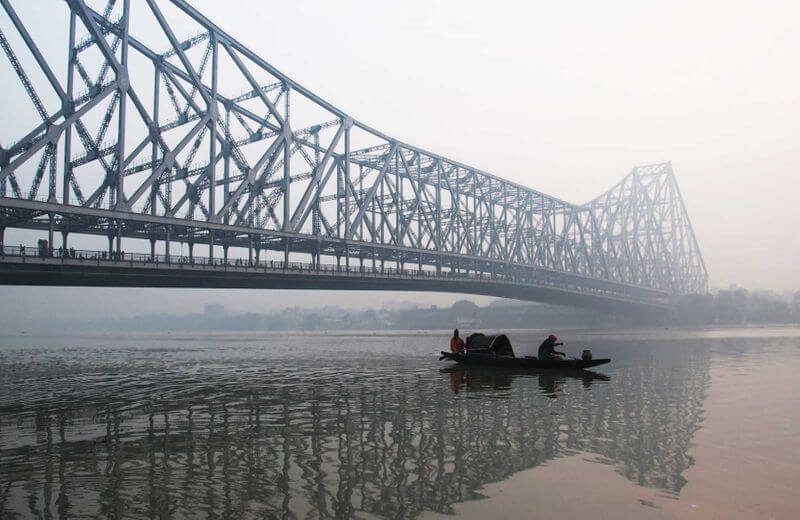 Howrah bridge is near the Hooghly river in west Bengal in India. It was renamed Rabindra setu after the greatest Bengali poet Rabindranath Tagore as well as he was the first Indian and Asian Nobel laureate.
Howrah bridge length is 705m and height 82m. Howrah Bridge is one of the four on the Hooghly river or it is a famous symbol of Kolkata and west Bengal.
On of the bridge around 1,00,000 vehicles and more than 1,50,000 pedestrian as well as it was the busiest cantilever bridge in the world. And howrah bridge is now sixth longest bridge in the world.
Timing : 24 Hours Every Day
9. Jorasanko Thakur Bari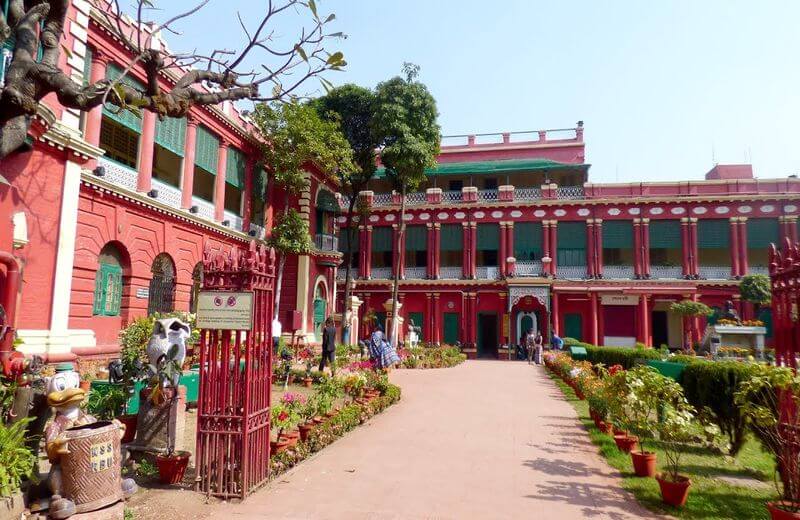 Jorasanko Thakur Bari in north Kolkata in West Bengal,India. It is the home of the Tagore family and current location on the Rabindra Bharati university campus at 6/4 Dwarkanath Tagore in jorasanko, Kolkata.
Gurudev Rabindranath Tagore was born in Jorasanko Thakur Bari. The first non-European Nobel laureate Rabindranath Tagore as well as one of decides to visit the Bari.
Timing : 10:30 AM to 4:30 PM
10. Marble Palace Mansion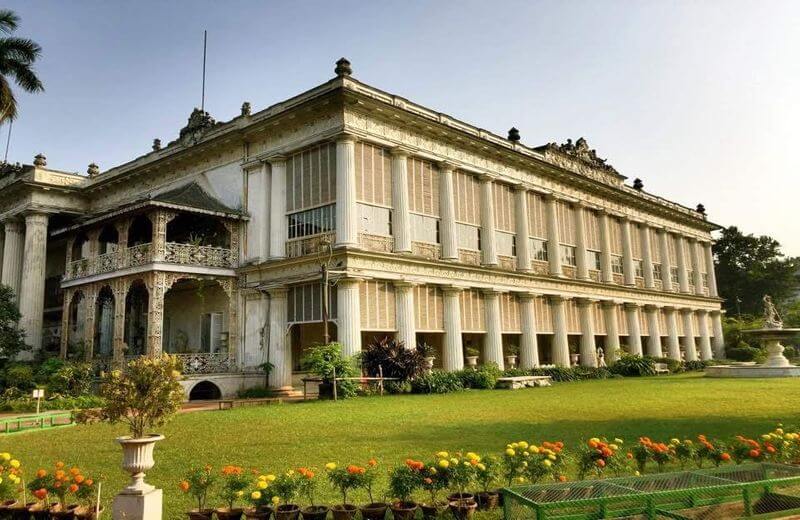 Marble Palace Mansion is 19th century in north Kolkata as well as its location is 46,muktaram babu street,Kolkata. Marble Palace Mansion is famous including marble walls,sculptures and floors.
In 1835 the house was built by Raja Rajendra Mullick as well as he was wealthy Bengali Merchant with works of art. His adopted son name is Nilmoni Mullick and he was built the Jaganath temple. In marble palace mansion in including small zoo,garden with lawns and a lake.
Timing : 10:00 AM to 4:00 PM & Thursday close
11. New Market Kolkata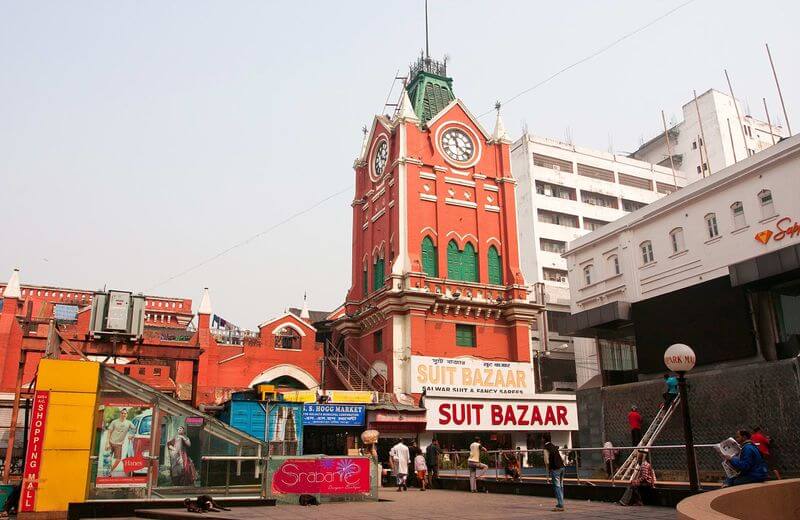 New market is a shopping market in Kolkata. It's opening 1 January 1874 and owner is Kolkata municipal corporations. New market location is Lindsay street in Kolkata,India.
On 2 December 1903, the market was officially named Sir Stuart Hogg market and later shortened to Hogg market. Bengali people called it Hogg shaheber Bajaar. Then American style,air conditioned,shopping malls in Kolkata.
In market many food available including fruit cake,brownies,marzipan,cheese,paneer as well as salted and it can be stored.
Timing : 10:00 AM to 8:00 PM
12. Park Street Kolkata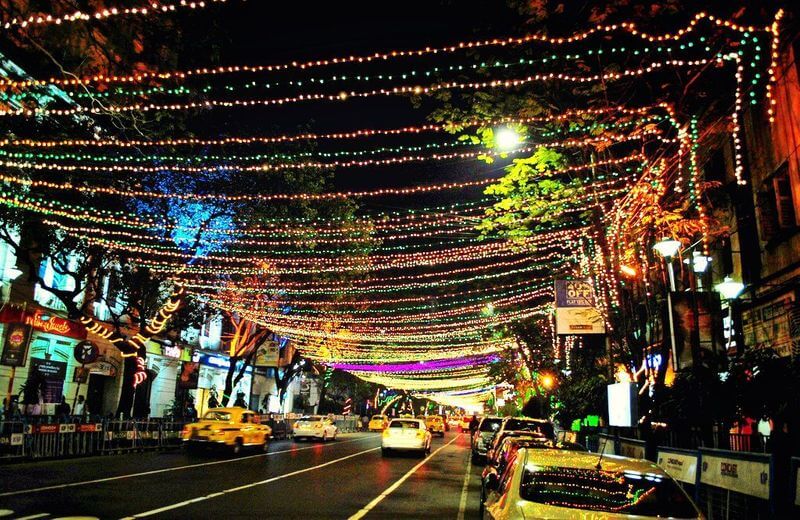 Park Street is a famous fare in Kolkata. Park street current name was given by Kolkata municipal corporations in honour of mother Teresa.
Park street in many clubs and restaurants situated there. On 1 November1967 The park hotel chain started with the opening of its first hotel in the 150 rooms. It is originates from J L Nehru road as well as connects to park circus 7 points crossing in a south eastern direction.
Last 15 many new restaurant, 5-star hotels,shopping malls as well as being the numerous entertainment hub of Kolkata. Women's police station is the police district in the south division including Alieore,Hasting,park street and chetla.
Timing : 24 Hour
13. Princep Ghat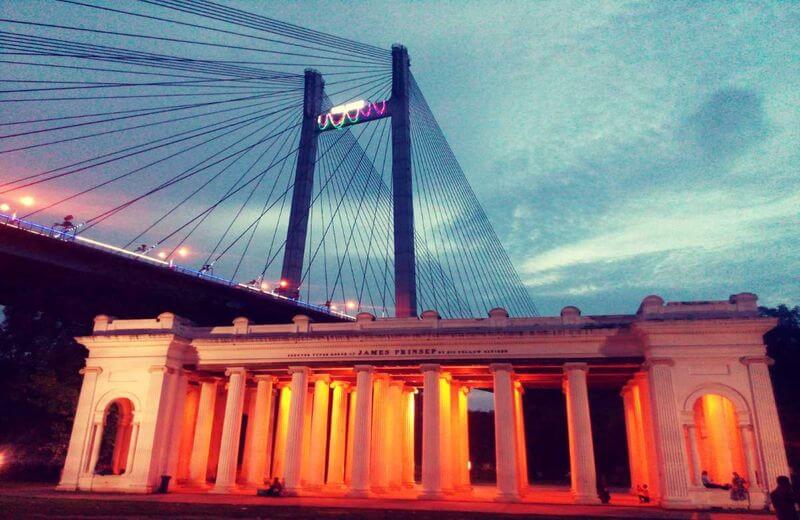 Princep Ghat is built British Raj in 1841 as well as it is located the Kolkata bank of the hooghly river in India. The princep is rich in Greek and gothic inlays.
The Ghat is one of the oldest recreational sports in Kolkata. Many people visit it in the evening and weekend boating on the river as well as purchase food from stalls there. Near the princep ghat one stall selling ice cream and fast food more than 40 years.
The princep Ghat length is 2 kilometres and riverfront from princep Ghat as well as it was inaugurated on 24 May 2012. Princep ghat has illuminated fountains,gardens and pathways and renovated ghats.
Timing : 24 Hour
14. South Park Cemetery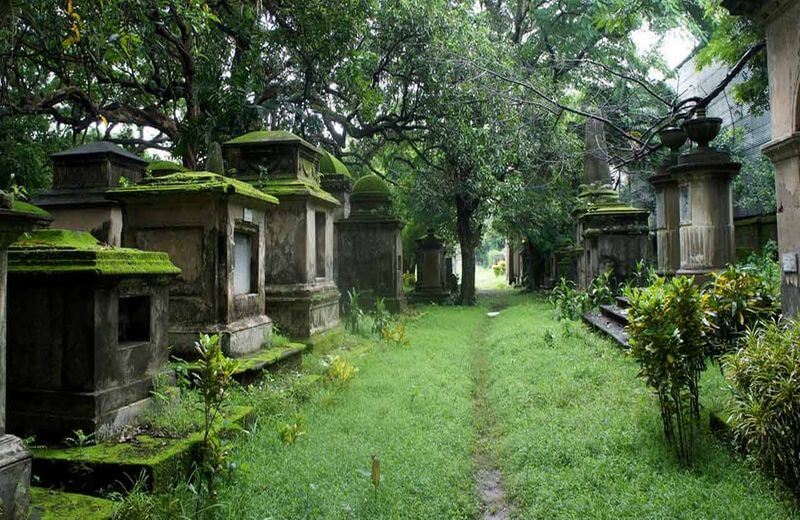 The south park cemetery is location mother Teresa sarani at Kolkata in India. It is established 1767. The south park cemetery is the largest Christian cemetery outside Europe and America in the 19th century.
All memorial are almost architecturally imposing as well as replete with sculptures and classical details. The south park cemetery heritage site now site now protected by the archaeological survey of India.
As well as old burial ground in the heart of the city. Gorosthane sabdhan Bengali film was shot here. And this film based on the same named by Satyajit Ray.
Timing : 9:00 AM to 5:00 PM
15. Writers Building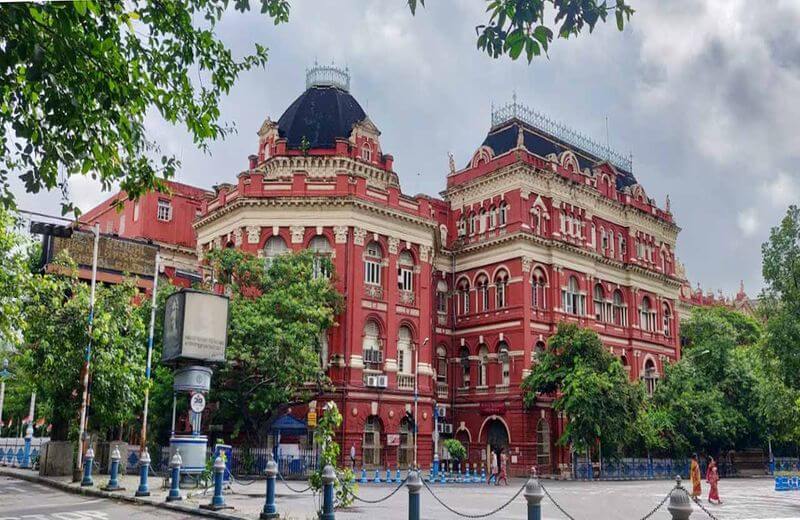 Writers Building is the secretariat building of the government of the west Bengal in India. As well as writers building location in Kolkata.
The writers building designer by Thomas Lyon in 1777. It's known as a mini-township of sorts with built up area around 5,50,000 square feet. In building 34 departments and other offices of the state government as well as 6000 employees. The renovation of the building continues in August 2019.
After renovation involved the Indian national trust for art and cultural heritage of writers building.
Timing : 9:00 AM to 11:00 PM
Read More on Kolkata
1. Best Time To Visit Kolkata
Here we are describing the information about the best time duration to visit Kolkata and in weather is near the sea because of the Bay of Bengal is situated.
The Best Time for a Tourist to Visit Kolkata Is From Late

October and February.
Winter Season
In Kolkata the winter is very favorable. As well as December to February is the winter season at Kolkata and foggy is early morning here. The temperature is 12c to 14c in winter. So in winter planning for the 'city of joy' is really enjoy and good experience during the winter season.
Summer Season
In Kolkata the summers are very hot and the temperature is maximum of 41c in the month of May. In Kolkata sometime many places takes shower in during summer people called 'kal baisakhi'.
Monsoon Season
In Kolkata June to September is monsoon. And in monsoon temperature comes down as well as heavy rain in Kolkata during monsoon and annual rainfall is about 1582mm.
2. How To Reach Kolkata
We can reach Kolkata by train as well as by air and also by road. So,here we are describing information about how to reach Kolkata.
By Air
Kolkata international airport is Netaji Subhas Chandra Bose is situated at Dumdum about 17 kilometres away from the city.
By Train
We can know Kolkata train network of railway linked to cities as well as super fast trains are Rajdhani Express and Shatabdi express connect Kolkata and nearby 2 major railway station in the city one is Howrah and second is Sealdah.
By Road
We can also reach Kolkata by road trip is to take the bus as well as also hire a cab.