Thol Lake Wildlife Bird Sanctuary Kalol
Let's talk about thol lake today. Thol lake is an artificial lake located thol village near kalol in mehsana district of gujarat. The lake is a freshwater lake. The lake was constructed in 1912 to provide irrigation facilities to the farmers when the maharaja (gaekwads) of baroda ruled the region. And tholl lake is open all days of the week from 6:00 am to 5:30 pm. So let us know a little more about thol lake.
Thol Lake Bird Sanctuary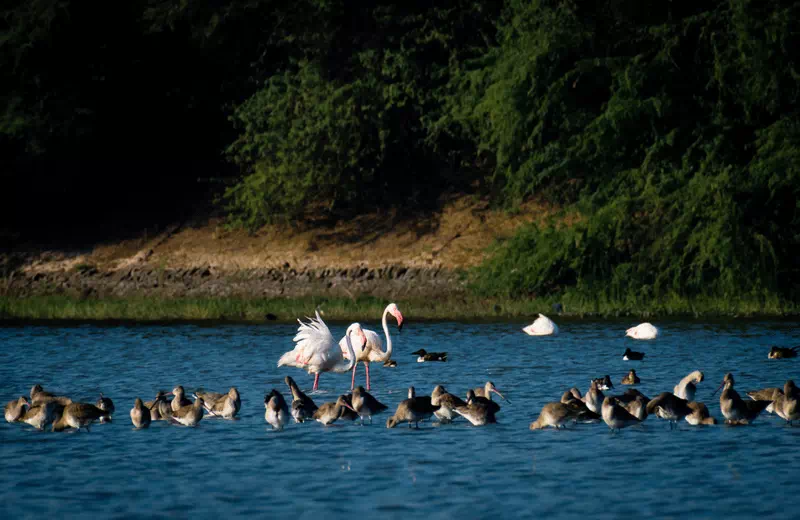 The thol lake was declared the 13th thol bird sanctuary as it is home to a large number of avian species. It is home to 150 different bird species. The two most famous species of birds in the sanctuary are the nice crane (grus antigone) and the flamingo. About 60% are waterbirds. Many migratory birds build their nests in and around the lake. And also reproduces. It is one of the most popular bird hotspots in gujarat with a surface area of 699 hectares (1,730 acres) and a water content of 84 million cubic meters.
Due to its popularity in the bird community, the area was notified as a sanctuary in november 1988 under sequence as per rule 18 of the wildlife (conservation) act, 1972.
You can also see black deer, fox and blue oxen around thol lake. The best time for waterfowl is monsoon and winter season. And many birds come here during winter season which includes thousands of flamingos. Thousands of flamingos visit, covering the landscape in pink. Migratory birds such as malards, storks, cranes, great white pelicans, geese, and many other waders make the sanctuary their home during the winter and also breed.
It is also proposed to declare the sanctuary an eco-sensitive zone. According to the act, 1986 (29 of 1986). Thol lake is only 27 km away from ahmedabad.Thol lake, rather than nalsarovar, should be your destination if you are a bird watcher, as thol lake has a total of 77 species of birds as compared to 50 species found in nalsarovar.
There are 39 species in these two wetlands. The climate of the area has three seasons: winter, summer and monsoon. The average annual rainfall in a lake catchment is 600 millimeters (24 inches). The maximum and minimum temperatures recorded in this area are 43 ° c (109 ° f) and 8 ° c (46 ° f). The forest and irrigation departments of the gujarat government are in charge of the lake's management. One of the main attractions of this special lake is that it is surrounded by moist plants. Apart from that, many types of flowers and thorny plants are also found here.
The entrance fee for visiting thol lake is rs. 50 per person. And thol lake (timing) is open all days of the week from 6:00 am to 5:30 pm. The best time to visit the lake is early in the morning to watch the birds and enjoy the beautiful weather.
Read More on Thol Lake
1. Things To Do at Thol Lake
Here you need to take a camera with you as this makes the place especially popular among nature lovers and professional photographers. Arrive early in the morning at thol lake bird sanctuary which will give you a sense of nature and the lake is full of birds and a beautiful place to watch the sunrise. There is glory.
In the sanctuary, when the sun sets, evening falls. As if the sky is painted with shades of orange. You can see the view here. You can also taste tea and fritters from the local stalls and enjoy the rural atmosphere of gujarat.
2. Best Time to Visit Thol Lake
Here we have to collect information about best time to visit thol lake. This is to collect information on where the visitor can visit the thol lake. So let us know a little more about this thol.
The Best Time for a Tourist to Visit Thol Lake Is From Late

November to February.
Winter Season
The thol lake winter season lasts from november to february. Winter is the best time and it should also come in the morning for thol lake. Also, during the winter, you can see migratory birds that make for a beautiful view. In winter and after monsoon (after august) go for thol.
Summer Season
Not good for summer tour. The average temperature of this thol lake rarely reaches more than 45 degrees celsius during the day and drops below 30 degrees celsius at night. The thol lake summer season lasts from march to june. The month of may is known as the hottest month for tourists on this thol lake.
Monsoon Season
The thol lake monsoon season lasts from july to september. The best time to visit monsoon is the best season in gujarat considering the summer heat.
3. How to Reach Thol Lake Sanctuary
Here we are going to talk about How to Reach Thol Lake Sanctuary. So let's gather information about how a tourist can visit Thol Lake Sanctuary.
By Air
To reach Thol Lake Sanctuary, tourists can also rent a cab that is easily available throughout Ahmedabad. The nearest airport to this Thol Lake Sanctuary is Sardar Vallabhbhai Patel Airport in Ahmedabad which is about 28.4 km from this Thol Lake. And from there the tourist can hire a private vehicle to reach their destination.
By Train
Ahmedabad (Kalupur) railway station train station is the nearest railway station for tourists to reach Thol Lake Sanctuary. This station is connected to all the major cities of India. The railway station is located 30 kilometers from the Thol Lake.
By Road
There are many private and government buses from Ahmedabad to reach Thol Lake Sanctuary by road. There are GSRTC buses from Ahmedabad to Thol. There are several types of buses available from Ahmedabad to Thol. And tourists can also rent easily available cabs all over Ahmedabad.
4. Top Places to Visit Around Thol
Dream Riders Motortouring
Hare Krishna Mandir Temple
Gujarat Science City
Sun Temple
Fort Of King Maharaja Malavrav Gayakwad
Bahuchar Mata Temple (Mehsana)
Kadva Patidar Kuldevi Shri Umiya Mataji Mandir