A Guide to Hollywood Beach, Florida
Hollywood Beach, Florida is a famous beach location in Broward County on the state's southeastern coast. Hollywood Beach, known for its amazing sandy beaches and lively environment, attracts both locals and tourists looking for sun, sand, and entertainment.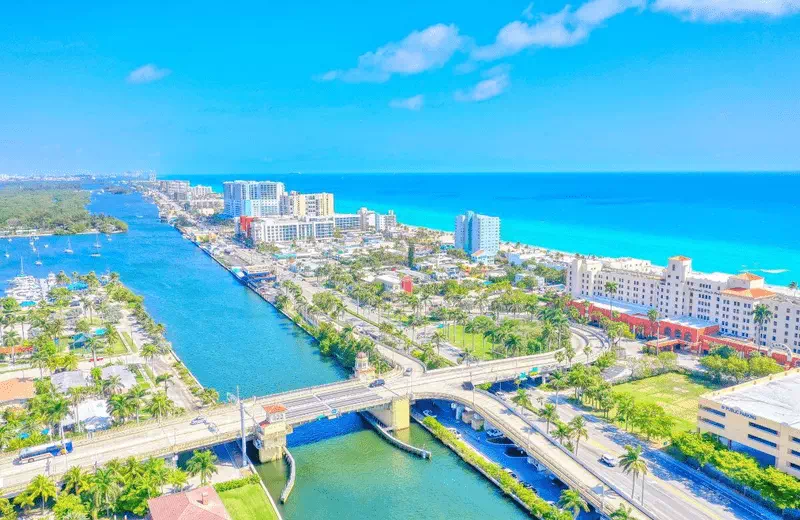 One of Hollywood Beach's greatest attractions is its 2.5-mile-long boardwalk that runs along the oceanfront. The boardwalk is a vibrant colony of activity, lined with stores, restaurants, cafes, and hotels. Visitors can stroll along the boardwalk, rent bicycles or rollerblades, or simply relax and enjoy the stunning views of the Atlantic Ocean.
Find out what the best things to do in hollywood beach are. Take a lovely stroll along the famous boardwalk, relax on the amazing beaches, or take part in exciting water sports. Explore wildlife at the Anne Kolb nature Center, experience live entertainment at the Hollywood Beach Theater, and eat at beachside restaurants.
The beach is perfect, with soft white sand and clear blue water waves. It has plenty of space for sunbathing, picnicking, and beach games. Lifeguards are on duty, safeguarding the safety of swimmers and providing families with peace of mind.
Swimming, paddleboarding, and jet skiing are also popular water sports in Hollywood Beach. There are rental shops along the beach where visitors can rent equipment and enjoy various water sports.
Hollywood Beach has many tourist attractions and entertainment alternates for anyone seeking adventures beyond the beach. With its routes, observation tower, and eco-adventures, the nearby Anne Kolb Nature Center is perfect for nature lovers. The hollywood beach theater amenities live music concerts and events, which contribute to the area's lively environment.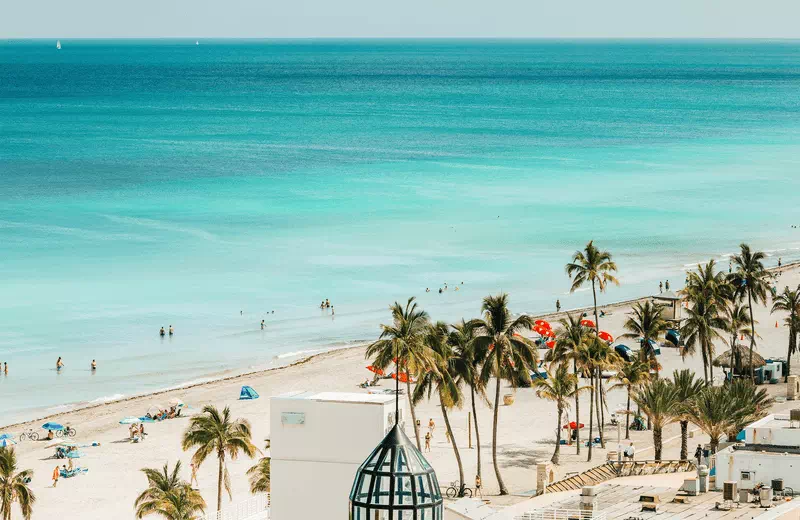 In terms of dining, Hollywood Beach has a wide variety of options. Visitors can find anything from informal coastal cafés serving seafood and tropical drinks to upscale restaurants providing a range of cuisines.
Hollywood beach florida hotels has a variety of hotels that accommodate a range of budgets and preferences. Visitors have a wide range of accommodations to select from, including outstanding beachfront resorts and attractive boutique hotels. The Diplomat Beach Resort, a renowned luxurious resort featuring world-class amenities and wonderful ocean views, is one of the area's prominent hotels.
With different pools, restaurants, and a FlowRider surf simulator, the Margaritaville hollywood beach resort offers a lively and laid-back atmosphere inspired by Jimmy Buffett's music. In addition, there are a number of smaller hotels and motels in Hollywood Beach, Florida that offer comfortable and cost-effective accommodations, ensuring that there is the hotel suitable for every traveler's needs.
The weather at hollywood beach, Florida, is generally good around the year, but the best time to visit hollywood beach depends on personal preferences. Visit between December and April for warm and sunny beach weather. Consider the shoulder seasons of spring and fall for fewer crowds and milder temps.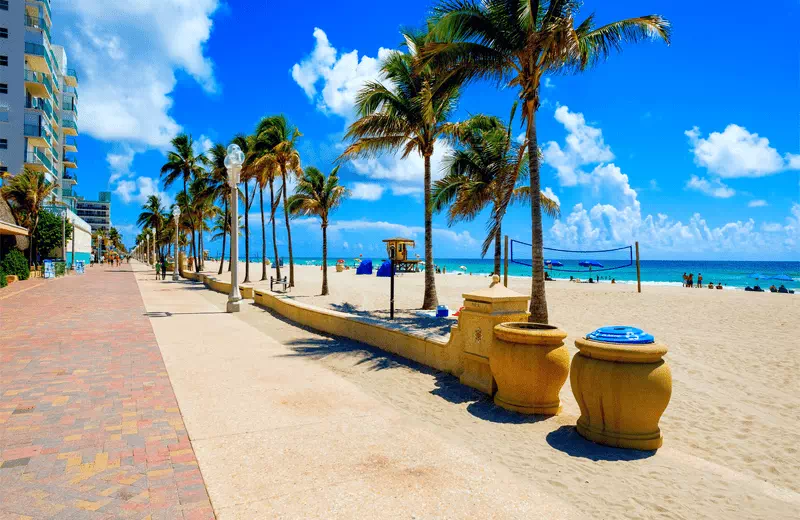 How to Reach Hollywood Beach
By Air
For those traveling by air, Fort Lauderdale-Hollywood International Airport (FLL) is the nearest major airport. Upon landing, proceed to the designated baggage claim area to collect your luggage.
Public Transportation
The public transportation system covers Hollywood Beach well. You can use the local trolleys or bus service if you're already in the area to go to the beach. For people traveling from other areas of South Florida, a train service is available at the Hollywood Tri-Rail station.
By Bus
Many bus lines provided by Broward County Transit (BCT) stop in Hollywood Beach. The A1A/Carolina S stop is the bus stop closest to the beach.
By Car
If you'd prefer drive, you can get to Hollywood Beach via major highways like I-95 or the Florida Turnpike. To find the beach area, use a GPS navigation system or the directing signage. Remember that parking may be limited, especially during busy periods.
Ground Transportation
There are different ground transportation alternatives available from the airport. Outside the terminals, taxis and ride-sharing services are available. Alternatively, you can book in advance a shuttle service or rent a car from one of the on-site rental agencies.
Arrival at Hollywood Beach
Follow the directions or signs to the particular place you want to go in Hollywood Beach, whether it's a hotel, the beach, or the famous boardwalk. Familiarize yourself with the area and enjoy your time exploring the attractions and beautiful surroundings.
Hollywood Beach Parking
When it comes to parking at Hollywood Beach, there are a few options available.
Metered Street Parking
Along the streets surrounding Hollywood Beach, you will find metered parking spaces. The rates and time limitations for these spaces may differ, and payment is required at specified parking meters. Check the signs to see if there are any local parking regulations.
Parking Garages
A number of parking facilities can be found close to Hollywood Beach. The Garfield Parking Garage, which is located at 300 Connecticut Street, is the closest parking garage. There are daily and hourly parking options in this garage.
Municipal Parking Lots
Visitors can park in municipal parking lots as well. The Johnson Street Parking Lot, which is located at 1000 Johnson Street, is one of the wider lots. There are daily parking options in this lot.
It is a good idea to get there early if you plan on going to Hollywood Beach in order to avoid the crowds and get parking. Before planning making the journey, you can also check the availability of parking online.
In order avoid penalties or issues, be mindful of any parking limitations, such as tow-away zones or time-limited parking. Always check for signage and follow the instructions provided to ensure a smooth parking experience at Hollywood Beach.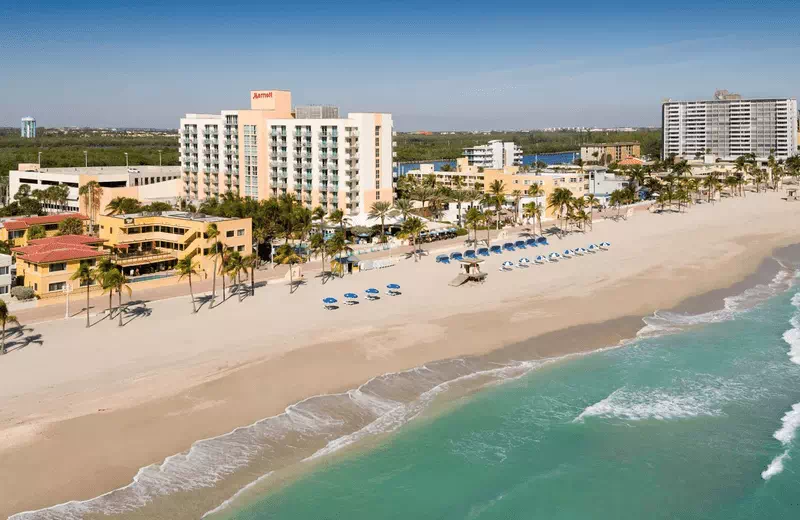 Top Places to Visit Around Hollywood Beach
Hollywood Beach Boardwalk
The Hollywood Beach Boardwalk, covering 2.5 miles along the Atlantic Ocean, is a popular tourist destination. Enjoy a leisurely stroll along the boardwalk, rent a bike, or visit by one of the many restaurants and cafes for a bite to eat.
Anne Kolb Nature Center
Visitors can explore the beautiful coastal mangrove wetlands at the Anne Kolb Nature Center, which is close to West Lake Park. Experience the area's natural beauty by rent a kayak, hiking the nearby nature routes, or taking a guided tour.
ArtsPark at Young Circle
ArtsPark at Young Circle is an attractive destination of culture and entertainment that is located in the heart of Hollywood. Visit art galleries, take in live concerts at the amphitheater, or just relax in the park's greenery.
Gulfstream Park
Just a short drive from Hollywood Beach, offers a variety of food, entertainment, and horse racing. Enjoy an excellent meal at one of the restaurants, Try your luck at the casino, or watch exciting race of horses.
Hollywood North Beach Park
This park, which located north of Hollywood Beach, provides a quieter and more serene beach experience. Enjoy the beach while swimming, having a picnic, or just resting and taking in the scenery.
Hollywood Beach Broadwalk Theatre
If you're looking for live performances, head to the Hollywood Beach Broadwalk Theatre. This outdoor theater hosts a variety of acts, including plays, concerts, and dance performances.
Yellow Green Farmers Market
The Yellow Green Farmers Market, a haven for food lovers, is a short drive from Hollywood Beach. Explore a vast array of fresh produce, artisanal goods, and international cuisine from local vendors.
Hollywood Beach Golf Resort
Golf enthusiasts can enjoy a round of golf at the Hollywood Beach Golf Resort. This 18-hole championship golf course offers beautiful views and a challenging game for players of all skill levels.
Pompano Beach Pier
This pier is an excellent location for fishing, strolling, or simply taking in the seaside views.
Sawgrass Mills
Having almost 360 stores, this is one of the largest malls in the United States.
These are just a few of the top places to visit around Hollywood Beach. Each offers its own unique attractions and experiences, ensuring that visitors have a memorable time exploring the area.
Overall, Hollywood Beach, Florida, is a vibrant and picturesque destination that offers a perfect blend of sun, sand, and entertainment. Whether you're seeking relaxation on the beach or looking for lively activities, Hollywood Beach has something for everyone.