A Guide to the Best Hotels Hollywood Beach, Florida
If you're planning a visit and in search of the best hotels in this picturesque coastal destination, look no further. Hollywood Beach is renowned for its pristine sandy shores, vibrant atmosphere, and stunning sunsets.
To ensure a memorable stay, we've compiled a guide to help you navigate through the top hotels in the area. From beachfront resorts offering a tropical paradise to upscale accommodations with luxurious amenities, there's something for everyone in this charming beach town. So, let's dive in and discover the finest hotels Hollywood Beach has to offer!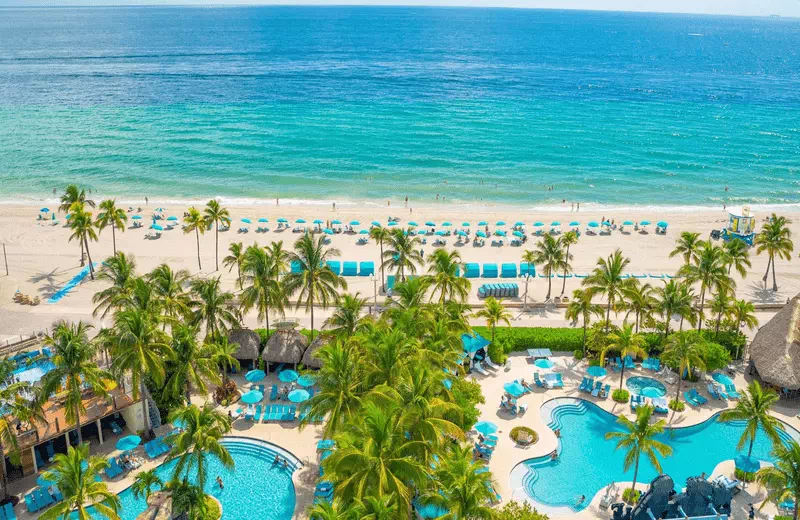 Margaritaville Hollywood Beach Resort
This beachfront resort offers a tropical-inspired atmosphere with multiple dining options, a full-service spa, a large pool area, and direct access to the beach.
The Diplomat Beach Resort Hollywood
Situated on the beach, this upscale resort features luxurious rooms, multiple restaurants and bars, a spa, tennis courts, a golf course, and a large outdoor pool area.
Crowne Plaza Hollywood Beach Resort
Situated on the Intracoastal Waterway, this hotel provides guests with access to a private beach, an outdoor pool, a fitness center, and a waterfront restaurant. It's a short distance from the Hollywood Beach Broadwalk.
The Atlantic Hotel & Spa
This boutique hotel offers elegant rooms and suites with ocean views, a spa, a fitness center, a rooftop pool, and a beachfront restaurant. It's located just steps away from the beach.
Hollywood Beach Marriott
Located directly on the beach, this hotel offers comfortable rooms, a beachfront pool, a fitness center, and an on-site restaurant. It's within walking distance of the Hollywood Beach Broadwalk, a popular attraction.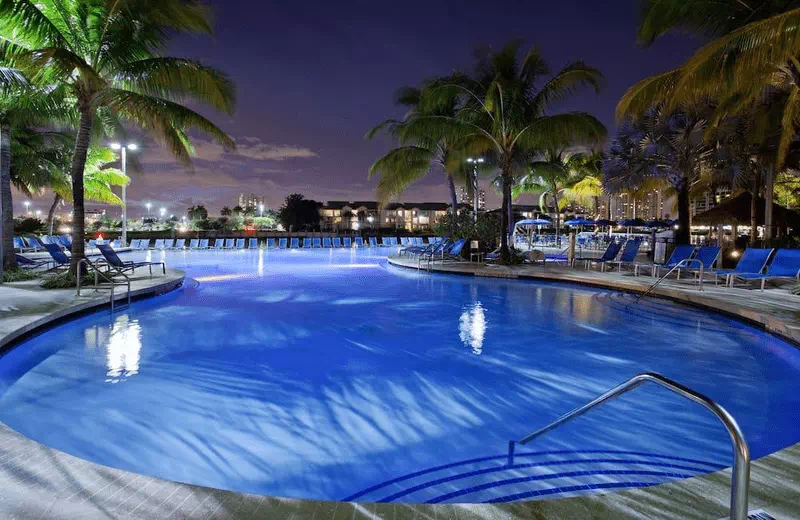 Costa Hollywood Beach Resort
Costa Hollywood Beach Resort is a great option for a fun and peaceful holiday. The resort offers an excellent pool, a beautiful beach, and a number of restaurants and bars. The staff is pleasant and accommodating, and the accommodations are clean and comfortable.
Hotel Riptide Oceanfront
If you're searching for a relaxed beach holiday, the Riptide is an amazing spot to stay. The hotel is just on the beach, and there are plenty of restaurants and stores around.
Caribbean Resort by the Ocean
The Caribbean Resort by the Ocean is a motel in Hollywood, Florida, USA. It is only 350 feet away from the beach. Each room at the motel has a fully equipped kitchenette and free Wi-Fi. It also offers a barbeque picnic area and an outdoor tiki bar.
These hotels offer a variety of amenities and activities, including beach access, pools, restaurants, bars, and shops. They are all located in a convenient location, close to the beach and all the attractions of Hollywood Beach. There are many more options to choose from depending on your preferences and budget.