5 Top-Rated Key West Beaches in Fl
The southernmost city in the united states can keep you engaged and amazed for weeks with its crystal blue waters and sugar-white sandy beaches. However, if you're looking for a sandy beach, this tiny island has several that provide lots of fun in the sun.
Key west, the island city in the florida keys, is only four miles long and one mile wide, yet it has some of the most picturesque beaches in the country. The southernmost city in the united states is known for its natural beauty, vibrant nightlife, and, of course, sun and surf.
Here are the nicest beaches on the island. Another huge draw is the year-round beach weather. Continue reading to learn about the top 5 beaches in key west. So let's get started!
1. Smathers Beach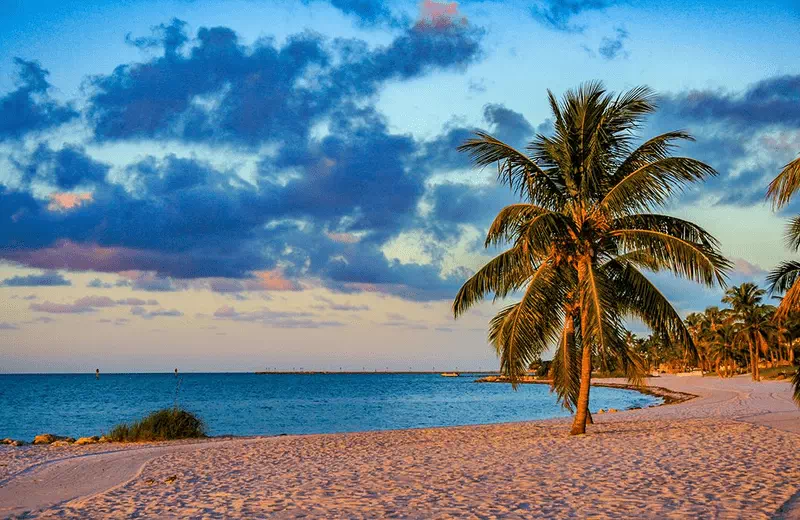 Smathers beach is key west's largest public beach in the united states. It is roughly a half mile long. The beach is located on the island's south side. Smathers, a popular hangout among residents, is where many spring break tourists to key west gather for fun in the sun.
Along the beach, there are also various rental shops where you can hire beach chairs, kayaks, jet skis, shade umbrellas, snorkeling equipment and other water sports equipment.
Its mostly sandy shoreline makes it popular with families. The oceans are calm, and you can go quite far out into it. It's a terrific area for kayaking, parasailing, sunbathing, swimming, snorkeling and beach volleyball. Despite the crowds, it's ideal for swimming because of the clean water and nice sand.
The beach is free to visit from sunrise to sunset every day, however parking costs $5 per hour.
2. Bahia Honda State Park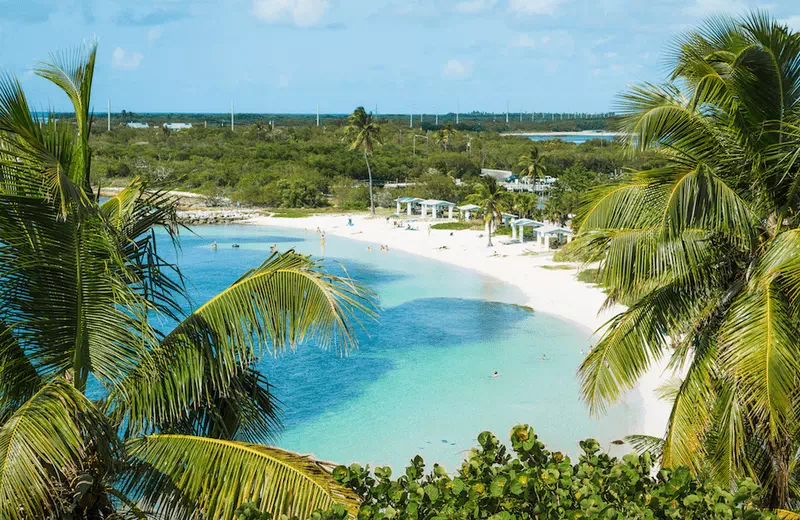 If you're visiting the florida keys, bahia honda state park is a great area to spend the day. Bahia honda state park, located about 30 miles north of key west, entices beachgoers with its shallow sparkling waters, towering pine trees, and miles of smooth white sands.
Fresh water and power are available at the campground, and a concessions shop is open during the day. Day and overnight visitors come for the beautiful white sand, safe and shallow water, and natural beauty of the park. There are restrooms, a snack kiosk, and nature trails that run through lush tropical mangroves.
The park, which covers over 500 acres and includes an offshore island, has some of the best snorkeling and beachcombing in florida. The ideal and peaceful vacation for the entire family.
3. Dry Tortugas Beaches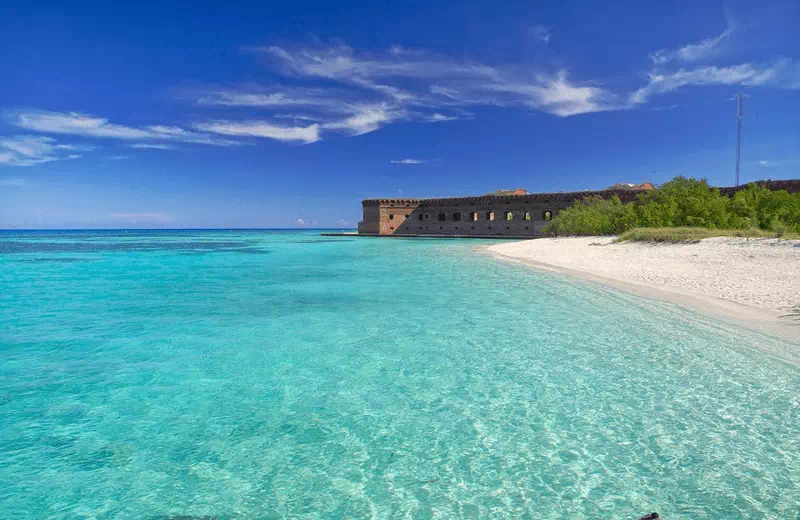 The fort jefferson dry tortugas national park is only 70 miles west of key west. You will appreciate the crystal blue waters, swaying palm trees, and soft, powdery sand of this island paradise whether swimming, sun bathing, or simply strolling. These stunning, clean beaches are a must-see key west destination.
Take a stroll along the sandy shoreline, soak up the sun, swim, go bird watching, or kayak. Take a self-guided or guided tour of the huge fort jefferson.
Snorkeling is the most popular activity in and around the dry tortugas, and several excursion and tour options include equipment.
Plan a whole day for your visit and be ready to spend the entire day in awe of the park's breathtaking natural beauty.
4. Higgs Memorial Beach Park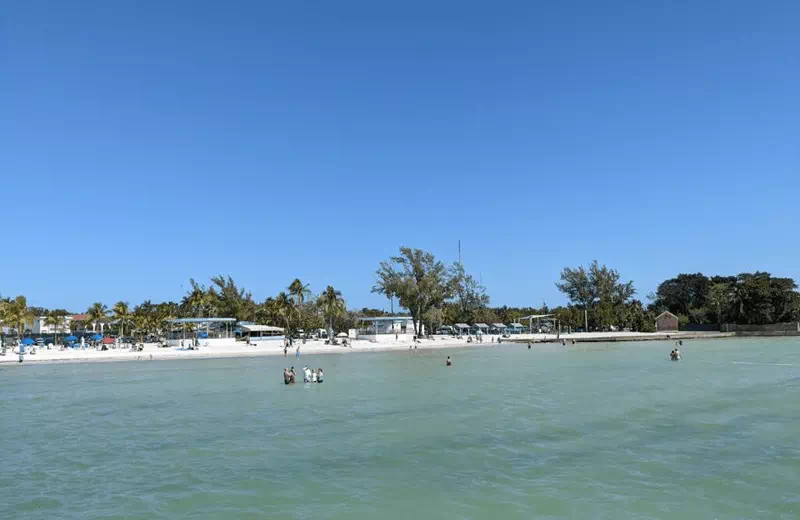 Higgs memorial beach park is approximately 16.5 acres of coastal scenery located on the atlantic ocean adjacent to the waldorf astoria's casa marina resort in key west, florida, the southernmost city in the continental united states.
Higgs beach park also has the only shore-accessible underwater marine park in the united states and serves as the terminus of the florida overseas heritage trail, one of only 31 officially recognized all american highways in the country.
A beach concessionaire rents out beach equipment such as chairs, umbrellas, kayaks, and paddleboards. A huge dog park with different runs for little and large dogs is located in the park. There is also free parking and public restrooms and showers.
Swimming, tennis, pickleball, snorkeling, sunbathing, beach volleyball and a children's playground are among the activities provided.
In addition to higgs beach's freshly renovated wooden pier, the adjoining white street pier continues out into the atlantic ocean for spectacular sunset views. The key west aids memorial and the african cemetery are also close.
5. South Beach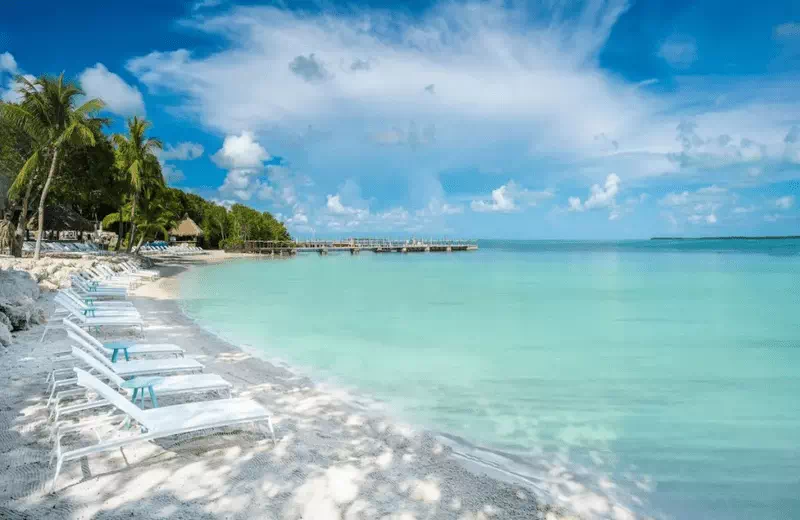 Another family favorite in key west is south beach. The beach's calm, shallow waters, which are ideal for swimming, are a huge lure for families traveling with children. This modest beach is the most popular on the island and is located at the end of one of key west's main streets, just a short walk from the town center. The southernmost beach resort and the south beach pier surround this 200-foot length of sand.
Although there aren't as many rental stores here, there are a few decent beachside refreshment stalls, as well as some possibilities for renting lounge chairs and even towels. In addition, there are public water fountains and a small café.