Echo Lake New Hampshire (A Relaxing And Serene Getaway)
Echo Lake is a 15.7-acre body of water in Carroll County, New Hampshire, located near North Conway. It is located within Echo Lake State Park, which also has a small swimming beach.
Echo Lake State Park in North Conway, New Hampshire, offers a variety of activities such as swimming, hiking, rowing, climbing, and picnicking. A short scenic trail through nature and tall trees leads to an opening with stunning views of the gorgeous lake and White Horse Ledge as a backdrop.
Visitors to the park can cool off with a swim or kayak around the lake while admiring nature at its best. There are restrooms and picnic areas near the lake, making it an ideal location for a family reunion. Parents can relax in the shaded picnic area while keeping an eye on what's going on at the lake.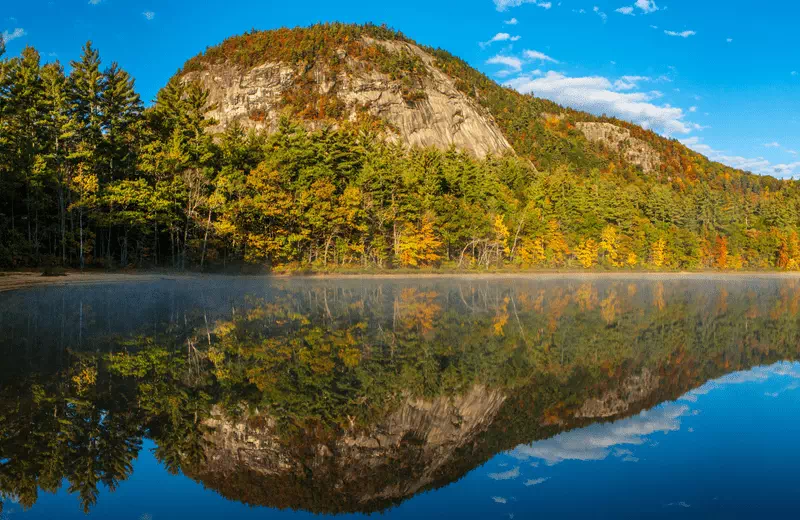 Echo Lake is surrounded by a 1-mile hiking trail. The trail winds through quiet forests on easy to moderate terrain, beginning and ending near the park entrance. This trail offers a great view of the lake's rocky cliffs, and two additional trails take hikers to the top for an even better view of the Saco River Valley. The two main cliffs, known as White Horse Ledge and Cathedral Ledge, are also popular rock-climbing destinations, but only experienced climbers should attempt the bare rock face. The 700-foot Cathedral Ledge can be reached by both trail and road.
At the time of publication, park facilities at Echo Lake were open and staffed during daylight hours from late May to mid-October. However, you can enter the park all year, and some hardy visitors ice fish on the lake or use the hiking trails for snowshoeing and cross-country skiing in the winter. During the open season, there is a daily entrance fee.
Can you swim in Echo Lake, New Hampshire?
Echo Lake State Park is an excellent choice for a swim and picnic with the family. Several hiking trails begin in the park, including a scenic trail around the lake and others that lead to Cathedral Ledge State Park, which offers spectacular views of the Saco River Valley.
What makes Echo Lake famous?
It is known for its seclusion, tranquil mountain setting, and breathtaking natural scenery, with granite rocks and tall mountains surrounding each lake. Upper and Lower Echo Lakes are excellent spots for boating, fishing, and having a picnic lunch.
What town is Echo Lake in New Hampshire?
North Conway
Is it safe to swim in Echo Lake?
Echo Lake Beach is a popular freshwater swimming spot off Route 102 on Mount Desert Island's west side. At the southern end of Echo Lake, there is a small sandy beach and a roped-off swimming area.
Can you kayak on Echo Lake in New Hampshire?
Echo Lake has canoes, kayaks, and pedal boats for rent. Pedal boats cost $25 per hour.
Is it necessary to pay to park at Echo Lake?
Parking. Parking in the Echo Lakes Sno-Park requires a Sno-Park Permit. Overnight parking is permitted. A daily permit costs $5.00, and a season pass costs $25.00.
Are dogs permitted in Echo Park?
During park hours, leashed dogs are welcome on the paths surrounding Echo Park Lake (from sunrise to sunset). Enjoy a picnic with your furry friends, see the sights in the city centre, and admire the lotus blooms!
Is Echo Lake a man-made lake?
Echo Park was not always a man-made lake. Instead, it was first used by the city as a reservoir, storing water in a section known as the "West End." Back then, the hills and canyons that would become our neighbourhood were referred to as the city's west side.
What is the depth of Echo Park Lake?
28 feet in depth
Things to Do near Echo Lake State Park
Schouler Park
New England Ski Museum Eastern Slope Branch
NH Craftsmen Fine Arts Gallery
The Rugged Mill
Harvey Dow Gibson Playground
Bavarian Chocolate Haus