Yellowstone Lake Wyoming Fishing, Camping, Boating
Yellowstone Lake is the largest high elevation lake in North America, located at an elevation of 7,733 feet in Yellowstone National Park in the northwest corner of Wyoming. It is crystal clear, deep, and cold, and remains frozen for about six months of the year. The largest lake in Yellowstone National Park is Yellowstone Lake.
Yellowstone Lake can get crowded in the summer due to its location in one of America's most popular national parks. Nonetheless, it's stunning setting, surrounded by mountains and close to gushing geysers, makes a visit well worth the crowds. You can camp in the national park for the night. There are many places to stay and places to camp.
In the winter, ice nearly three feet (0.91 metres) thick covers much of the lake, except where shallow water covers hot springs. By early December, the lake has frozen over and can remain frozen until late May or early June.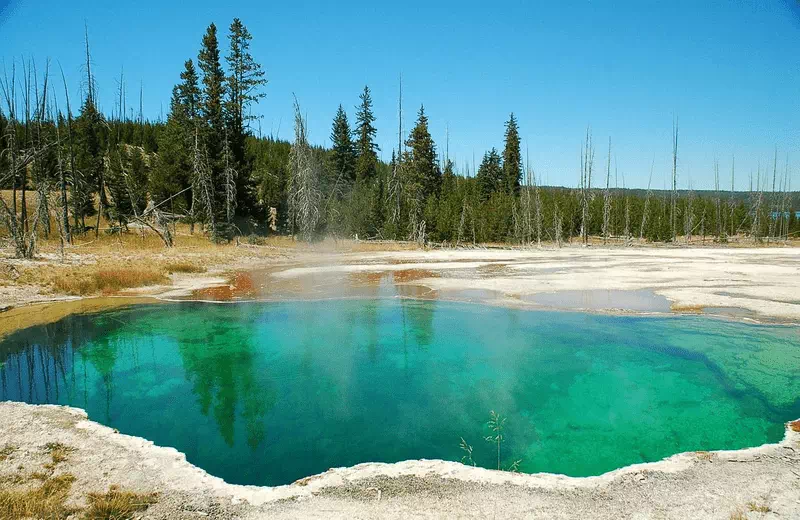 As depicted on early maps and in journals, the lake was known by various names. The lake was named Yellow Stone by both fur trader David Thompson and explorer William Clark. In his 1834 journal, Osborne Russell referred to the lake as Yellow Stone Lake. The West Thumb Geyser Basin, located in the lake's southwest corner, is easily accessible to visitors. There are geysers, fumaroles, and hot springs both beside and in the lake.
With over 135 square miles of pristine high mountain lake, this pristine high mountain lake offers some of the best inland paddling in the world. You are free to paddle as close or as far as you like. The lake is lined with backcountry campsites, and many visitors enjoy a multi-day paddle around it.
What kinds of fish can be found in Yellowstone Lake?
Yellowstone cutthroat trout, longnose dace, redside shiners, longnose suckers, and lake chubs are all found in Yellowstone. Illegally introduced lake trout were discovered in Yellowstone Lake in the summer of 1994. Fishing Bridge is frequently visited by cutthroat trout and longnose suckers.
Is it safe to swim in Yellowstone Lake?
Because of the frigid lakes, swift rivers, and scalding or worse hydrothermal waters, Yellowstone is not a safe place for swimming or soaking." People have died after falling into hot water in some areas of the park. An Oregon man may have dissolved in 2016 after attempting to soak in a thermal area.
Is it worthwhile to visit Yellowstone Lake?
It's a beautiful sight in any season, especially with the mountains in the background. The lake boat excursion is well worth the time and money. It is worth a look even if you are not staying at the hotel or lodge.
What is the most common animal in Yellowstone?
Elk
Bison
Ravens
Pronghorn
Moose
Cougar
Wolverine
Wolves
Black Bear
Coyotes
Does Yellowstone Lake freeze over?
Every winter, Yellowstone Lake completely freezes over in late December or early January, with ice thicknesses ranging from a few inches to more than two feet. Usually, the lake thaws at the end of May or the beginning of June.
What lies beneath Yellowstone Lake?
Hot springs, geysers, and fumaroles in and around Yellowstone Lake serve as constant reminders of the active volcanic and seismic Yellowstone Caldera beneath.
Are boats permitted on Yellowstone Lake?
Only motorised boats are permitted on Yellowstone and Lewis lakes. You can float tube in fishing areas, but you must have a boat permit for your float tube. Non-lake boating is only permitted in the channel between Lewis and Shoshone Lakes, and only hand-propelled vessels are permitted.
Best Time to Visit Yellowstone Lake
Yellowstone is best visited in April, September, and October. These "off season" months offer more opportunities to see local wildlife and enjoy less crowds. Bears emerge from hibernation between March and April, migrating birds arrive in early May, and the elk rut starts in mid-September.
Top Places to Visit around Yellowstone Lake
Lamar Valley
Grand Canyon of the Yellowstone
Grand Prismatic Spring
Old Faithful
Lower Yellowstone River Falls
Artist Point
Mammoth Hot Springs
Hayden Valley
Grand Loop Road
Upper Geyser Basin