Big Bend National Park (Your Guide To Planning The Perfect Trip)
Big Bend National Park, located in southwest Texas, encompasses the entire Chisos mountain range as well as a large portion of the Chihuahuan Desert. The Ross Maxwell Scenic Drive leads to the Sam Nail Ranch ruins, which are now home to desert wildlife. The Rio Grande carved the Santa Elena Canyon, which features steep limestone cliffs. Pictographs and the foundations of an old bathhouse can be found near the Mexican border at Langford Hot Springs.
The park is located entirely within Brewster County and spans an area of 801,163 acres. The Rio Grande/Ro Bravo forms the border between Mexico and the United States for more than 1,000 miles (1,600 km), and Big Bend National Park administers approximately 118 miles (190 km) of that border.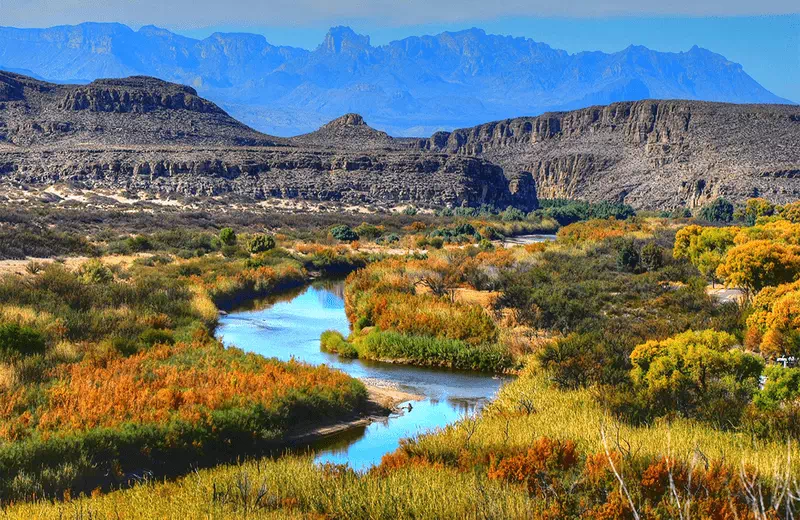 Big Bend has a wide range of activities for visitors of all ages. The park has 150 miles of hiking trails that wind through mountainous desert terrain and alongside rivers.
Visitors will be drawn to geological structures dating back millions of years, as well as 1,200 plant species and 450 bird species. Scenic drives, programmes led by Big Bend park rangers, and stargazing are among the other park activities.
Big Bend is home to nearly 600 different bird, mammal, reptile, and amphibian species. Fish thrive in this environment thanks to the Rio Grande, and despite being a desert, there is an amazing diversity to be found here. Mule deer, coyotes, rabbits, and even rattlesnakes can be seen by visitors.
Hiking, fishing, horseback riding, boating, going for a scenic drive, taking a dip in a natural hot spring, or simply lying back and marvelling at the magnificent night skies - The Andromeda galaxy might be seen as far away as two million light years distant!
What makes Big Bend National Park special?
Big Bend National Park, often known as Texas' Gift to the Nation, is known for its natural riches and recreational activities, as well as its cultural past. For thousands of years, native peoples have lived in and/or travelled through this area. Pictographs and archaeological sites attest to their existence.
Is it worthwhile to visit Big Bend National Park?
Yes, Big Bend National Park in Texas is stunning and well worth a visit. That's the quick answer. Big Bend National Park is America's fifteenth largest national park, with 801,163 acres of protected land, making it the United States' largest protected portion of the Chihuahuan desert.
Is Big Bend park open?
The park's entrances are open 24 hours a day, all year. Seasons and hours of operation for entrance fee stations vary.
Are Big Bend Hot Springs Open?
The trail is available all year and is a lovely area to visit at any time of the year. To enter Big Bend National Park, you must pay a fee.
Is a reservation required to enter Big Bend?
Big Bend National Park does not require reservations, but regular entrance fees will be collected at all park entrance stations.
Is hiking in Big Bend National Park safe?
If you're thinking about visiting Big Bend National Park, you might be wondering if it's safe. Hikers and other outdoor enthusiasts will find Big Bend National Park to be a safe destination.
Best Time to Visit Big Bend National Park
Big Bend National Park is best visited in the fall and spring. During the day, the weather is lovely, while at night, it is cool. March is one of the busiest months at the park due to the nice weather and inflow of spring break visitors.
Things to Do in Big Bend National Park
Hike Santa Elena Canyon
Soak in the Hot Springs
Drive the Ross Maxwell Scenic Drive
Mexican Village of Boquillas
Hit the Hiking Trails
Canoe along the Rio Grande