Olympic National Park ( A Quick Guide To A Beautiful National Park)
Olympic National Park is on the Olympic Peninsula in Washington, which is in the Pacific Northwest. The park encompasses a variety of ecosystems, ranging from the dramatic peaks of the Olympic Mountains to old-growth forests. Climbers flock to the glacier-clad summit of Mt. Olympus, and hiking and backpacking trails wind through the park's rainforests and along its Pacific coast.
Olympic National Park was designated an International Biosphere Reserve by UNESCO in 1976, and a World Heritage Site in 1981. Congress designated 95 percent of the park (3,500 km2) as the Olympic Wilderness in 1988, which was renamed Daniel J. Evans Wilderness in 2017 in honour of Governor and U.S. Senator Daniel J. Evans. Evans co-sponsored the 1988 bill that established the state's wilderness areas while serving in the Senate. It is Washington's largest wilderness area.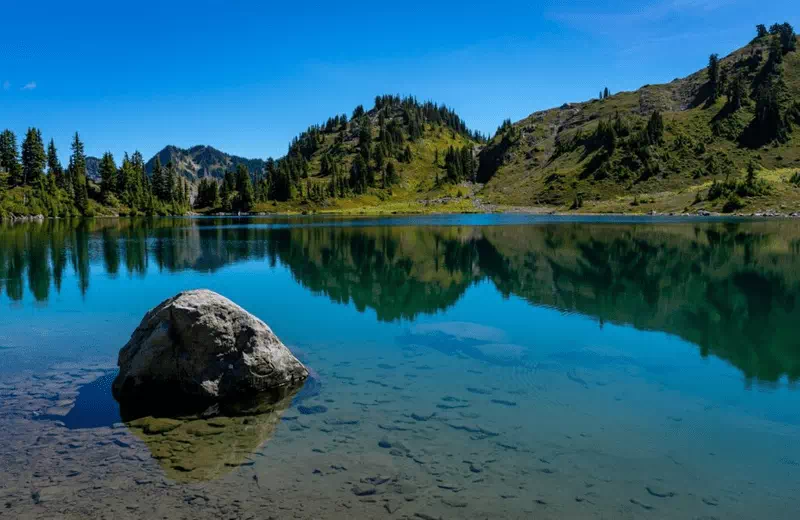 Olympic provides limitless opportunities for recreation, sightseeing, study, and relaxation. In the heart of the peninsula, you can hike through the lush temperate rain forest, climb towering peaks, or cross-country ski along mountain trails in the winter. Enjoy stunning views of the Pacific Ocean as you stroll along the peninsula's western edge, past tidal pools and craggy tide-worn cliffs.
Olympic National Park, which spans nearly one million acres, offers three distinct ecosystems for nature lovers to explore: glaciated mountains, rugged Pacific coastline, and lush temperate forests. Over 95% of the park is designated wilderness, protecting one of the largest wilderness areas in the lower 48 and allowing visitors to experience remoteness and pristine nature in a way that few other places can.
Olympic National Park's vast size and diverse landscapes support a wide range of wildlife. Viewers on the Pacific Coast may be lucky enough to see seals or dolphins, while bird-watchers will be entertained by the calls of owls or peregrine falcons in the forest, and early risers may see one of the many deer or moose that call Olympic home.
How many days do you need in Olympic National Park?
If you want to see Hurricane Ridge, the Pacific Coastline, and the temperate rainforests, you'll need at least three full days in Olympic National Park. More time, on the other hand, is better because it allows you to hike more trails and gives you some buffer time if it rains or snows, which is entirely possible.
Is it worthwhile to visit Olympic National Park?
The Olympic Peninsula and its surrounding Olympic National Park in Washington are the epitome of adventure. Olympic National Park deserves at least one visit in a lifetime, with lush rainforests, snow-capped mountain peaks, and a rugged coast straight out of those scenic calendars hanging in the break room.
Is Mount Rainier part of Olympic National Park?
Mount Rainier and Olympic National Park are both located in Washington State and are only a few hours away from Seattle. Mount Rainier is located to the south of Olympic National Park on the Washington coast.
Which city is closest to Olympic National Park?
Port Angeles, Washington
Is it possible to swim in Olympic National Park?
At this easily accessible swimming hole in Olympic National Park, you can cool off in the beautiful blue-green water of the Elwha River. The Elwha River slows to a crawl and forms a perfect natural swimming hole tucked away in the trees along Olympic Hot Springs Road.
Do you need a reservation for Olympic National Park?
No, reservations are not required to visit Olympic National Park. If you intend to spend the night in or near the park, you should make lodging, camping, or backpacking reservations. Campgrounds and motels can quickly fill up during the summer months, especially on weekends.
Best Time to Visit Olympic National Park?
The months of July and August are ideal for visiting Olympic National Park because temperatures are usually mild and most roads and facilities are open.
Top Places to Visit Around Olympic National Park
Hurricane Ridge
Hoh Rain Forest
Quinault Rain Forest
Ruby Beach
Rialto Beach
Sol Duc Falls
Second Beach Trail
Lake Crescent