Lake Superior (The Largest Freshwater Lake In North America)
Lake Superior is the largest and northernmost of North America's Great Lakes. It is the world's largest freshwater lake in terms of surface area and third largest in terms of volume. Lake Superior receives water from about 200 rivers, the largest of which are the Nipigon (from the north) and the St. Louis (from the west).
Lake Superior is not only the largest of the Great Lakes, but it also has the largest surface area of any freshwater lake in the world. It has a capacity of 3,000 cubic miles of water, which is enough to fill all of the Great Lakes plus Lake Erie three times over.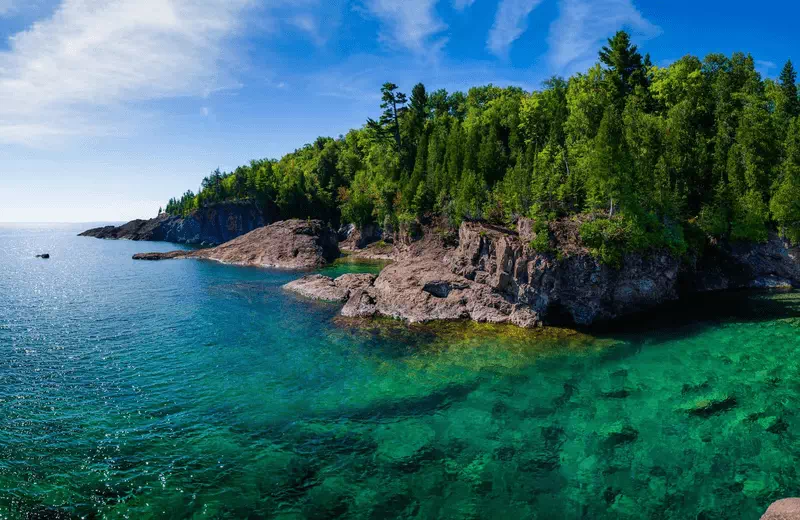 It gets its name from the French Lac Supérieur, which means "Upper Lake." It flows into Lake Huron at its eastern end via the St. Marys River, which is bounded on the east and north by Ontario (Canada), on the west by Minnesota (US), and on the south by Wisconsin and Michigan (US).
The land surrounding Lake Superior is mostly forested. Because the temperatures are cool and the soil is poor, few people farm near the lake. Except in port cities where ships load and unload, there aren't many people living along the lake.
Lake Superior is home to over 80 different species of fish, including carp, trout, salmon, and perch.
Many common native plant species can also be found in the Lake Superior region, including Michigan's state tree, the white pine, and Flowering Rush, an aquatic plant that grows along the shoreline. The basin of Lake Superior is home to nearly 60 orchid species.
Things to Do In Lake Superior
It's an excellent location for birding, hiking, camping, boating, kayaking, mountain biking, and wildlife viewing. The views of Lake Superior and the surrounding area are best from the Top of the Giant Trail and Thunder Bay Lookout. The scenery at Sleeping Giant Provincial Park is absolutely stunning.
This is an excellent lake for fishing, and you'll find a variety of species here, including smallmouth bass, northern pike, whitefish, salmon, and trout, as well as walleye and herring. If you're interested in organizing a fishing charter, the two primary hub cities are Duluth, Minnesota, and Bayfield, Wisconsin.
Along Lake Superior's shores, the scenery is equally pleasing, with towering sandstone cliffs, sea caves, waterfalls, and sandy beaches. At certain times of year, you can even surf Lake Superior's North Shore, as weather conditions can create ocean-like waves.
Best Time to Visit Lake Superior
In late May through mid-September, the best time to visit is when North American spring ends and summer begins.
Top Places to Visit around Lake Superior
Great Lakes Shipwreck Museum
Presque Isle Park
Pictured Rocks National Lakeshore
Copper Falls State Park
Ashland Murals
Apostle Islands National Lakeshore
Tahquamenon Falls State Park
Wisconsin Point Lighthouse