Are Kabetogama Lakes The Most Beautiful Places In Minnesota?
Kabetogama Lake, also known as Lake Kabetogama, is a beautiful lake in northern St. Louis County, Minnesota. This body of water is located within Voyageurs National Park and is one of the state's ten largest inland lakes, covering a surface area of 25,760 acres.
Beautiful Lake Kabetogama in Minnesota's north woods lake country is one of the state's 12,000 lakes and is well worth exploring on a wild vacation. This lake is popular for canoeing or kayaking. One of the most beautiful lakes in the United States, it is part of the waterways that comprise Voyageurs National Park, so it is protected and, as such, one of the cleanest lakes in the country.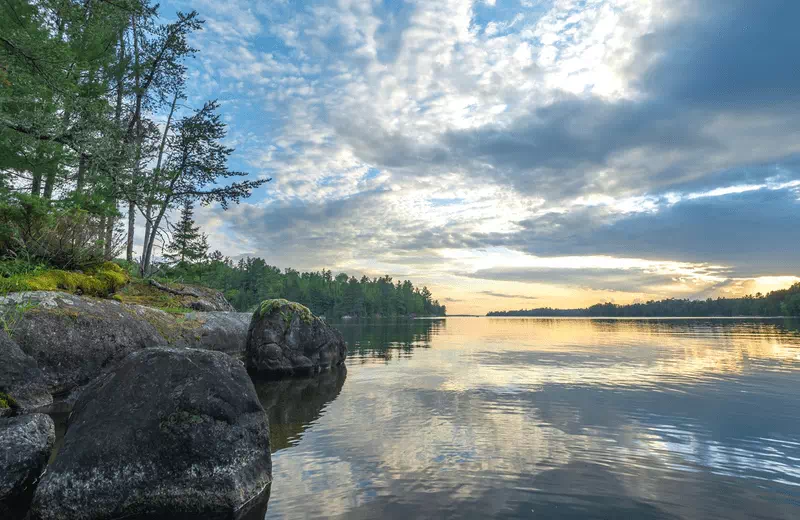 Trails for snowmobiling, hiking, and cross-country skiing crisscross Lake Kabetogama and the surrounding community. The seasons change on Kabetogama, but the fun and beauty never stop. With each new season, a new set of activities and wonders emerge.
Black crappie, white sucker, bluegill, smallmouth bass, tullibee, burbot, mooneye, northern pike, rock bass, sauger, shorthead redhorse, silver redhorse, lake sturgeon, lake whitefish, yellow perch, walleye, and largemouth bass are all present in Kabetogama.
Plan a multi-night trip that includes camping at one of the two dozen wilderness campsites accessible only by boat. Make a point of visiting Lost Bay and the area surrounding Chief Wooden Frog Islands. There is also plenty of wildlife in the area, and you may see moose, wolves, and bear while walking along the shores. Otters and bald eagles are also found in Kabetogama Lake. This lake also has excellent fishing.
On Lake Kabetogama, where can I go fishing?
Anywhere there is road access, there are plenty of places to fish from the bank. At the lake, you can rent a boat. Ash River Public Water Access, Wooden Frog Campground, Mahaffey's Moosehorn Resort, and Lake Kabetogama Visitor Center all have boat launch ramps.
Is Lake Kabetogama open?
The Kabetogama Lake Visitor Center is only open from late May to late September during the warm summer months. Just off Highway 53, 25 miles south of International Falls. The Kabetogama Lake Visitor Center is open from late May to late September during our summer season.
Is fishing good in Lake Kabetogama?
Kabetogama is a wild, untapped treasure in Minnesota, the land of ten thousand lakes. Anglers looking for wide open spaces and good fishing will enjoy Kabetogama's cool, clean waters and solitude.
How is the fishing on Lake Kabetogama?
As the lake begins to cool in mid to late August, the walleye remain deep, but their appetites return – late-season fishing can be fantastic all the way into the fall! Even during the slow walleye weeks, there are plenty of opportunities to catch hungry smallmouth bass and northern pike.
How long is Lake kabetogama?
Kabetogama Lake has a length of 15 miles and a surface area of 25,760 acres. It has 78 miles of shoreline, an 80-foot maximum depth, and 200 islands.
Best Time to Visit Lake Kabetogama
(August-September) The average temperature in Kabetogama is around 59°F, making this an ideal time to visit. The weather is ideal for being outside, with the air being moderately humid. This is most likely one of the best times to visit Kabetogama, as well as the peak tourist season. The average amount of precipitation around this time is 76.64 mm.
Best Things To Do in Kabetogama
Lake Kabetogama
Voyageurs Adventures
Kabetogama Outdoors
Kabetogama Lake Visitor Center
Border Guide Service