Lake Chelan (A Great Getaway Destination For All Ages)
Lake Chelan, located about three hours north of Seattle, is a long and skinny lake that is the third deepest in the United States. It stretches for 52 miles but is only one mile wide at its widest point. Lake Chelan, formed by glaciers millions of years ago, is a stunning body of water that, in the right light, resembles the Caribbean with its clear turquoise and aqua hues. Chelan is derived from the Salish Indigenous word "Tsi - Laan," which means "Deep Water."
Lake Chelan State Park is a well-known vacation spot. If you want to swim off a long sandy beach, come here. However, the entire lake is surrounded by quaint small towns and a number of fantastic resorts that cater to all types of travellers.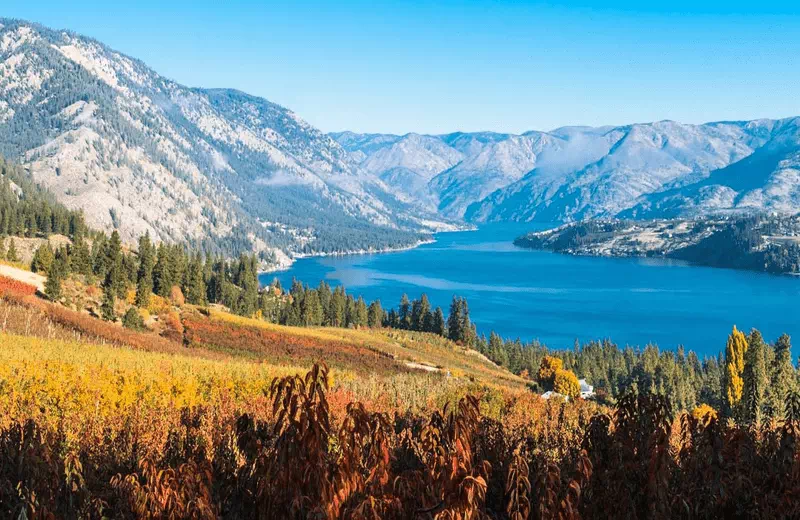 On Lake Chelan, fishing is a popular recreational activity. Mountain whitefish, Pygmy whitefish, Largescale sucker, Longnose sucker, Bridgelip sucker, Northern pikeminnow, Bull Trout, Westslope cutthroat trout, Peamouth, and Redside shiner are or were native to the lake.
The majority of the lake is located within the Wenatchee National Forest. The northwestern portion is part of the North Cascades National Park Service Complex, which includes Lake Chelan National Recreation Area (established 1968). The southeastern end of the lake, which lies outside of federal lands, is densely populated and heavily visited.
The national recreation area is located primarily within a federally designated wilderness area that is centred on the remote Stehekin River valley and is inaccessible by road. The region is accessible by commercial ferryboats and floatplanes, as well as private boats and a network of trails. Stehekin, a resort community near the lake's northern end, serves as a gateway to both the recreation area and the national park.
What is so special about Lake Chelan?
The Lake Chelan Valley is well-known for its excellent fishing. The most popular fish are cutthroat and kokanee, but there are also Rainbow Trout, Bluegill, Large Mouth Bass, and Crappies. Lake Chelan is stocked with 100,000 Cutthroat and 500,000 Kokanee Salmon each year, making it an excellent fishing spot.
Is it possible to swim in Lake Chelan?
Lake Chelan is a 50.5-mile-long lake that is as blue and pristine as it gets. Lake Chelan can meet your recreational needs whether you like to boat, fish, swim, kayak, paddleboard, or even scuba dive.
Is Lake Chelan a freshwater lake?
Lake Chelan, at 1,486 feet, is the third deepest freshwater lake in the United States, even deeper than the Great Lakes.
Is Lake Chelan a man made lake?
Lake Chelan was formed more than 10,000 years ago by a valley glacier that extended from the Cascade Mountain crests to the Columbia River.
What animals live in Lake Chelan?
Bridgelip sucker
Chiselmouth
Kokanee
Burbot
Lake trout
Largemouth bass
Largescale sucker
Chinook salmon
Is Lake Chelan fun in winter?
Lake Chelan is open all year and offers a variety of winter activities for visitors of all ages. Echo Valley, located just 9 miles from downtown Chelan, offers a variety of winter activities such as snow tubing, groomed ski, snowboard, and x-country runs, all on 70 acres of terrain.
Best Time to Visit Lake Chelan
Most people believe that Lake Chelan is at its most beautiful between mid-June and late August. Our summers are gloriously hot, dry, and sunny, with average temperatures in the upper 70s and 80s.
Top Places to Visit Around Lake Chelan
Lady of the Lake
Slidewaters
Lake Chelan State Park
Tsillan Cellars Winery
Mellisoni Vineyards
Don Morse Memorial Park
Fielding Hills Winery
Beebe Bridge Park
Karma VIneyards