Seabrook Island Beach - Your Escape from the City Hustle
Nestled along the pristine shores of South Carolina, Seabrook Island Beach offers an idyllic retreat from the bustling city life. With its untouched natural beauty and serene atmosphere, this coastal paradise provides the ultimate escape for those seeking tranquility. From the moment you set foot on the soft, white sands, you'll be captivated by the mesmerizing sights and soothing sounds of the ocean waves.
Seabrook Island Beach is a hidden gem, a sanctuary where you can unwind, recharge, and reconnect with nature. Whether you are strolling along the shore, basking in the sun, or indulging in water sports, the beach offers endless opportunities for relaxation and recreation. Explore the rich biodiversity as you observe the native wildlife and discover pristine marshes teeming with life.
At Seabrook Island Beach, time seems to slow down, allowing you to fully immerse yourself in the peaceful ambiance. Whether you choose to bury your toes in the sand, take a leisurely bike ride, or enjoy a sunset picnic, every moment spent here is a moment of pure bliss. So leave the city hustle behind and embark on a journey to serenity at Seabrook Island Beach – a true coastal paradise.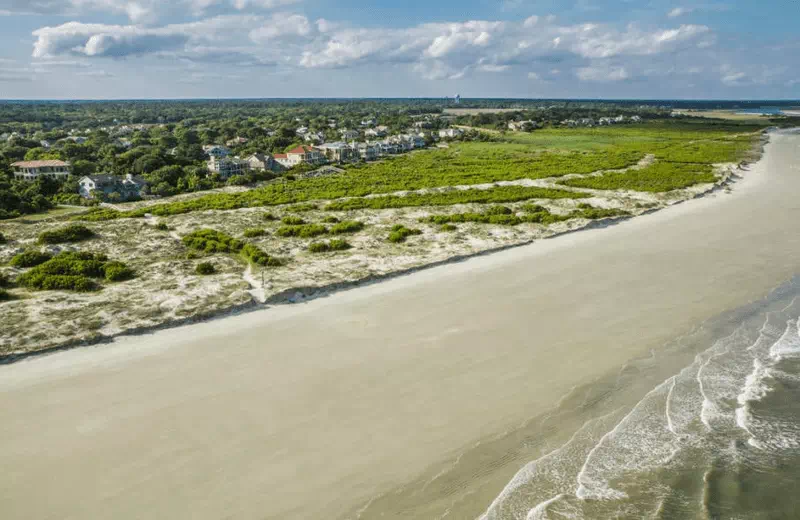 Location and accessibility of Seabrook Island Beach
Seabrook Island Beach is conveniently located just 30 minutes away from Charleston, South Carolina. The island can be accessed by a short drive over the Seabrook Island Bridge, connecting the mainland to this coastal oasis. The ease of accessibility makes it an ideal destination for both local residents and visitors from afar.
Once you arrive, you'll find ample parking options and well-maintained walkways leading to the beach, ensuring a hassle-free experience for all.
Why Seabrook Island Beach is the perfect escape
What sets Seabrook Island Beach apart from other beach destinations is its untouched beauty and tranquil ambiance. Unlike crowded tourist spots, this hidden gem offers a peaceful retreat where you can truly unwind and escape the city hustle. The beach stretches for miles, providing plenty of space for solitude and
relaxation. The absence of high-rise buildings and commercial developments allows you to connect with nature and enjoy the unspoiled scenery.br/>
Activities and attractions at Seabrook Island Beach
Seabrook Island Beach is a paradise for outdoor enthusiasts. Whether you're a fan of water sports, hiking, or simply enjoying the natural surroundings, there's something for everyone. Take a refreshing dip in the crystal-clear waters, try your hand at paddleboarding or kayaking, or explore the underwater world through
snorkeling or scuba diving. For those who prefer to stay on land, the beach offers scenic walking trails, perfect for a leisurely stroll or a morning jog.br/>
Exploring the natural beauty of Seabrook Island Beach
One of the highlights of Seabrook Island Beach is its diverse ecosystem and abundant wildlife. As you explore the area, keep an eye out for dolphins playing in the surf and pelicans diving for fish. Take a guided tour to learn more about the local flora and fauna, or simply sit back and enjoy the breathtaking views. Don't miss the
opportunity to visit nearby marshes and witness the vibrant ecosystem that thrives in these protected wetlands.br/>
Accommodation options at Seabrook Island Beach
Seabrook Island Beach offers a range of accommodation options to suit every traveler's needs. Whether you're looking for a luxurious beachfront villa, a cozy cottage, or a family-friendly resort, you'll find it all here. Wake up to the sound of crashing waves and enjoy the convenience of having the beach just steps away from
your doorstep. Many accommodations also offer amenities such as swimming pools, tennis courts, and fitness centers, ensuring a comfortable and enjoyable stay.br/>
Dining and culinary experiences at Seabrook Island Beach
Indulge in a culinary journey during your visit to Seabrook Island Beach. From fresh seafood caught daily to farm-to-table dining experiences, the island offers a variety of dining options to satisfy every palate. Enjoy a waterfront meal with stunning views, savor local specialties at charming cafes, or pack a picnic and enjoy a
romantic sunset dinner on the beach. Don't forget to try the famous Lowcountry cuisine, known for its rich flavors and unique blend of Southern and coastal influences.br/>
Tips for planning your trip to Seabrook Island Beach
To make the most of your trip to Seabrook Island Beach, here are a few tips to keep in mind. First, check the weather forecast and plan your activities accordingly. Pack sunscreen, hats, and sunglasses to protect yourself from the sun's rays. If you're planning to engage in water sports, consider renting equipment in
advance. Lastly, be respectful of the natural surroundings and follow the guidelines to preserve the beauty of Seabrook Island Beach for future generations to enjoy.br/>
Safety guidelines and regulations at Seabrook Island Beach
When visiting Seabrook Island Beach, it's important to prioritize safety. Swim only in designated areas and be mindful of any warning flags indicating hazardous conditions. Keep an eye on children at all times, especially when near the water. Remember to stay hydrated and seek shade during the hottest hours of the day.
Follow any posted regulations and guidelines to ensure a safe and enjoyable experience for everyone.br/>
Conclusion: Your peaceful getaway awaits at Seabrook Island Beach
Seabrook Island Beach offers a tranquil haven where you can escape the city hustle and immerse yourself in nature's beauty. With its pristine shores, diverse wildlife, and endless recreational activities, this coastal paradise is the perfect destination for relaxation and rejuvenation. Whether you're seeking a romantic getaway, a family vacation, or a solo adventure, Seabrook Island Beach has something for everyone. So pack your bags, leave your worries behind, and embark on a journey to serenity at Seabrook Island Beach – your ultimate escape from the hustle and bustle of everyday life.br/>