Orange Beach And Gulf Shores
On Alabama's Gulf Coast, there is a small town called Orange Beach. It is referred to as a water sports centre. Waterfront Park on Wolf Bay has a fishing pier and picnic areas. The Orange Beach Indian & Sea Museum explores the relationship between Native Americans and fishing in the past. The Wharf is a shopping area with an amphitheatre to the west. The Backcountry Trail connects the city to the nearby city of Gulf Shores via the beaches of Gulf State Park.
At the Orange Beach Sportsplex, the city of Orange Beach hosts a variety of sporting events and tournaments. The Sportsplex is a football/soccer stadium with a seating capacity of 1,500 located north of Gulf State Park and close to The Wharf. There are also baseball and softball fields at the facility. The Sportsplex serves as a trailhead for the Gulf State Park's Backcountry Trail system.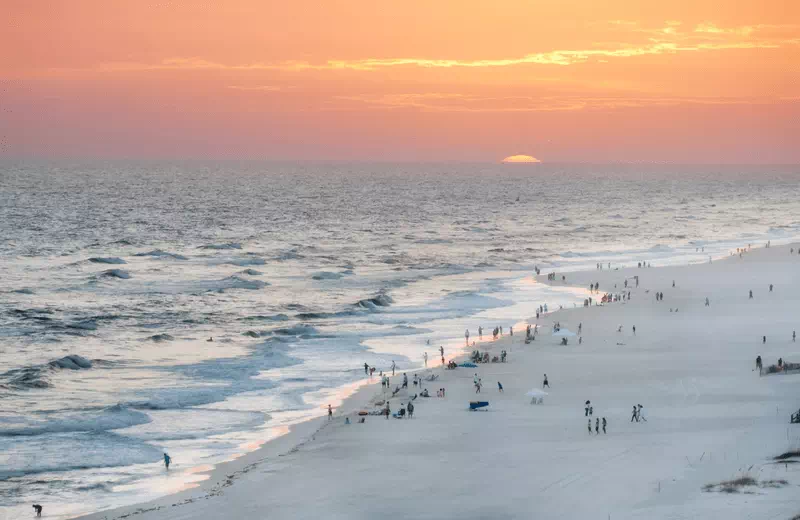 The Orange Beach Running Club, which meets every Monday evening to run a 5K, is based in Orange Beach. Orange Beach provides a diverse range of family beach vacation options, including condos directly on the beach or just across the street, dolphin cruises, recreation centres with tennis and basketball courts, golf course condo communities, beach houses, and everything in between.
Visitors can charter or rent a boat, or they can fish off the pier if they prefer to stay closer to shore. Water sports enthusiasts will be pleased to learn that a number of companies offer opportunities to try parasailing, jet skiing, diving, and paddle boarding.
Which is better Orange Beach or Gulf Shores?
While Orange Beach might be a better option if you prefer a small-town setting or want access to more upscale amenities, Gulf Shores is a fantastic place to take your family for a weekend getaway or vacation.
Is Alabama's Orange Beach a nice beach?
The beachside towns of Gulf Shores and Orange Beach are charming. They are lively and alive, and the area is made exciting by the presence of a good mix of young and old. Both on and off the water, you can find attractions, dining options, music venues, and adventure.
Best Time to Visit Orange Beach
April and May are the ideal months to visit Orange Beach, followed by September through November. These are the months when it's still warm outside, but there are a lot fewer people around than in the height of the summer.
Orange Beach: Is it clear?
The Cotton Bayou Public Beach, which is on the outskirts of Orange Beach, is one of Alabama's most exquisite white sand beaches and the ideal illustration of a beach with clear water.
Is swimming allowed in Orange Beach, Alabama?
On the Gulf of Mexico, Orange Beach, Alabama, has white sand beaches ideal for community celebrations, boating, fishing, water sports, swimming, and the leisurely pace of this southern vacation destination.
Is it possible to find jellyfish in Orange Beach?
Jellyfish invasions are common in early July, but the tides and temperature are what bring the jellyfish to shore.
How To Reach Orange Beach
Pensacola International Airport and Mobile Regional Airport are the two major airports near Gulf Shores/Orange Beach. The larger of the two airports, Pensacola, is just over an hour's drive from Gulf Shores.
Top Places to Visit Around Orange Beach
Hugh S. Branyon Backcountry Trail
Adventure Island
The Wharf
Orange Beach Waterfront Park
Orange Beach Welcome Center
Alabama Point East
Wharf Ferris Wheel
Indian & Sea Museum
Orange Beach Sportplex