Discovering the Natural Beauty of Dawki River in Meghalaya
Northeastern Indian state of Meghalaya is known for its rivers, waterfalls, and beautiful scenery. One such area that has grown in prominence over time is the small border town of Dawki in the Jaintia Hills region. The Dawki River, which runs through the town, is a natural beauty that attracts travelers from all over the world.
One of India's cleanest and pristine rivers is the Dawki River, also called the Umngot River. It is located in the state of Meghalaya and is a popular destination for vacations, particularly for its clean waters. and one of its favorite assets is the Dawki River.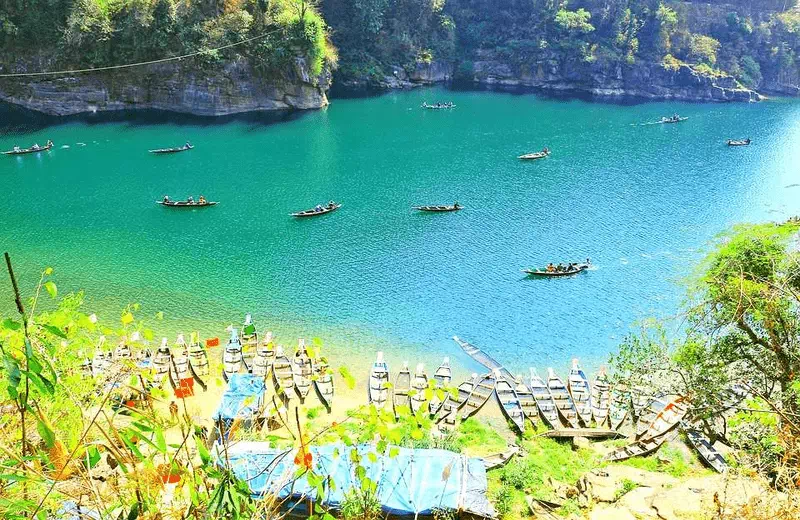 Visitors are in awe of the amazing experience provided by the river's crystal pure waters. We will explore the Dawki River in-depth in this article to discover all the reasons why Meghalayans should travel there.
Dawki River Depth
Depending on the area and season, the depth of the Dawki River changes. The river is quite shallow during the dry season, with an average depth of 5 to 10 feet (1.5 to 3 meters). The river, however, may get much deeper during the monsoon season, with specific areas reaching depths of up to 20-30 feet (6-9 meters).
Dawki River is typically regarded as safe for swimming and other water-based activities despite its variable depths. But it's important to be careful and follow to all precautions for safety, particularly during the monsoon season when the water level might increase quickly.
If you plan to visit Dawki River, be sure to confirm the weather and water conditions there first. Also, always take all the appropriate safety measures.
Location and Accessibility
Near the border between India and Bangladesh, in Meghalaya's Jaintia Hills area, is where you can find the Dawki River. From Shillong, the capital of Meghalaya, which is around 83 kilometers distant, it is easily accessible by road. Dawki is around 174 kilometers from Guwahati, where the closest airport is located.
The Perfect Spot for a Relaxing Getaway in Meghalaya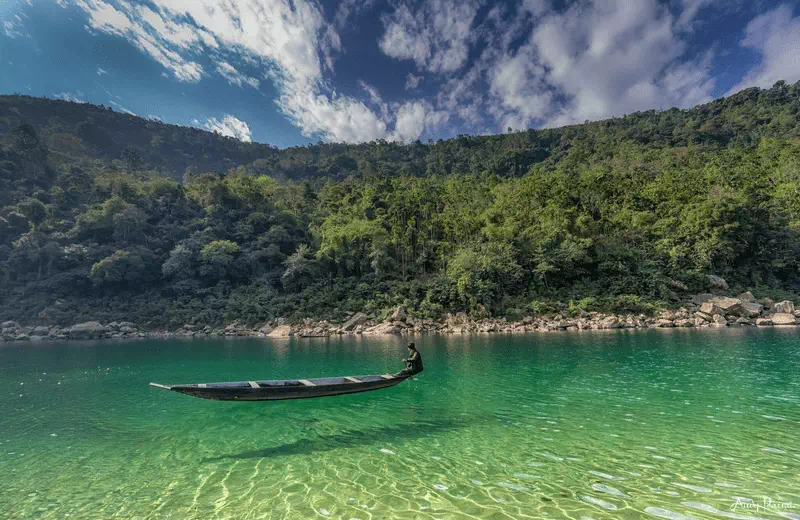 The Dawki River Experience
The Dawki River is known for its crystal-clear waters, which provide tourists with an unforgettable moment. The river's attract is enhanced by the beautiful, green hills and trees that surround it. In the river's clean waters, visitors may engage in a variety of sports including boating, kayaking, and fishing. Another popular attraction is the suspension bridge above the river, which provides breathtaking views of the surroundings.
Things to Do in Dawki
While in Dawki, tourists can engage in a number of activities. A few of these are:
Kayaking and Boating
The Dawki River is a great place for boating and kayaking. The river's crystal-clear waters provide a singular experience that is hard to find anywhere. Visitors may hire boats and kayaks from local businesses and have a river trip while enjoying the amazing panoramas of the surroundings.
Camping
Camping is another popular activity in Dawki. Near the river, there are a number of campgrounds that provide travelers with a peaceful environment in which to spend the night. While camping, guests may enjoy a bonfire, stargaze, and the sounds of nature.
Trekking
In the hills around Dawki, trekking is a popular way to spend time. Visitors may stroll across the verdant hills and forests and take in the area's beautiful charm. Popular walking path with breathtaking vistas of the surroundings, the David Scott Trail.
Fishing
Another popular activity on the Dawki River is fishing. In the river's crystal-clear waters, visitors may go fishing and enjoy wonderful fish straight from the catch.
Best Time to Visit
Wintertime, from November to February, is the best season to travel to Dawki. Visitors may have a special experience at this time of year because of the beautiful weather and the water's exceptional clarity.
Exploring the Mystical Waters of Dawki River in Meghalaya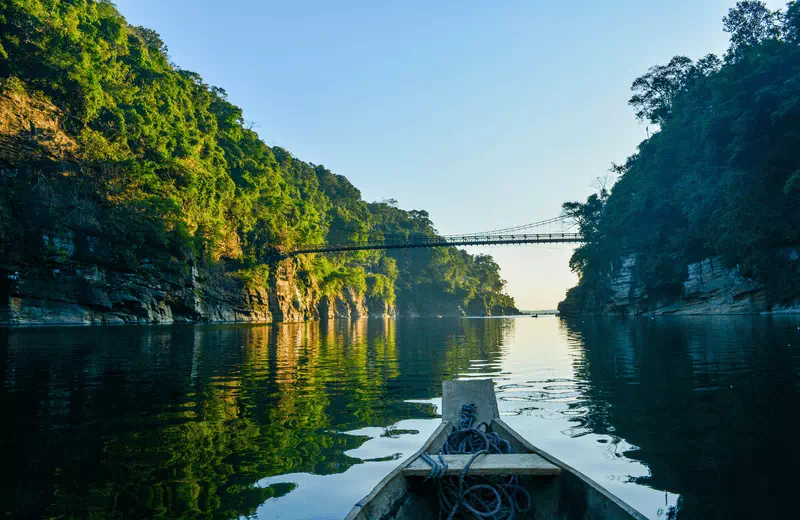 Hotels Near Dawki River
Hills & Valley Guest House
Hotel Shaurya Inn
Campsite Riverside
Ri Kynjai Serenity by the Lake
Amritara Shillong Boutique
Orchid Lake Resort
Kutmadan Resort
Cafe Cherrapunjee Resort
The Silver Brook Resort
Dawki River Distance
Certainly! Here is a list of the distance it is from the Dawki River to some of Meghalaya's famous locations:
Shillong: 80 km
Cherrapunjee:84 Km
Mawlynnong Village: 30 km
Umiam Lake: 129 km
Mawsynram: 108 km
Jowai: 56 km
Nongpoh: 161 km
Guwahati: 174 km
How to Reach Dawki River
Here are various options for reaching the Dawki River:
By Road:
Traveling by car is the most practical method to get to Dawki River. Shillong, which is connected to other major towns in the area, is the closest large metropolis. You may take a cab or a bus to Dawki from Shillong. Depending on traffic, the trip takes two to three hours.
By Air:
Shillong Airport, also known as Umroi Airport, is the closest airport to Dawki River. It is almost 93 kilometers away from Dawki River. You may take a cab from the airport to get to Dawki.
By Rail:
Guwahati Railway Station, which is located around 180 kilometers distant, is the closest rail hub to the Dawki River. You may take a cab or a bus to go to Dawki from the railroad station.
By Shared Taxi:
Shared cabs are another an option for traveling from Shillong to Dawki. For solo travelers or smaller groups, these cabs are a practical and affordable solution.
When you get to Dawki, you may either hire a local guide to show you around or go on foot to explore the river and nearby sights.

Adventure Activities Along the Dawki River in Meghalaya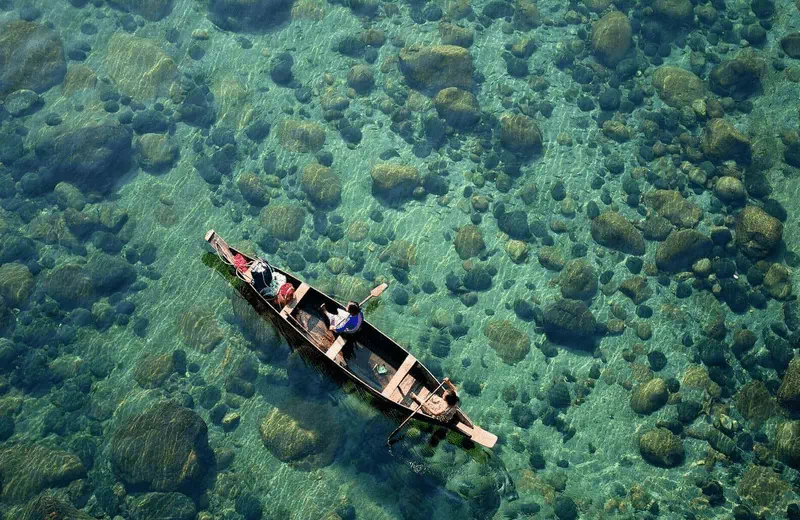 Best Time to Visit Dawki River
Your decisions and places of interest will determine the ideal time to visit Dawki River. When planning your vacation, keep the following in mind:
Weather:
The winter season, which runs from November to February, is the greatest time to visit Dawki River since it is cold and pleasant. The monsoon season, which lasts from June to September, should be avoided since severe rains might make it impossible to reach the river and put a stop to water-based activities.
Water Clarity:
The dry season, which runs from November to May, is the greatest time to appreciate the Dawki River's famously clean water. The river may turn muddy and less appealing during the rainy season.
Crowd:
Between November and May, when Dawki River experiences its peak tourist season, expect to encounter a lot of people. If you want a more peaceful experience, think about going off-season.
Festivals:
Meghalaya is known for its vibrant festivities, so traveling during one of these events might be a wonderful opportunity to get a taste of the native way of life. The Shad Suk Mynsiem, Nongkrem Dance Festival, and Wangala Festival are a few of the popular local festivities.
Note : The winter months, from November to February, are the greatest time to visit Dawki River since the temperature is pleasant and cold, and the water is clean.
Top Places to Visit Around Dawki River
Near Dawki River, there are several beautiful and cultural attractions that are worth experiencing. The following are the major destinations around Dawki River:
Mawlynnong Village:
Mawlynnong Village, called the cleanest village in Asia, is around 35 kilometers away from Dawki. This charming community is famous for its outstanding scenery, distinct culture, and live root bridges.
Dawki Tamabil Border:
The border between Bangladesh and India is located at Dawki Tamabil Border, which is around 3 kilometers away from Dawki. It is a very popular place for sightseeing and taking pictures.
Dawki Bridge:
A famous tourist destination, the suspension bridge across the Dawki River provides breathtaking views of the river and the hills in the area. Additionally, it's a popular spot for photos.
David Scott Trail:
The David Scott Trail connects Mawphlang and Lad Mawphlang and is a known hiking path. The walk travels by gorgeous waterfalls, Khasi settlements, and woodlands.
Shnongpdeng:
The small village of Shnongpdeng, which is about 7 kilometers from Dawki, is known for its adventure sports activities like kayaking, boating, zip-lining, and trekking.
Jaintia Hills:
About 75 kilometers from Dawki, there is a beautiful area called Jaintia Hills. This area is known for its stunning scenery, caverns, waterfalls, and distinctive culture.
Krang Suri Falls:
Krang Suri Falls is an amazing waterfall surrounding by thick vegetation, located around 25 kilometers from Dawki. Picnics and swimming are perfect activities there.
The Serenity of Dawki River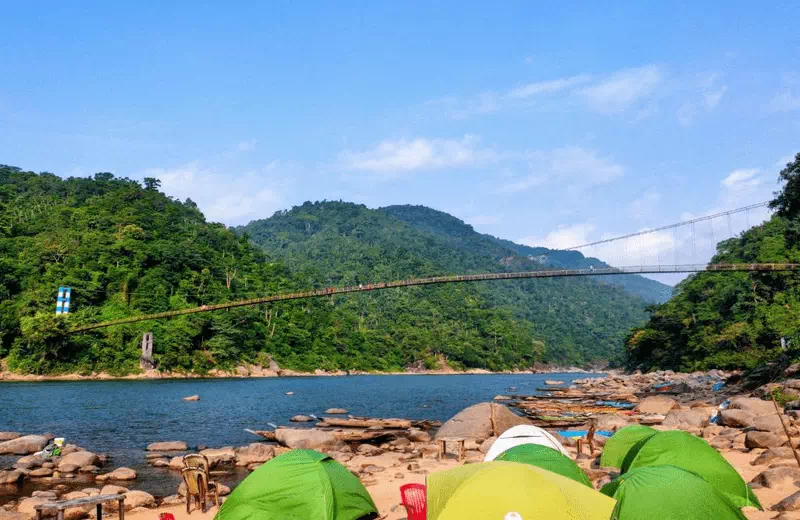 FAQs
1. Is Swimming in the Dawki River Safe?
Yes, swimming in the Dawki River is safe. The most of the time, the depth is shallow, and the water is very clear. Visitors are advised not to swim in places with strong currents and to use caution.
2. Are Kayaks and Boats for Rent in Dawki?
Yes, local businesses in Dawki provide boat and kayak rentals to tourists.
3. How Much Does Boating on the Dawki River Cost?
Depending on the kind of boat and how long the trip is, the cost of boating on the Dawki River may change. However, as far as I'm aware, a shared boat ride on the Dawki River costs between Rs. 500 to Rs. 800 per person for a 30- to 1-hour trip. Depending on their size and the length of the trip, private boats could be more expensive. To avoid confusion later, it is usually a good idea to double-check the pricing with the boat operator before boarding.
4. What Differentiates the Dawki River?
Dawki's suspension bridge and its beautiful river are its specialties.
5. Are There Any Choices for Accommodation in Dawki?
Yes, Dawki offers a variety of accommodation opportunities, from expensive ones to more affordable ones.
6. Is It Possible to Go to Dawki From Shillong in a Single Day?
Dawki may be visited as a day excursion from Shillong, so yes. Visitors can take a bus or a cab to go the approximately 83 kilometers to Dawki.
7. What Time of Year is Ideal for Visiting Dawki?
From November to February, when the weather is good and the water is crystal clear, is the greatest time to visit Dawki.
Conclusion
Meghalaya's Dawki River is a natural beauty that provides tourists with a singular experience. Its pure lakes, beautiful green hills, and surrounding woods make it a must-visit location in Meghalaya. Visitors may engage in a variety of activities while admiring the spectacular views of the surrounding landscapes, including boating, kayaking, camping, walking, and fishing. A trip to Dawki is an unforgettable chance that shouldn't be missed up.