Crater Lake, The Perfect Vacation Destination In Oregon
Crater lake is a crater lake in south-central oregon, in the united states of america. It is the main attraction of crater lake national park and is known for its deep blue colour and clarity of water. The perfect vacation destination in oregon, crater lake has the right diversity and style to satisfy any traveler.
Crater lake is awe-inspiring. Native americans witnessed its formation 7,700 years ago, when a violent eruption caused a tall peak to collapse. Scientists are awestruck by its purity: fed by rain and snow, it is the deepest lake in the united states and one of the cleanest on the planet. Artists, photographers, and tourists marvel at its clear blue water and breathtaking setting atop the cascade mountain range.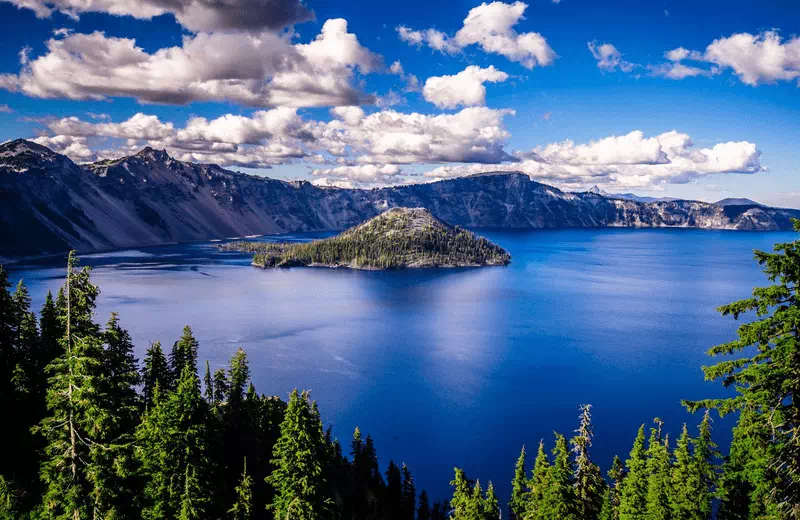 Crater lake is home to two small islands. Wizard island, located near the lake's western shore, is a 316-acre (128-hectare) cinder cone. Phantom ship is a natural rock pillar near the southern shore.
Visitors today are awestruck by the panoramic views and natural formations of wizard island and phantom ship. Crater lake awaits you if you are looking for outdoor adventures, want to immerse yourself in nature, or simply want to relax and take in the scenery.
Things to Do In Crater Lake
Scuba divers who like to explore the lava formations and underwater moss fields have made crater lake popular.
Fishing is also a popular activity on crater lake, though anglers, divers, and visitors who want to see the lake from the shoreline must descend 700 vertical feet on the cleetwood cove trail. The only other way to get there is to take a boat tour from wizard island, one of crater lake's two islands.
Visitors can make educated decisions about what recreation opportunities to pursue after gathering information about the park and its facilities.
Hiking, backpacking, camping, picnicking, and sight seeing are all popular activities in the park. During the summer, visitors can enjoy boating and scenic driving along rim drive. Snowshoeing and cross-country skiing provide solitude and a little-known view of the park in the winter.
Best Time to Visit Crater Lake
Here we have to collect information about best time to visit crater lake. This is to collect information on where the visitor can visit the crater lake. So let us know a little more about this crater lake.
The best time for a tourist to visit crater lake is from late june to september.
July, august, and september are the busiest months for visitors to crater lake. That is usually when the park's roads, trails, and facilities are fully open. May and june are transitional months in the park, as winter gradually gives way to summer.
Winter Season
Crater Lake's winter season typically begins in November and lasts until early May.
Summer Season
From june to september, the hot season lasts three months. July is the hottest month in crater lake national park, with average highs of 84°f and lows of 50°f.
Monsoon Season
December is the wettest month in Crater Lake, Oregon, with 156 mm (6.1in) of rain.
How To Reach Crater Lake
Here we are going to talk about how to reach crater lake. So let's gather information about how a tourist can visit crater lake.
By Air
Eugene airport, located 120 miles northwest of the park, is the nearest major airport. Klamath falls, or, which is 60 miles south of the park, has an airport.
By Train
Another way to get to crater lake from portland is by train. Between seattle and los angeles, the coast starlight train travels the entire length of the country. Amtrak route includes stops in portland and klamath falls on this route. The klamath shuttle transports passengers to the rim village from klamath falls.
By Road
Highway 58 will lead you to highway 97. If the park's north entrance is open, take highway 138 west to the park's north entrance. If the north entrance is closed, proceed south on highway 97 toward chiloquin. To get to the park's south entrance, take highway 62 south.
The majority of visitors arrive at crater lake national park by car. You can explore the scenic, 33-mile rim drive that circles crater lake and offers spectacular views if you have a car.
Top Places to Visit Around Crater Lake
Crater Lake National Park
Rim Drive
Wizard Island
Plaikni Falls
Watchman Peak
Crater Lake
Pinnacles Overlook Hike
Rim Village
Joseph H. Stewart State Recreation Area
Cleetwood Cove Trail
Toketee Falls
Garfield Peak