The Second-Largest Lake Great Lake Michigan
Lake Michigan is one of the five Great Lakes of North America. The name Lake Michigan is derived from the Ojibwa word Michi Gami, which means "large lake" in Ojibwa. After Lake Superior and Lake Huron, it is the second-largest Great Lake by volume (1,180 cu mi (4,900 km3) and the third-largest by surface area (22,404 sq mi (58,030 km2). The United States and Canada have the world's largest group of interconnected freshwater lakes in terms of total area.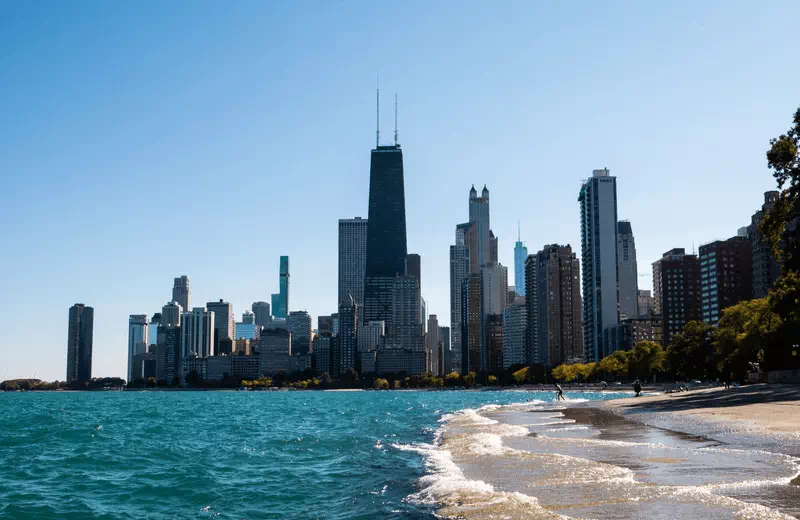 Lake Michigan runs through Indiana, Illinois, Michigan, and Wisconsin. approximately 12 million people live along Lake Michigan's shores. Chicago, Illinois (population: 2.7 million), Milwaukee, Wisconsin (600,000), Green Bay, Wisconsin (104,000), and Gary, Indiana are all major port cities (80,000). Chicago is one of Lake Michigan's major cities. The majority of visitors, however, come to play in the section of the lake located on Michigan's Lower Peninsula. Sleeping Bear Dunes National Lakeshore, with its 450-foot-high sand dunes, is one of the area's most popular attractions.
The main basin of Lake Michigan contains cold, clear, nutrient-deficient water. Although this provides excellent habitat for trout, salmon, whitefish, and other coldwater species, the amount of food available in open water has decreased in recent years. Since the 1980s, open-water prey fish such as alewife and bloater have declined dramatically.
The 59 lighthouses that stand on Lake Michigan's beaches serve as reminders of the importance of the centuries-old shipping industry, a story that is well told at the Michigan Maritime Museum in South Haven.
There are several beaches along the coast, and the Great Lakes are sometimes referred to as the "Third Coast," following the Pacific and Atlantic (the Gulf Coast notwithstanding). St. Joseph, South Haven, Grand Haven, and Holland are some of the most popular "beach" towns on the Michigan side of the lake.
The lake also has a number of islands, including the Beaver Island archipelago and the North and South Manitou Islands, which are located between the Upper and Lower peninsulas.
The lake is also home to a diverse bird population, including water birds such as ducks, geese, and swans, as well as crows, robins, and bald eagles. Because of the abundance of wildlife to feed on, predatory birds such as hawks and vultures can be found on the lake.
A large charter fishing fleet still operates in Lake Michigan, primarily targeting the "big five" salmonines: chinook salmon, coho salmon, steelhead (rainbow trout), brown trout, and lake trout.
Things to Do In Lake Michigan
Michigan is home to some of the best kept secrets and attractions in the country. Everywhere you go, there's something new to discover. Here's a list of new and fun things to do in West Michigan this summer to help you make the most of your vacation. Whether you plan to swim at the beaches, tour the coast by boat, or explore a city, there will be something for everyone on your trip. Consider the following top ten Lake Michigan family activities.
Look at a Beach House at North Avenue Beach
Try Stand Up Paddle Boarding
See Fireworks on the Water
Embark on a Lakeshore Boat Tour
Go Birdwatching
Set Sail in South Haven
Go to a Lighthouse
Fly a Trapeze
Wish Upon a Star
Visit Indiana Dunes National Lakeshore
Riding on Horseback
Going Fishing
Go Swimming
Best Time to Visit lake michigan
Here we have to collect information about best time to visit Lake Michigan. This is to collect information on where the visitor can visit the lake erie. So let us know a little more about this Lake Michigan.
The Best Time for a Tourist to Visit Lake Michigan Is From Late April to October.
In the early spring, late fall, or even winter, you can enjoy indoor activities (water and theme parks along the Michigan Lake coastline, museums, and other indoor activities) and benefit from lower accommodation rates and fewer crowds.
With warm sea temperatures, April is an ideal month for swimming in Lake Michigan. Consider visiting Lake Michigan during the months of June, July, August, and September for the best beach weather.
How To Reach Lake Michigan
Here we are going to talk about how to reach lake michigan. So let's gather information about how a tourist can visit lake michigan.
By Air
Milwaukee International Airport is the closest to Lake Michigan (MKE).
By Train
The Portage/Ogden Dunes station in Chicago is the closest to Lake Michigan.
Top Places to Visit Around Lake Michigan
Holland
Grand Haven
Traverse City
New Buffalo
St. Joseph
Ludington
South Haven
Muskegon