Pantai Cenang Beach A Guide to Getting There and What to Do
Pantai Cenang, located on Langkawi Island in Malaysia's northwest, is a peaceful and attractive vacation spot for visitors looking for a tropical paradise. Pantai Cenang offers a unique combination of natural beauty and modern facilities that attracts guests from all over the world with its beautiful sandy beaches, clear waters, and active environment.
Pantai Cenang, one of Malaysia's popular beach resorts, offers a variety of sights and activities to meet the interests of all tourists. Pantai Cenang has something for everyone, whether you're a sunbather seeking relaxation on the beach, an adventurer seeking exciting water sports, or a nature lover keen to explore the nearby surroundings.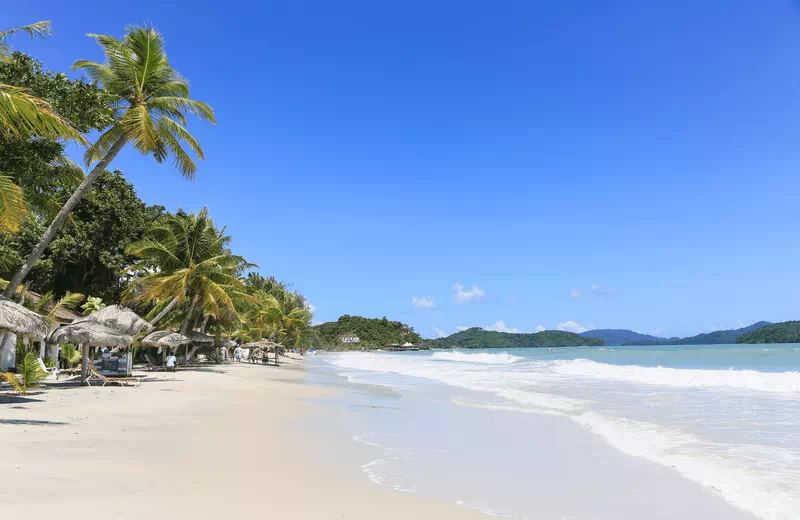 The breathtaking beach at Pantai Cenang is without a doubt its best feature. The approximately 2-kilometer-long smooth, golden sands are ideal for strolling along the shore, sunbathing, and creating sandcastles. Swimmers and snorkelers are invited to explore the vibrant marine life that abounds offshore in the quiet, clear waters. Offers a variety of exciting things to do in pantai cenang.
For those seeking a bit of excitement, Pantai Cenang presents an array of water sports activities, including jet skiing, parasailing, and banana boat rides. Thrill-seekers can also try their hand at flyboarding or embark on a thrilling island-hopping adventure to explore the nearby islets.
In addition to the beach, Pantai Cenang has a thriving social scene. The busy street of Jalan Pantai Cenang is lined with a variety of restaurants, cafes, and bars. Visitors are able to enjoy a variety of local and international cuisines, including genuine Malay specialties and delicious fresh seafood dishes. Additionally, the region is home to thriving night markets where tourists may shop for souvenirs, handicrafts, and traditional Malaysian goods.
For a deeper understanding of the local culture, visitors can explore the nearby Underwater World Langkawi, a fascinating marine park showcasing a variety of marine creatures, including sharks, stingrays, and colorful coral reefs. Additionally, the Rice Museum and the Mahsuri Mausoleum provide insights into Langkawi's history and folklore.
To experience the natural wonders surrounding Pantai Cenang, travelers can embark on an island-hopping tour to discover the neighboring Pulau Dayang Bunting, known for its emerald-green freshwater lake, or visit the Temurun Waterfalls, a majestic cascading waterfall tucked away in the lush rainforest. And also the best time to visit pantai cenang is during the dry season from November to March, when the weather is pleasant and the skies are clear, providing ideal conditions for beach activities and outdoor exploration.
Pantai Cenang offers a range of accommodation, hotel options to suit various budgets, from luxury beachfront resorts to cozy guesthouses. Whether you prefer waking up to breathtaking ocean views or being just steps away from the lively town center, there is an option for every type of traveler.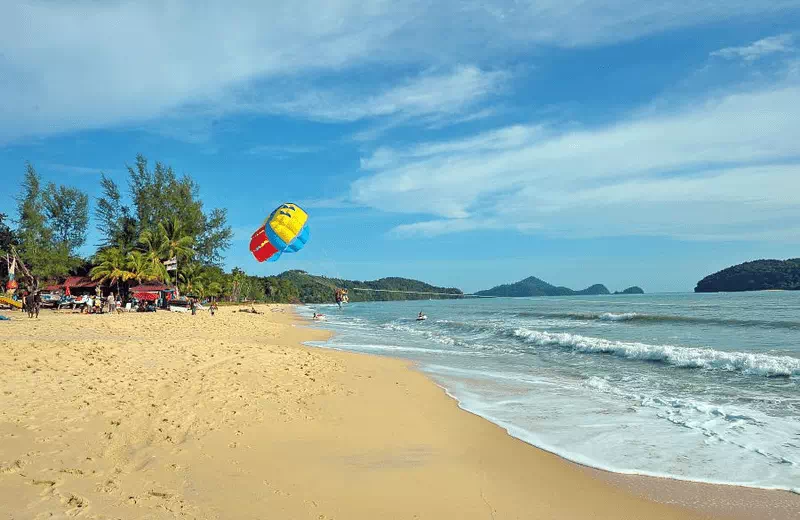 How To Reach Pantai Cenang
There are several ways to reach Pantai Cenang, a popular beach resort on the island of Langkawi in Malaysia.
Airplane
The Langkawi International Airport (LGK) is the closest airport to Pantai Cenang. You may get to Pantai Cenang from the airport by taxi, bus, or rental car. The cost of a cab ride is approximately RM 20 (US$5), a bus ticket is approximately RM 2 (US$0.50), and a day's worth of rental car is approximately RM 50 (US$12).
Ferry
Also, there are ferries that travel to Langkawi from Kuala Perlis and Penang. The distance between Pantai Cenang and the ferry port is roughly 10 minutes by driving. You can go to Pantai Cenang via taxi, bus, or rental car from the ferry station. The cost of a cab ride is approximately RM 15 (US$3), a bus ticket is approximately RM 1 (US$0.25), and a day's worth of rental car is approximately RM 35 (US$8).
Private Car
In order to get to Pantai Cenang with your group, you might want to think about hiring a private car.This will give you more flexibility and be able stop at any points of interest along the trip. The cost of a private car will vary depending on the length of your trip and the type of car you choose.
Once you arrive in Pantai Cenang, you will find a wide variety of accommodation options, restaurants, and shops. The beach is a popular spot for swimming, sunbathing, and water sports. There are also several hiking trails in the area, as well as a number of other attractions, such as the Langkawi Cable Car, the Underwater World Langkawi, and the Bird Paradise Langkawi.
Top Places to Visit Around Pantai Cenang
Langkawi Cable Car
Sky Bridge
Kilim Karst Geoforest Park
Tanjung Rhu Beach
Pulau Payar National Park
Datai Bay
The Oriental Village
Underwater World Langkawi
Langkawi Art in Paradise 3D Museum
Telaga Tujuh Waterfalls
In conclusion, Pantai Cenang in Langkawi, Malaysia, presents a harmonious blend of natural beauty and modern attractions. With its stunning beach, exciting water sports, vibrant culinary scene, and cultural experiences, Pantai Cenang offers a unique and unforgettable destination for travelers seeking an idyllic tropical getaway. Whether you seek relaxation or adventure, Pantai Cenang promises to leave you with cherished memories and a desire to return to its tranquil shores.