The Ultimate Guide to Things to Do in Pantai Cenang
On the beautiful Malaysian island of Langkawi, Pantai Cenang offers a wide range of attractions and activities for tourists to enjoy. Every traveler's interests are catered to at Pantai Cenang, whether they be relaxation, adventure, or cultural experiences. Some of the major activities in this tropical haven are listed below.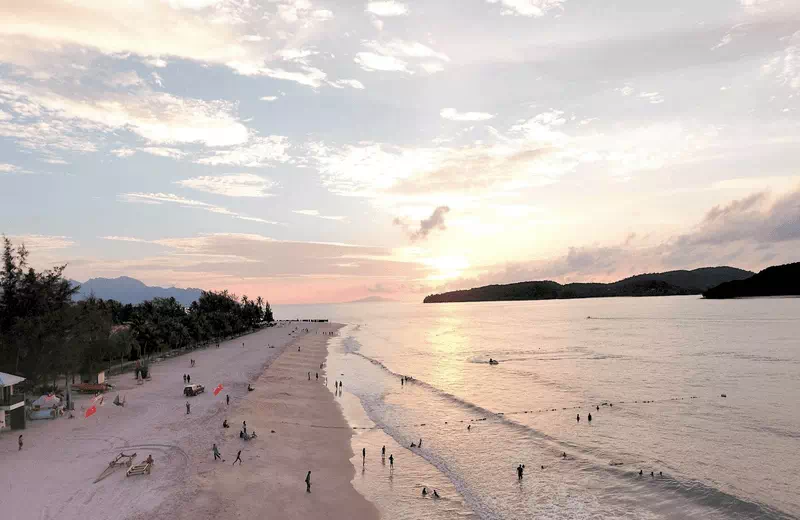 Soak up the Sun
The lovely beach at Pantai Cenang is known for being a great place to relax and soak up the warm, tropical sun. Relax on the fine sands, take in the stunning views of the azure ocean, and enjoy the soothing sound of the waves.
Swim and sunbathe at Cenang Beach
The main draw of Pantai Cenang is this vast, sandy beach. There are many places to rent sun loungers, umbrellas, and several beachside restaurants and bars.
Visit the Langkawi Bird Park
More than 2,000 birds from all over the world live in the Langkawi Bird Park. There are many chances for seeing the birds up close in the park's lush tropical setting.
Underwater Exploration
Go snorkeling or scuba diving in Pantai Cenang to explore the colorful underwater environment. Discover a vast diversity of marine life, including tropical fish, turtles, and even reef sharks, by diving into the vibrant coral reefs.
Water Sports Thrills
If you're looking for adventure, Pantai Cenang provides a variety of water sports. Take to the surf on a jet ski for an adventurous ride, or try parasailing for a birds-eye perspective of the coastline. Banana boat trips, kayaking, and windsurfing are other activities.
Go surfing
Surfing is very common in Cenang Beach, especially from November to March when it monsoons. There are many surf schools nearby that provide instruction for all skill levels.
Island-Hopping Adventure
Explore the neighboring islets by going on an amazing island-hopping excursion. Visit Pulau Dayang Bunting, which is known for its beautiful freshwater lake and offers swimming and paddleboarding opportunities. Learn about Pulau Beras Basah, a stunning island with pristine beaches and clear waters ideal for picnics and snorkeling.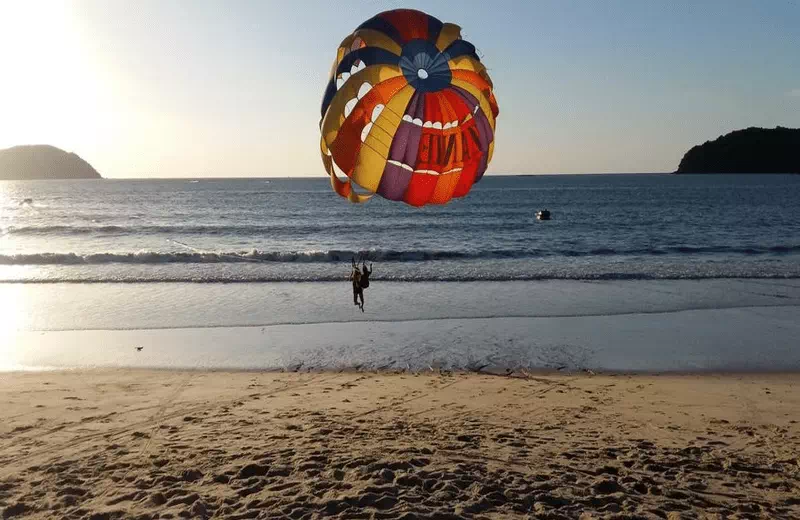 Sunset Cruises
Enjoy a romantic sunset cruise along Pantai Cenang's coastline. Sail on a traditional vessel or a luxurious yacht to see the sky ablaze with vibrant colors as the sun sets. It's the perfect opportunity to make long-lasting recollections with your loved ones.
Mangrove Forest Exploration
Take a boat tour through the mangrove forests surrounding Pantai Cenang. Discover unique ecosystems, spot wildlife such as eagles, monkeys, and monitor lizards, and learn about the importance of mangrove conservation.
Retail Therapy
Discover the Jalan Pantai Cenang, a bustling street crowded with shops and boutiques selling a wide range of goods. Discover unique clothing, souvenirs, handicrafts, and traditional Malay goods. To get the best discounts, Don't forget to bargain at the bustling night markets to snag great deals.
Spa and Wellness
Enjoy a relaxing spa treatment for yourself. Many wellness facilities and spas are available in Pantai Cenang where you may indulge in traditional massages, soothing body treatments, and holistic therapies to rest and recharge.
Visit the Langkawi Night Safari
A fantastic opportunity to see creatures that are active at night is to go on the Langkawi Night Safari. Tigers, elephants, and monkeys are just a few of the wildlife you'll see on the safari as it takes you through a network of forest pathways.
Visit Oriental Village
The bustling complex is known as Oriental Village, which is nearby and offers a variety of attractions. Take a trip on the Langkawi Cable Car to experience the breathtaking SkyBridge's panoramic views of the island. View cultural performances showing traditional music and dance or explore the 3D Art Museum.
Indulge in Local Cuisine
From seaside cafes to luxury restaurants, Pantai Cenang offers a wide variety of eateries. Enjoy delicious seafood, fiery curries, and tropical fruits in authentic Malaysian cuisine. Don't miss the chance to sample regional favorites like Satay and Nasi Lemak.
Go hiking in the Gunung Raya National Park
In the hills behind Pantai Cenang is where you'll find the Gunung Raya National Park. In the park, there are several hiking trails, and the views from Gunung Raya's summit are breathtaking.
Go shopping at the Cenang Mall
A large shopping center named The Cenang Mall is located in Pantai Cenang. The mall has many different types of stores, including electronics stores, clothes stores, and souvenir shops.
No matter what kind of experience you're looking for—adventure, relaxation, or cultural encounters—Pantai Cenang has a variety of things to do to make your trip memorable. Take in the beauty of this tropical haven and make lasting recollections that will last a lifetime.