Hanakapiai Beach Travel Guide
Hanakpai Beach is a Hawaiian island beach located on Kauai's N Pali Coast. The beach is about 2 miles (3.2 km) from the start of the Kalalau Trail, a popular hiking trail that begins at Kee Beach. Hanakapiai Falls is also about 2 miles away.
Hanakapiai's shore is sandy in the summer, but in the winter, the waves wash ashore and remove most of the sand from the beach. The hike to Hanakapiai is the most busiest stretch of the Kalalau Trail.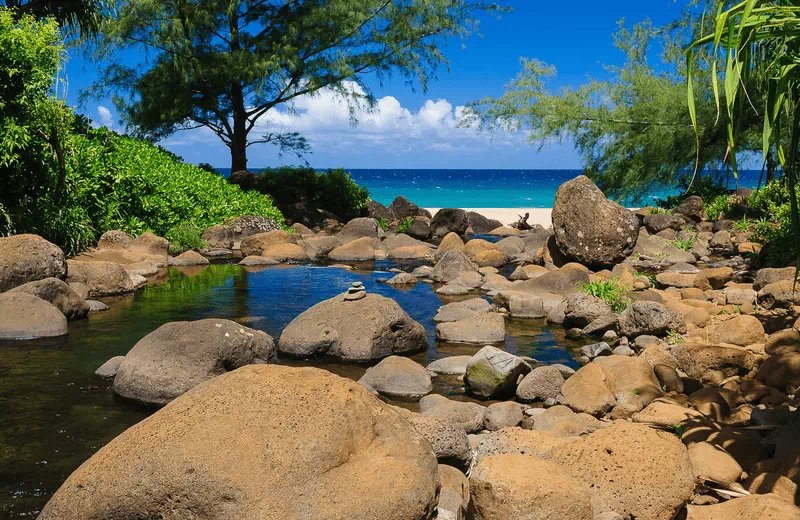 The sand is thick and beautiful in the summer, and there is plenty of room to lounge on the beach and have a picnic on the sand or on the rocks. There are also several sea caves that can be explored at either end of the beach. During the winter, however, the ocean current takes all of the sand away, only to be returned the following spring. The ocean crashes directly onto the boulders in the winter.
The hike in to Hanakapiai Beach takes about 1-2 hours each way; the trail is steep and rocky, and it requires crossing a river. Visitors can either relax and enjoy the view at the beach or continue on to the stunning Hanakapiai Falls. Swimming is strongly discouraged due to riptides and strong currents.
Take note of the sign just before the descent to the beach that warns of the drownings at Hanakapiai. The ocean is generally quite dangerous here, with a nasty shore break and numerous cross currents and rip tides. When the conditions are right, expert surfers will paddle out from Ke'e to surf here, then hike back along the trail barefoot with their surfboards.
Hanakpai Beach is a popular tourist destination; however, strong rip currents, as well as dangerous shore breaks, high surf, and other hazardous ocean conditions make Hanakpai Beach extremely dangerous.
Best Time to Visit Hanakapiai Beach
The best time to hike the Kalalau Trail is in the summer (May to October), when the weather on Kauai is dryer and the path is less slick. However, if you plan to hike during the hot summer and fall months, you'll need to bring plenty of water and sun protection.
How To Reach Hanakapiai Beach
Here we are going to talk about how to reach Hanakapiai Beach. So let's gather information about how a tourist can visit Hanakapiai Beach.
By Road
On Kauai's north shore, take the Kuhio Highway (Hwy 560) west. Drive all the way to the end (the highway terminates at Ke'e Beach Park, mile marker 10). To get to Hanakapiai Beach, follow the Kalalau Trail from here.
Top Places to Visit Around Hanakapiai Beach
Hanakapiai Falls
Ke'e Beach
Na Pali Catamaran
Kalalau Trail
Na Pali Sea Breeze
Kauai Hiking Adventures
Kayak Hanalei
Tunnels Beach
Princeville Botanical Gardens
Limahuli Garden and Preserve
Koke'e Mountains
Napali Coast Hanalei Tours
Holo Holo Charters