Visit Freshwater Lake Tahoe on Your Vacation in the U.S. State
Lake Tahoe is a big freshwater lake located in the Sierra Nevada Mountains on the California-Nevada border. Its beaches and ski resorts are well-known. North Lake Tahoe is located in both California and Nevada and offers top-rated lodging for your ideal family, romantic, or vacation holiday.
The shores of North Lake Tahoe and the surrounding mountainsides are dotted with unique and beautiful communities, each offering fine, casual, and leisure dining options. Emerald Bay State Park on the southwest shore is home to the 1929 Nordic-style mansion Vikingsholm.
Lake Tahoe Nevada State Park, located on the lake's northeast side, includes Sand Harbor Beach and Spooner Lake, which serves as a gateway to the long-distance Tahoe Rim Trail.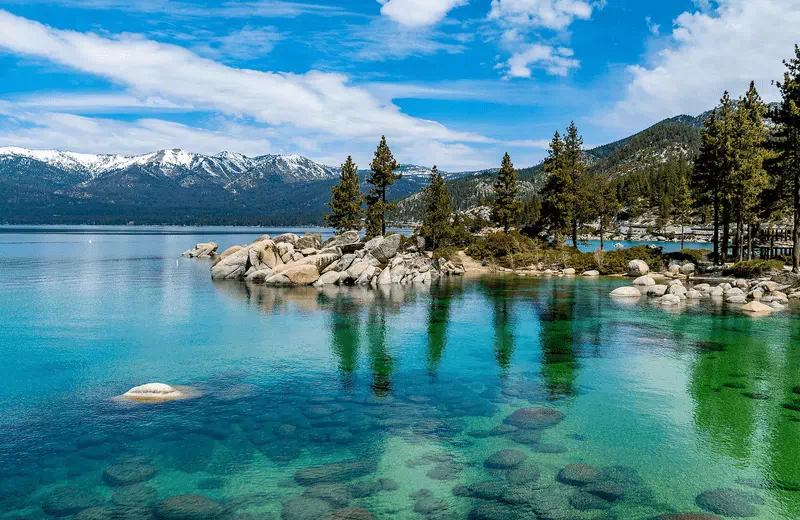 You can reach the summit of Heavenly Mountain Resort or dive into Lake Tahoe's depths. It's over 1600 feet deep, making it one of North America's deepest lakes. It is home to winter sports, summer outdoor recreation, and scenery that can be enjoyed all year. Snow and ski resorts contribute significantly to the region's economy and reputation.
1. Things to Do In Lake Tahoe
Lake Tahoe has hundreds of miles of hiking and biking trails, dozens of beaches, world-class downhill and nordic skiing, a variety of snow sports, and 39 trillion gallons of water to enjoy. Each season, many nationally recognised Lake Tahoe events, such as music festivals, concerts, food pairings, and sporting events, take place.
There are also many activities that Lake Tahoe is proud of, such as mountain gondola rides, hot air balloon adventures, and scenic cruises across the mirror-like water.
2. Best Times to Visit Lake Tahoe
Here we have to collect information about best time to visit Lake Tahoe. This is to collect information on where the visitor can visit the Lake Tahoe. So let us know a little more about this Lake Tahoe.
The best times to visit Lake Tahoe are from March to May and from September to November.
3. How to Reach Lake Tahoe
Here we are going to talk about how to reach Lake Tahoe. So let's gather information about how a tourist can visit Lake Tahoe.
By Air
Reno-Tahoe International Airport (about 50 miles to North Tahoe and 60 miles to South Lake Tahoe) and Sacramento International Airport are the closest airports to the Lake Tahoe ski areas (North Tahoe is 119 miles away and South Lake Tahoe is 114 miles).
By Train
The closest Amtrak station to Lake Tahoe is in Truckee, California (on the California Zephyr route between Reno and Sacramento).
By Road
The drive is straightforward, but there are three traffic lights in Placerville that will slow you down. The road from Pollack Pines to South Lake Tahoe is a beautiful two-lane road with gentle curves.
If at all possible, drive a four-wheel drive or all-wheel drive vehicle. Snow and ice on the way to Tahoe cause slick roads and potentially dangerous driving conditions.
Greyhound, AMTRAK, and Megabus also provide bus service to Lake Tahoe from a variety of cities.
4. Top Places to Visit Around Lake Tahoe
Lake Tahoe Boat Cruise
Tallac Historic Site
Kings Beach
Sand Harbor State Park
Eagle Rock Hiking Trail
Emerald Bay State Park
Hiking at South Lake Tahoe
Alpine Skiing
Ed Z'berg Sugar Pine Point State Park
D.L. Bliss State Park