Caddo Lake Between Texas & Louisiana
Caddo Lake is a 25,400-acre lake and bayou on the Texas-Louisiana border, in northern Harrison and southern Marion counties in Texas, and western Caddo Parish in Louisiana. Caddo is one of Texas' few non-oxbow natural lakes and the second-largest in the South; however, it was artificially altered in the 1900s by the construction of a dam.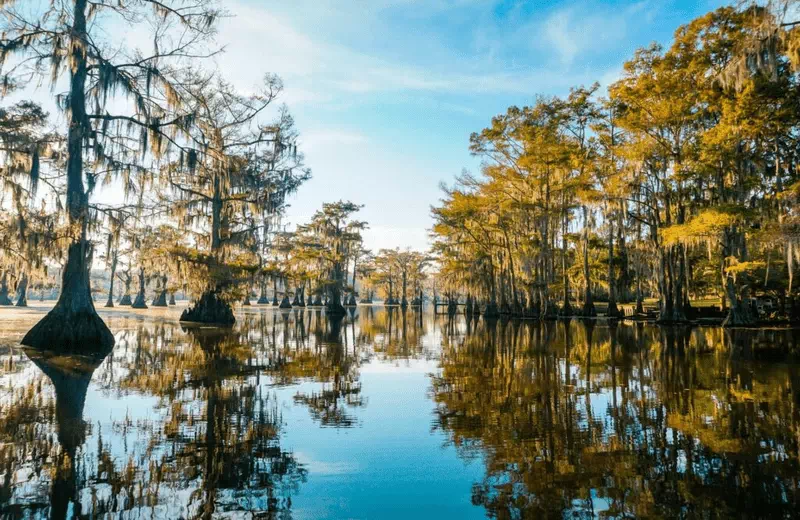 Caddo Lake's waters are open to the public, but its shores are privately owned. Caddo Lake State Park is owned and operated by Texas Parks and Wildlife. Caddo Lake's boat channels are maintained by the Cypress Valley Navigation District (CVND). The Caddo Lake Levee District owns and operates the dam. Caddo Lake is alive with the sounds of nature, providing a natural habitat for 200 bird species, 30 amphibians, 60 reptiles, 55 mammals, and over 90 fish species. Caddo Lake is a waterway that should be treated with caution because it is extremely easy to get lost when boating outside of the marked boat channels.
The lake was formed by the 1811–12 New Madrid earthquakes, according to Caddo legend. The legend may have some truth to it, as the earthquake formed Reelfoot Lake in Tennessee. Most geologists believe the lake was formed by the "Great Raft," a 100-mile (160-km) log jam on the Red River in Louisiana, possibly by flooding the existing low-lying basin.
If you enjoy fishing, the lake is home to over 70 different species, and fishing from the shore in the state park is free. There are 46 campsites in the park, and you can also rent one of the historic cabins, which range in size from one to six people.
Is Caddo Lake Worth a Trip?
Caddo Lake is rich in history, breathtakingly beautiful, and full of exciting activities. Caddo Lake can be explored by boat, kayak, or canoe. You can also go fishing, visit a Texas State Park, see a beautiful sunrise or sunset, and do a variety of other activities.
Is there an alligator in Caddo Lake, Texas?
Alligators live in the park; Access the 26,810-acre Caddo Lake, which is home to more than 70 different species of fish. We have a boat ramp and a fishing pier.
Is it possible to swim in Caddo Lake, Texas?
Because of the risk of alligators and Bigfoots, it's not a lake where you can swim. Bring no water wings and don't expect to return tanned. In a nutshell, it isn't recreational.
What makes Caddo Lake unique?
Caddo Lake is a natural lake in Texas. When water levels fell in 1912, a dam was built, but the lake kept its natural characteristics and birds and fish.
Can you hike at Caddo Lake?
Hike through the upland pine forest before continuing on the Caddo Forest Trail to find yourself in a bottomland hardwood forest. Discover the lesser-known aspects of Caddo Lake State Park. The trail has some steep sections.
Is it possible to ski on Caddo Lake?
Big Cypress Bayou and Caddo Lake will offer excellent skiing and boarding conditions.
When is the best time to visit Caddo Lake?
In fact, the best times to see wildlife on Caddo Lake are in the spring and fall.
Things to Do near Caddo Lake State Park
Big Dreamer Tours & Guide Services
Big Cypress Tours
Caddo Outback
Caddo Lake Wildlife Management Area
Captain Ron's Swamp Tours
Ole Jigger Caddo Lake Adventures
Billy Carter's Go-Devil Tours
Caddo Lake National Wildlife Refuge
Caddo Lake Bayou Tours