Best Beaches in Miami, FL
Miami is a popular tourist destination in florida. While its art deco flair, high-end shopping, and vibrant nightlife are all big draws, most visitors come for the beaches.
If your ideal vacation day includes soaking up the sun, playing on the sand, or swimming in the sea, then our miami travel guide is for you.
Our pick of the 11 best spots to work on your tan, swim, collect seashells, enjoy a picnic, ride a jet ski, or even go fishing.
South Pointe Park Pier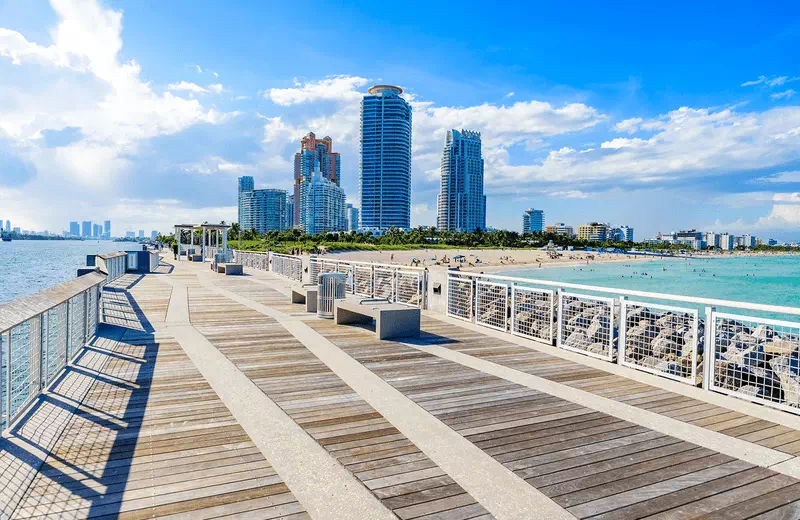 South pointe park, often known as south pointe, is a 17-acre county urban park in the south beach district of miami beach, florida. South pointe park is accessible everyday from sunrise to sunset and is free to explore. The pier is also open daily from sunrise to sunset. The park offers direct beach access, walking pathways, picnic and barbeque sites, seats, a cafe, and an off-leash bark park.
Spend some time with your toes on the sand. The park's beach features colorful lifeguard towers, as well as umbrella and beach chair rentals. Locals flock here to surf, play volleyball, and paddle board. There is also a fenced dog park where your pet can run free. Near the splash pad are restrooms and showers.
Bal Harbour Beach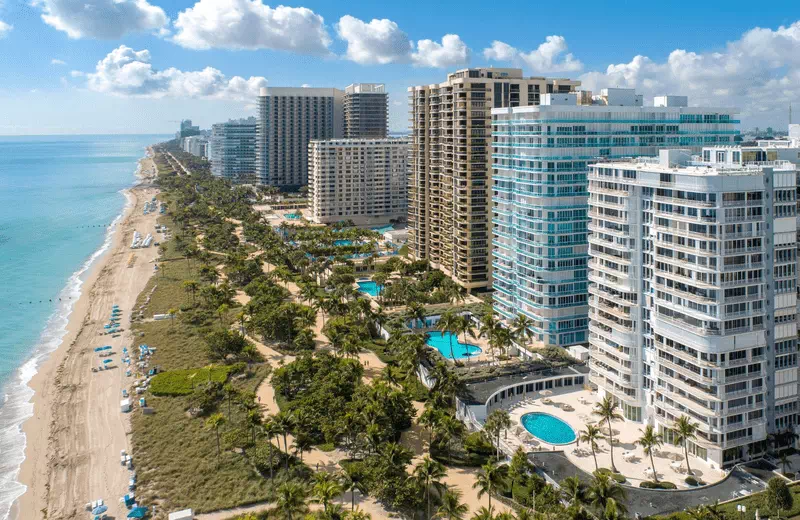 Bal harbour beach is a beautiful resort with white, powdered sand and dazzling atlantic ocean seas. The gorgeous beach spans one mile along bal harbour village, an upscale enclave on miami beach's northern tip.
Bal harbour is well-known for its affluent bal harbour shops and opulent oceanfront resorts with white sand beaches. With names like chanel, versace, jimmy choo, tiffany, and others, this is miami's leading luxury shopping destination.
The beach in bal harbour is open to the public for sunbathing, swimming, and water sports.
Crandon Park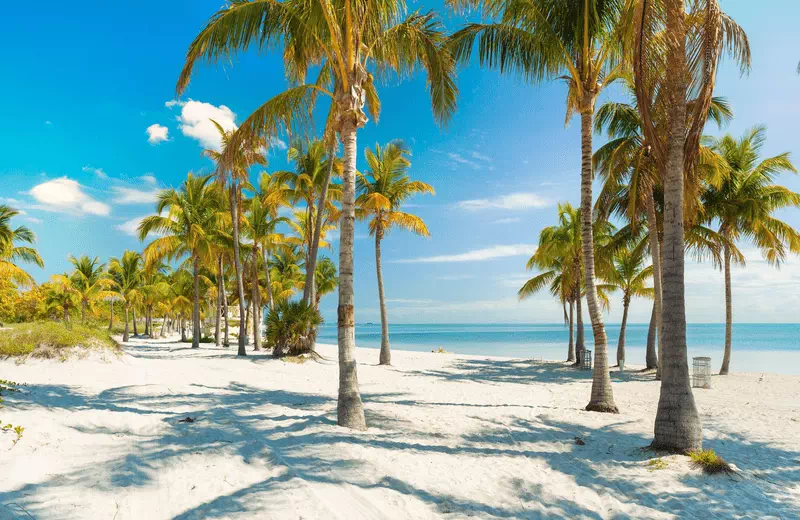 Crandon park is a beautiful beach with postcard-worthy vistas of key biscayne. This is a locals' park, a favorite for sandy barbecues and family reunions. The rickenbacker causeway connects it to the rest of miami. Crandon park is a favorite place in miami for bird viewing, with its bird communities of herons, ospreys, songbirds, raptors, and more.
Activities include canoeing, kayaking, kiteboarding, paddleboarding, sailing, snorkeling, wakeboarding, and windsurfing. With 2 miles of beautiful sand, mild waves, and a riverfront promenade, the beach is breathtaking. There are numerous snack stands and beach cabanas to choose from.
Crandon park beach is the nicest beach in miami for water sports and activities such as boating.
Haulover Beach Park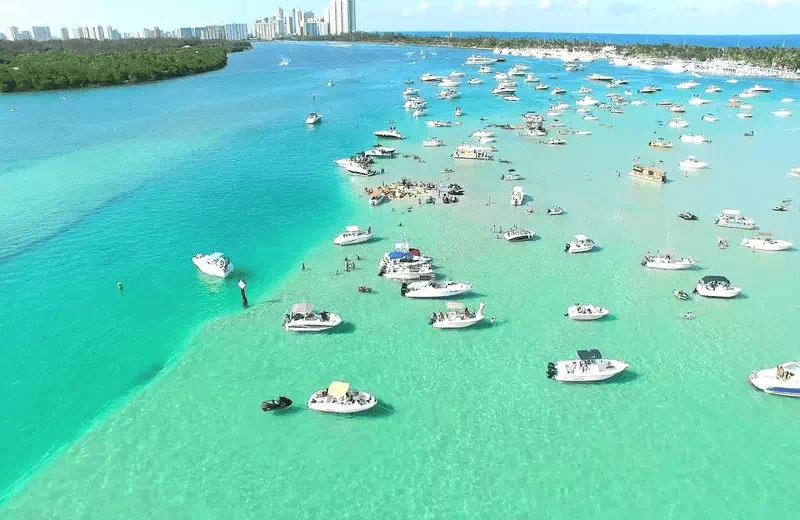 Haulover beach park is known for its clear blue waters, beautiful beach, and ample picnic spots. Haulover beach, located in miami beach, is florida's best-known and oldest officially sanctioned public nudist beach. Furthermore, it is consistently regarded as one of the top ten nudist beaches in the world.
The beach is perfect for both swimming and surfing. Haulover park, located across the street from the beach, offers a full-service marina, tennis facilities, a 9-hole golf course, a sundries shop, and kite shops. The park holds kite-making workshops on a regular basis and sells kites to fly in a large grassy area facing biscayne bay.
Hobie Island Beach Park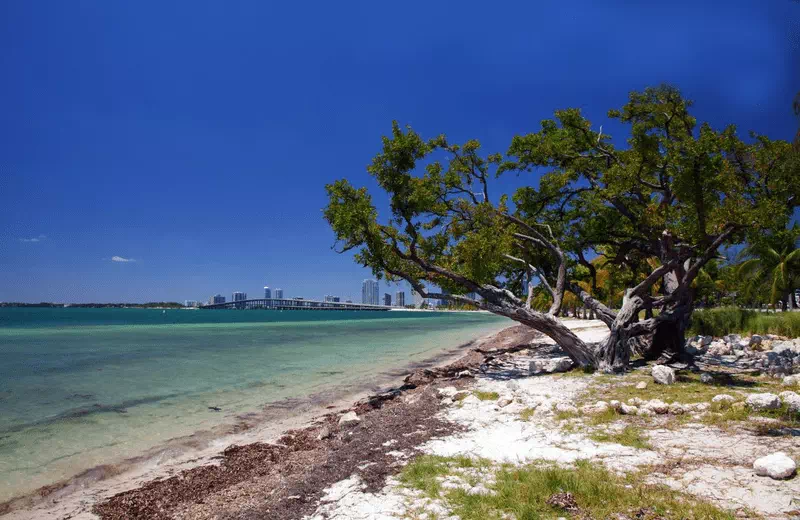 Hobie beach/windsurfer beach is centrally positioned between brickell, downtown miami, and key biscayne, so beachgoers may enjoy incredible skyline views from this tranquil off-road beach with concession booths and free parking. This beach, also known as windsurfer beach, is ideal for windsurfing and other water activities.
Its shallow seas are ideal for swimming, fishing, catamaran trips, and windsurfing. All of this is available for rent directly on the beach. Parking is free and is directly on the beach. There are numerous public bathrooms near to the beach.
Hobie beach is also the best dog-friendly beach in miami. Many dog owners come here on a daily basis with their dogs, who enjoy splashing around in the ocean and playing in the sand. Because the water is shallow and the currents are not strong, it is safe.
Hollywood Beach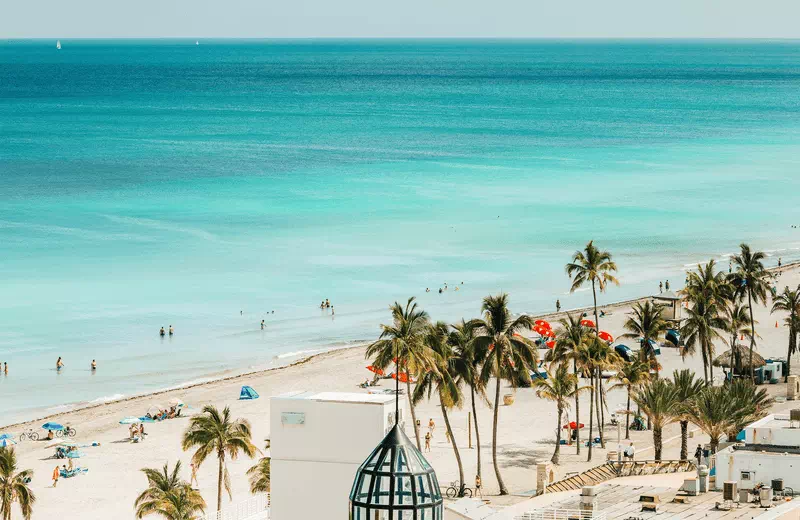 Hollywood beach, one of the most gorgeous beaches on florida's atlantic coast, is the ideal location for a spectacular south florida beach vacation. Along hollywood's broadwalk, you may find one-of-a-kind shopping, oceanfront restaurants and bars, as well as year-round entertainment, water sports, and live music.
This brick-paved boardwalk, named one of america's best beach boardwalks by travel + leisure magazine, is a refuge for runners, bikers, rollerbladers, and anybody who prefers to watch the action from the comfort of one of the several eateries and cafés along the way.
Lummus Park Beach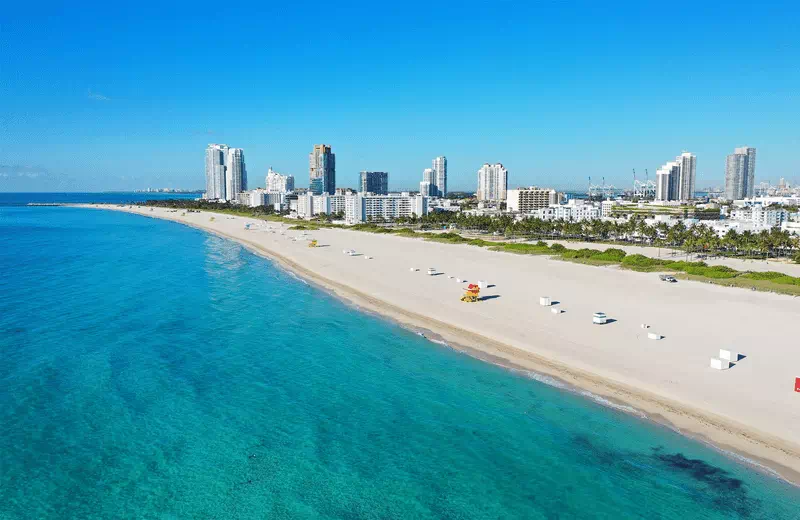 Lummus park is a 74-acre public urban park on the atlantic ocean in miami beach. This is the most busy stretch of beach, which makes for wonderful people watching. Relax and sunbathe while admiring the stunning views of the water's shifting blue-green hues. Bring provisions for a beach picnic and participate in sports and games with your pals.
Matheson Hammock Park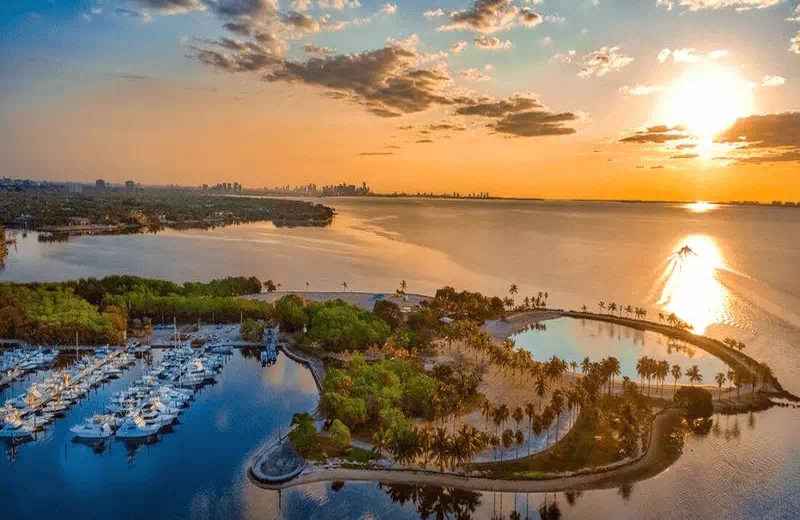 Matheson hammock park, one of miami-dade county's most beloved county parks, is located on a peninsula that extends into biscayne bay. Matheson hammock park is a beautiful scenic park with a unique feature: a man-made atoll pool.
Matheson beach is ideal for novices or those who simply want to exercise in quiet. Its peaceful, breeze-swept beach is a refuge for families who enjoy the warm, safe waters and picturesque waterside vistas. Sulfur-bellied flycatchers, black-throated gray warblers, and townsend's warblers can all be found here.
With its picturesque lakes, the park also offers an excellent picnic spot. You can go riding or bird watching on the park's nature trails. Because the shallow waters are normally quiet, this is a good location for beginners kiteboarding. Matheson hammock park is one of miami's top parks for enjoying nature and beaches.
Oleta River State Park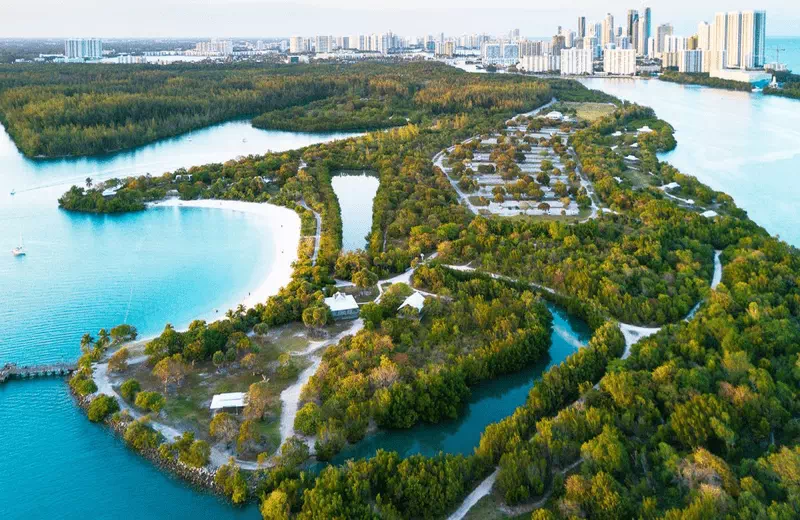 The oleta river state park is a 1,043-acre state park on biscayne bay in north miami, a municipal suburb of miami, florida. This huge urban park provides easy access to magnificent mangrove swamps, beaches, and tidal marshes.
Kayak, swim, or simply lounge on the beach. The park's beach features shallow water that is ideal for families and children of all ages. Swimming is safe for families at this location. A sandbar close to shore provides shallow water that is both clean and tranquil.
This picturesque area, which is also popular with fisherman, is noted for having exceptional fishing, particularly off the pier.
Hike or jog on the many pathways that wind their way around this lovely park. You may enjoy the sun, a fresh breeze, and the natural surroundings, which includes wildlife.
Sunny Isles Beach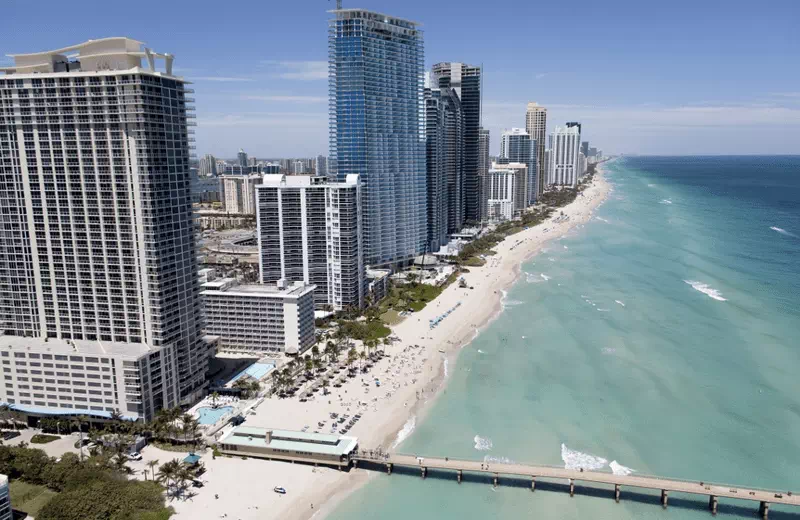 Sunny isles beach is a city in miami-dade county, florida, located on a barrier island. The city is flanked on the east by the atlantic ocean and on the west by the intracoastal waterway. Sunny isles beach has a two-mile expanse of gleaming white sand. The large sandy beach and clean waters are popular for snorkeling, diving, and other water sports.
There are 11 public parks in sunny isles beach. Samson oceanfront park is the most popular, including a playground, a shaded picnic area, a beach with a lifeguard, beach volleyball, public bathrooms, snacks, and year-round events.
Sunny isles beach is also known for the newport fishing pier, a traditional pier.
Surfside Beach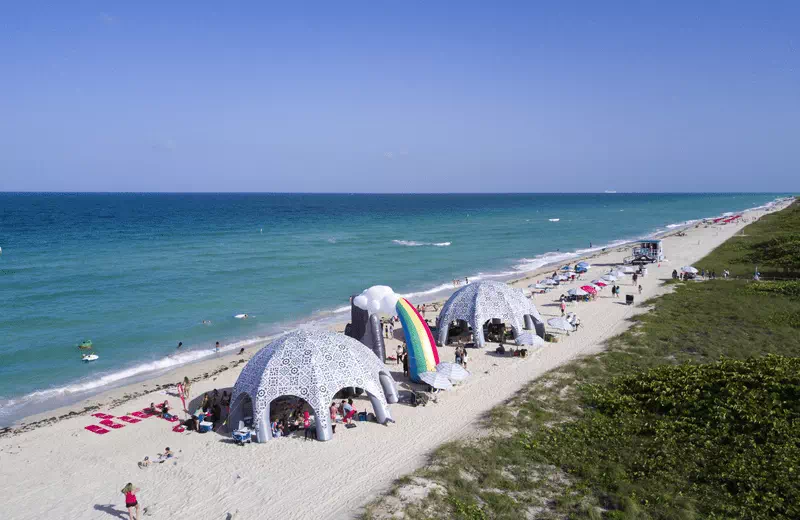 Surfside, known as miami's uptown beach community, is a small, one-square-mile enclave located between miami beach and bal harbour. The atlantic ocean laps against its eastern coastline, and the intracoastal waterway borders it on the west.
Surfside is a popular destination for families and people looking for a relaxed day in the sun, thanks to its white, sandy beaches and lots of space to stretch out.
Aside from the beach, there is a nice section for running or riding bikes, as well as a section for walking. Ideal for fishing, swimming, picnics, and seeing animals. There are restrooms available for tourists.