Yarada Beach Andhra Pradesh - Visakhapatnam
Today we have to talk about Yarada Beach. This beach is located in Yarada on the west coast of Bay of Bengal; Yarada Beach is located 15 kilometers from Visakhapatnam. The beach is located near Gangavaram beach, Gangavaram Port, and Dolphin's Nose. The scientific study of the characteristics of soil deposited on Yarada Beach was conducted from May 2009 to May 2010. So let's get more information about this beach.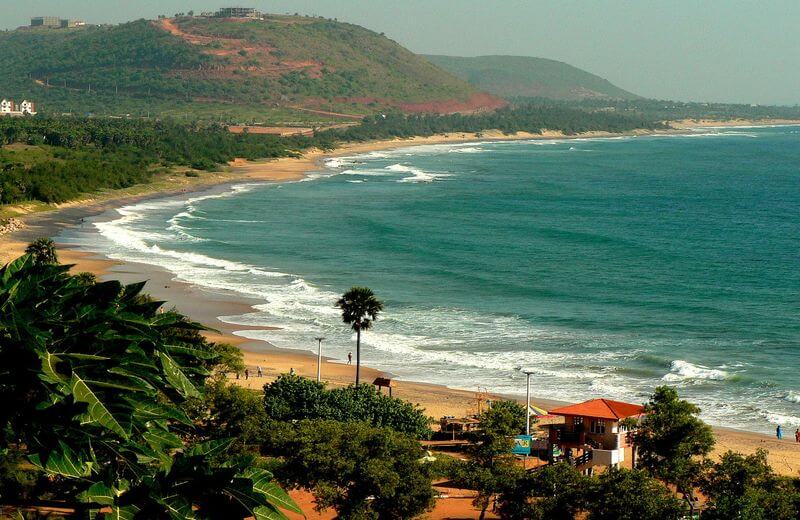 Yarada Beach is surrounded by rocky hills. This beach is ideal for going out of half the day of small groups in a completely different and natural environment. Water advice is not given on this beach, because water is much polluted with industrial waste. If you favor your luck, you can see the multicolor crabs rising on the rocks. This beach is probably the most clean and safe beaches in Vizag area or even in India.
The whole area of Yarada Beach is covered with hundreds of banana and coconut plantations. Excluding some of the assets developed by the private sector, there is no infrastructure development in this field. Agrigold, who took part in the Yarada Beach lease from the government and did several landscaping and developed a garden inside, This beach is situated near Gangavaram Port.
This beach is actually safe to swim in comparison to the Rishikonda beach. To get to Yarada Beach, there is no bus facility available or alternatively, you can hire a cab to go here. This beach is a perfect place to stay away from all but it still needs some help before it can really be tourism-friendly.
This beach is in the process of bringing a new change and a little away from the city center, with a family and friends Offer a complete gateway. Even before reaching the shore of Yarada Beach, there is a glimpse of a beautiful coastline from the Dolphin Hill. Last year, the Andhra Pradesh Tourism Development Corporation started constructing a restaurant and beach shacks at Yarada at a cost of 1.5 crores.
There is a Durga temple in Yarada Beach, which is currently under construction. It is an open theater with floodlights for cultural activities, which is easily accessible during Durga Puja. This beach is the famous tourist destination in Visakhapatnam. Yarada Beach is a favorite place to burn stress and play in playful water activities. Tourists visit this beach and enjoy a good time with their favorite.
The beautiful landscape of Yarada Beach attracts tourists on a large scale. This lounge attracts enchanting views of sunsets on the beach. Known for experiencing the thrill of rock climbing near the rocks you can pay a visit to Yarada Beach at any time of the year.
Read More on Yarada Beach
1. Things To Do at Yarada Beach
Today we are going to go to Yarada Beach in South Goa and talk about what activities a tourist should do. So let us gather some information about Yarada beach.
This beach can relax the mind of the tourist in a place surrounded by natural beauty, serene atmosphere and unmistakable charm. Yarada Beach offers an exceptionally romantic and serene atmosphere to all couples tourists.
At Yarada Beach, tourists can enjoy activities such as soaking up the heat of the sun, staying under the shade, walking, enjoying a fun family picnic, capturing photographs with a die-to-fall background on the backdrop, and going on an evening bike ride.
2. Best Time To Visit Yarada Beach
Here we have to collect information about Best Time to Visit Yarada Beach. This is to collect information on where the visitor can visit Yarada beach. So let us know a little more about Yarada Beach.
The Best Time for a Tourist to Visit Yarada Beach Is From Late

November to March.
Winter Season
The onset of winter on Yarada Beach lasts from November to February. The ideal time to pay a visit to this beach is for the tourist as the atmosphere is pleasant and enjoyable during this period. The climate of the winter season on Yarada Beach is pleasant and pleasant. During the winter season the temperature on this beach varies from 18-degree Celsius to 32-degree Celsius which makes Yarada Beach an excellent destination for tourists of all ages.
Summer Season
The summer season on Yarada Beach lasts from March to June. Tourists should avoid visiting this beach during the summer season. Humidity is quite high on Yarada Beach during the summer season. Temperatures on Yarada Beach this season have been rising to 42 degrees Celsius and above. This beach is unbearable to enjoy during the holiday during the summer season.
Monsoon Season
The beginning of the monsoon season on Yarada Beach lasts from July to September. The beach receives heavy rainfall during the monsoon season. Due to the heavy rainfall during this season on Yarada Beach, no tourist is allowed to enjoy water activities there.
3. How To Reach Yarada Beach
Here we are going to talk about How to Reach Yarada Beach. So let's gather information about how a tourist can visit Yarada Beach.
By Air
The nearest airport to reach Yarada Beach is Visakhapatnam International Airport. The airport is well served by various domestic and international flights such as Spice Jet, Air India, Alliance Air, Air Asia, Air Costa and Indigo. Tourists can easily reach Yarada Beach from this airport.
By Train
The nearest railway station for tourists to reach Yarada Beach is the Visakhapatnam railway station, about 12 km away. The railway station provides regular train services from famous Indian cities to Visakhapatnam and vice versa, including Mumbai, Hyderabad, Chennai, Bangalore, Kolkata and New Delhi. From Visakhapatnam Junction, tourists can choose a shared cab to go to Yarada Beach at their convenience.
By Road
The nearest bus station to Yarada Beach is Scindia. There are many private and state owned buses available to reach this beach. These buses run on routes that take tourists from South Indian metropolises like Vijayawada, Chennai, Bangalore and Hyderabad to Visakhapatnam. This type of road is very easy for tourists to reach this beach.
4. Top Places to Visit Around Yarada Beach
VMRDA INS Kursura Submarine Museum
Borra Caves
Rishikonda Beach
TU 142 Aircraft Museum
Ross Hill Church
Dolphin's Nose
Kailasagiri
Rama Krishna Beach
VUDA Park
Varaha Lakshmi Narasimha Temple