Van Damme Beach (The Best Hiking Spot Near Mendocino)
Van Damme Beach, located along Little River, is part of the 1,830-acre Van Damme State Park on the Mendocino Coast. Because of its excellent location in a semi-protected cove, the beach is a popular destination for abalone divers.
Kayak tours and stand up paddle board tours are available for visitors who want to see the coastline from a different perspective or explore the nearby sea caves; tours can be booked in the beach parking lot. Ten miles of hiking trails wind through the Little River Canyon, and there are several nearby camping areas for car and tent camping. Parking at the beach is free of charge.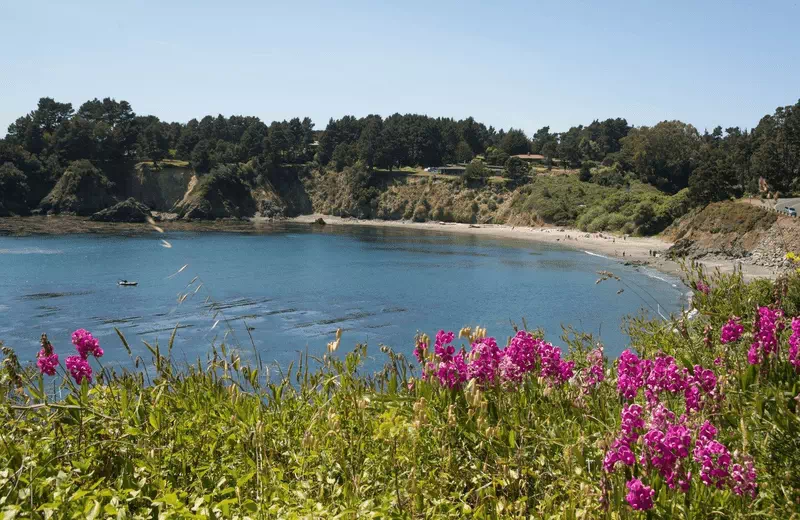 The climate here is mild all year. The moisture required by the thriving coastal redwoods is provided by winter rains and cool summer fogs that usually clear by mid-morning. Be prepared for changing weather.
Hiking, biking, birding, jogging, kayaking, botanizing, and watching salmon spawn are all popular activities in Van Damme. Its trails include a 0.25-mile-long wheelchair-accessible boardwalk through a pygmy forest to view stunted trees. It has nine hike-in campsites in a beautiful redwood forest. The 1930s-era visitor centre was once a Civilian Conservation Corps recreation hall.
Van Damme Beach is best known as a diving and kayaking launch point. The rocky points on either side of the beach provide protection from the harsh waves and form a relatively calm expanse of water in the cove, which is popular with abalone divers, first-time scuba divers, and kayakers who enjoy exploring the rugged shoreline.
The small cobble and sand beach provides a picturesque setting for visitors to spread their blankets or set up their beach chairs for a few hours of sun and sea breeze. Van Damme State Park's campgrounds and facilities are just across the highway and within easy walking distance.
The majority of the park is located on the inland side of State Route 1 and includes ten miles of hiking trails along the Little River as well as campsites rated as one of the top ten on the West Coast by the Guardian.
Spring Ranch, another part of the park, is 160 acres (0.65 km2) of blufftop meadows on the ocean side of Route 1 north of Little River, as well as a set of restored barns dating from 1860. The state purchased it in 1996.
Is the Mendocino Coast Open?
Despite the flank of wildfires located in the region's wilderness areas, tourism to Mendocino County remains fully operational, with all major highways, lodging, and attractions unaffected, according to Visit Mendocino County.
Is going to Mendocino safe?
Mendocino is as safe as the California state average and less safe than the national average based solely on crime rates.
Is Mendocino a good place to live?
Mendocino is located in Mendocino County and is considered to be one of the best places to live in California. Mendocino County has a rural feel to it, and the majority of residents own their homes. There are numerous bars, restaurants, coffee shops, and parks in Mendocino. Mendocino has a large number of retirees and a liberal population.
Best Time to Visit Van Damme Beach
The best time to visit Mendocino is September-October because of the excellent all-year weather, and it is also not during peak travel periods, so it is less likely to be crowded.
Best Things to Do on the Mendocino Coast
Mendocino Headlands State Park
Mendocino Coast Botanical Gardens
Point Arena Lighthouse
Glass Beach, Mendocino Coast
Mendocino County Farmers Market
Kelley House Museum, Mendocino
Skunk Train Rides, Mendocino Coast
Van Damme State Park, Mendocino
Ford House Visitor Center & Museum
Russian Gulch State Park, Mendocino Coast