A Day At Siesta Beach, A Romantic Getaway In Siesta Key, Florida
This amazing stretch of beach has consistently been rated as one of the best in the United States. Unlike other nearby keys' beaches, the sand on Siesta Key is white, powdery, and soft. Siesta Key is a barrier island in the Gulf of Mexico off the coast of Sarasota, Florida. Its sandy beaches are well-known.
Siesta Beach has shallow waters, a playground, and tennis courts and is located near the shops and cafes of Siesta Key Village. Crescent Beach leads to Point of Rocks, a limestone outcropping surrounded by tidal pools and coral reefs. Turtle Beach has boat ramps and picnic areas to the south.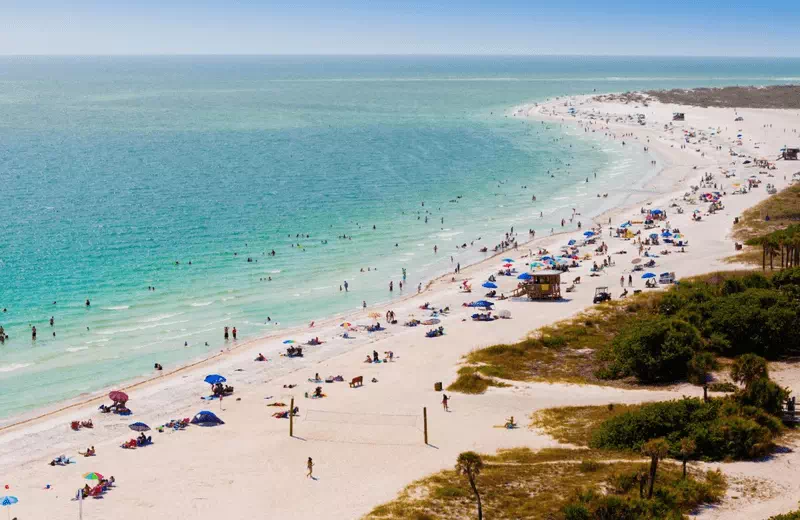 Crescent Beach is another name for the southern section of Siesta Beach, which extends to the seawall and Point of Rocks, an area with coral and active marine life.
Siesta Beach is not only long, but also wide, especially near the Siesta Key Beach Pavilion. Because the beach is so large, the city installed walking mats to assist beachgoers in getting to the shore, where they can walk on firmer wet sand.
The best beach for day trips from inland cities like Sarasota, Bee Ridge, and others is Siesta Key. Except during the busiest weekend or holiday weeks, the beach's parking lot is rarely full.
The beach on Siesta Key is exceptionally large, with plenty of sand to spread out and soak up the rays. You'll have no trouble finding your perfect patch of sand, no matter how crowded it is.
Lifeguard towers are strategically placed to keep a close eye on all bathers. Parents can relax knowing that their children are well cared for, and if anything goes wrong, lifeguards are on duty.
The family-friendly beach has a shaded picnic area as well as a children's playground, and visitors can borrow beach wheelchairs. There is a concession stand on-site that sells drinks and snacks, as well as tennis and volleyball courts. Throughout the summer, lifeguards are stationed at the beach, and Sunday evening drum circles are common.
Is Siesta Key the same as Siesta Beach?
The most popular public beach on the island, Siesta Beach, is located on the northern end of Siesta Key. The largest of the island's beaches can be reached by walking, biking, or taking the trolley. Siesta Beach is arguably the island's most popular attraction.
What is the beach at Siesta Keys famous for?
Siesta Key is a must-see island paradise known for its white quartz sand, turquoise waters, and numerous beachside amenities. Siesta Key has something to offer everyone. Siesta Key is a romantic getaway for lovers, a family fun destination, and an outdoor adventure playground.
Why is Siesta Key so well-known?
Beach, visitors from all over the country have been drawn in by the beach's family-friendly amenities and natural beauty.
Is it worth to visit Siesta Key?
If you want to relax on a beautiful beach, Siesta Key is a great place to go. It is an excellent choice for families who want to enjoy the beautiful beach and ocean. Siesta Key Beach is frequently voted Florida's best beach on the Gulf Coast. There are numerous enjoyable activities available in Siesta Key, Florida.
Is it safe to visit the beach on Siesta Key?
Yes. Swimming and water play are extremely safe at Siesta Beach.
Best Time to Visit Siesta Key/Siesta Beach
Spring is the best time to visit Siesta Key because temperatures range between 70 and 80 degrees and there is less rain than in the summer and early fall.
How To Reach Siesta Beach
If you're flying in, the closest airports to Siesta Key, Florida are Sarasota (SRQ) and Tampa (TPA).
Top Places to Visit Around Siesta Beach/Siesta Key
Crescent Beach
Turtle Beach
Shell Beach
Parasail Siesta
Point of Rocks
Siesta Farmers Market